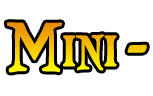 Stealth
Contestants are to create a map where the player should hide, sneak, pickpocket, assassinate or perform similiar quiet and stealthy things.

No submission may violate any of the site rules.
If a submission does not follow the map submission rules the creator will be disqualified.
All submissions must follow the current theme.
Your submission must be posted before the deadline in the contest thread. The post containing your final submission must also contain the following:

Several screenshots of terrain and gameplay.
The file in the appropriate format.

You must show at least one unfinished preview of your submission, before the deadline, as proof that it's yours.
Your submission may not be started/made before the official launch of the contest.
Judges may not participate.
Your final submission should be mostly bug free.
Teamwork is not allowed.

Finding testers and voice actors to help you with your submission is not considered teamwork.

Imports may be used in the map, however they must all be credited. You may make new models, icons, etc specifically for the contest.

First Place: 45 reputation points and your entry on the award icon
Second Place: 30 reputation points and an award icon
Third Place: 15 reputation points and an award icon
Finished entry and judges: 5 reputation points

Contact me if you want to be a judge in this contest!

Theme
How well does the entry comform the contest theme "Stealth"?
20%

Gameplay
The fun factor: Does the whole package create an enjoyable experience for the player?
e.g. Are the spell effects satisfying, is there replayability, is the plot compelling, ...?
40%
Aesthetics
Is it good looking terrain-wise? How polished are the details such as preview pictures, title, in-game texts and icons?
30%
Triggers
Does the map run well performance-wise?
Factors which influence this category are: efficiency of the triggers/coding, memory leaks, etc.
10%
65% of the winner shall be determined by the contest's appointed judge(s).
35% of the winner shall be determined by the results of a public poll.

The contest shall begin on July 22nd, and conclude on October 1st, 23:59 GMT, GMT