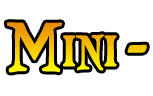 Puzzle & Mystery
Contestants
are challenged to create Puzzle mini map for Warcraft 3 game
that will be full of
Mystery
.

Contestants
are free to pick and work on any map type (defense, RPG... without cinematic and terrain/template maps) as long as they bring mystery feeling into it.
Show us unique riddles, cool puzzles and awesome gameplay.


No submission may violate any of the site rules.
If a submission does not follow the map submission rules the creator will be disqualified.
All submissions must follow the current theme. If any model does not fit, a moderator will tell you as soon as possible as to avoid confusion.
Your submission must be posted before the deadline. The post containing your final submission must also contain the following:

Several screenshots of terrain and gameplay.
The file in the appropriate format.

You must show at least one unfinished preview of your submission, before the deadline, as proof that it's yours.
Your submission may not be started/made before the official launch of the contest.
Judges may not participate.
Your final submission must be bug free.
Teamwork is not allowed.

Finding testers and voice actors to help you with your submission is not considered teamwork.

Imports may be used in the map, however they must all be credited.
All multiplayer maps must be under 8mb, so they are playable on Battle.Net.

First Place: 45 reputation points and your entry on the award icon

Second Place: 30 reputation points and an award icon


Third Place: 15 reputation points and an award icon


| | | |
| --- | --- | --- |
| Concept (Base) | Does the mini-game follow the contest's theme? | /10 |
| Concept (Puzzling) | Is the mini-game cohesive, regarding the puzzles? How well were the puzzles presented? | /30 |
| Concept (Mystery) | How well is mystery presented, how good secrets were? | /30 |
| Going Green | How well does your map make use of limited space, be it file size or terrain size. | /10 |
| Playability | Is the map bug/lag free? | /10 |
| Aesthetics | How well does the map look and overall feel of the 'environment'? | /10 |
70 % of the winner shall be determined by the contest's appointed judge(s).
30 % of the winner shall be determined by the results of a public poll.

The contest shall begin on 17 Jun 2011 and conclude on 23 Jul 2011, 11:59 GMT
Last edited: