Joined

Jun 4, 2009
Messages

17,647
There are two older iterations of this:
Write your own history in the Vietnam War! Decide the fate of one of America's most controversial wars in a Diplomacy game. Controlling cities decides income. This game is not a simple land war. Combining elements of real game micro, special abilities, infused quests and dynamic strategic...
www.hiveworkshop.com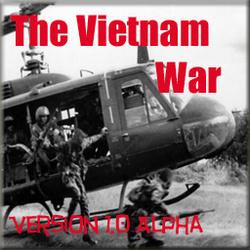 A war in which USA got owned by a bunch of commies! p.s: i didn't make this map, i just wanna share this map with u guyz.
www.hiveworkshop.com
Any crediting that should be given to the original authors? Yours seems to be a remake but if it was inspired by some other works, please credit.
A credits list in the map description with the names of the authors whose resources you've used is mandatory. That includes models, skins, icons, custom spells, systems. Also, sounds, music and everything outside this site.
This helps you with the models, skins and icons from Hiveworkshop:
Resources in use by Vietnam War: ISH v1.0.4
You can also upload your map here to generate a list:
Asset scanner
Awaiting Update
.
If you're not satisfied with the review and wish another opinion, contact the other reviewers or use the staff contact:
https://www.hiveworkshop.com/forums/staff-contact.692/