Tree Tag 2020 Edition
Filesize:

2.41 MB
Rating:

(6 votes)
Downloads:

1379
Uploaded:

Mar 3, 2019
Updated:

Sep 29, 2020
Resources:

1
Author(s):
State:

Approved
This bundle is marked as approved. It works and satisfies the submission rules.
Tree Tag 2020 Edition
The best Tree Tag Edition ever..!
Community discord:
its Tree Tag Time! (discord.gg/bkA3rz5)
Player statistics:
Tree Tag Leaderboard (wc3stats.com/tree-tag)
Tree Tag Guide:
instructional Tree Tag Training Guide
The Tree Tag basics:
Ent: Survive until the time runs out.
Infernals: Kill all ents before the time runs out.
Ent in short:
Survive in the forest and hide from the infernals.
Create Resource Storages to build up an income and to become more and more wealthy.
Once you got enough resources, you can start to build powerful bases.
Get items to strengthen your ent or discover secrets in the forest.
And remember:
If you get caught by an infernal, you can get rescued by your allies.
Infernal in short:
In the beginning, you can select 1 out of 9 different infernals.
After 30 seconds, the infernals land in the forest and the search for the ents begins.
You gain experience and gold by destroying buildings and units of the ents.
Buy more and more powerful items and units to gain control over the forest!!
Features:
- Fun and varied gameplay
- Quick ingame team setup
- Easy to learn, hard to master
- Find the dragonballs in the forest..?
- With a leaderboard and player statistics!
... and a very friendly community!
- 8 unique ent classes!
Runner, Regrower, Illusionist, Warrior, Protector, Economist, Scout and Sailor
- 9 unique infernals!
Pyra, Blaze, Burnin, Khale, Darkness, Voltron, Luxo, Aeris and Terra
Infernal setup:
- 1-5 players: 1 infernal
- 6+ players: 2 infernals
- 10+ players: 3 infernals
Game duration:
- 1-12 players: 45 minutes
- 13+ players: up to 60 minutes
Ingame pictures: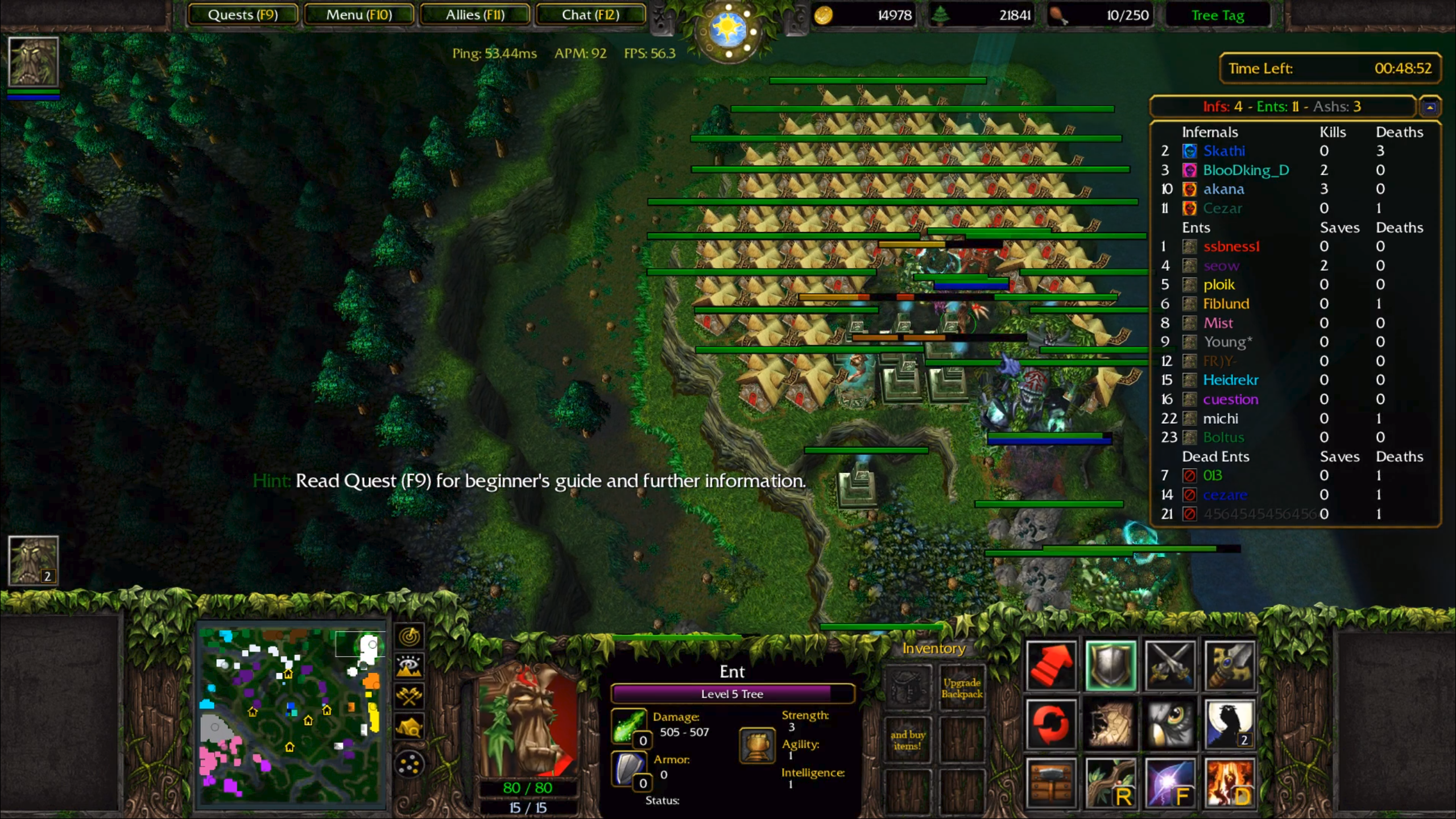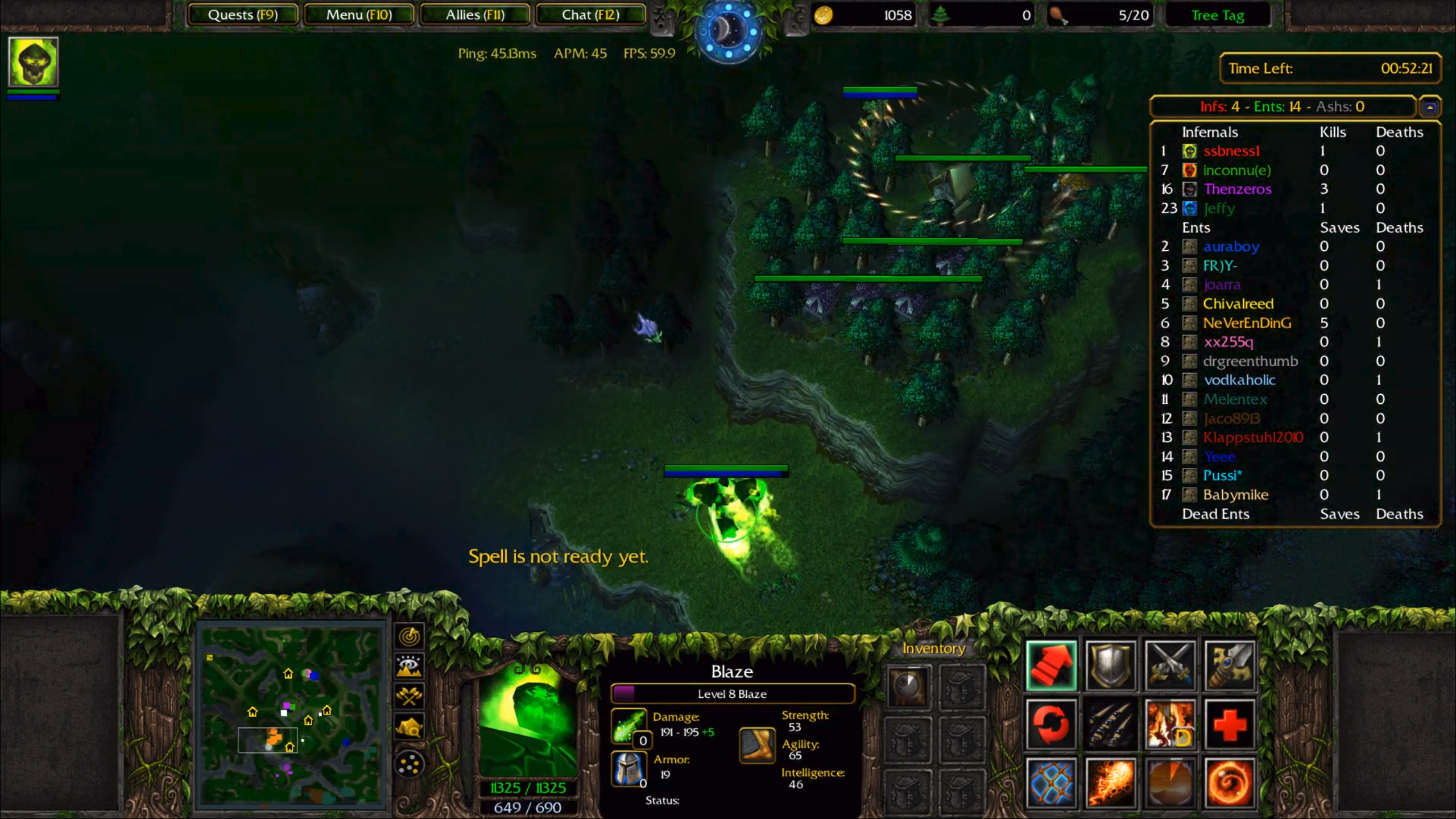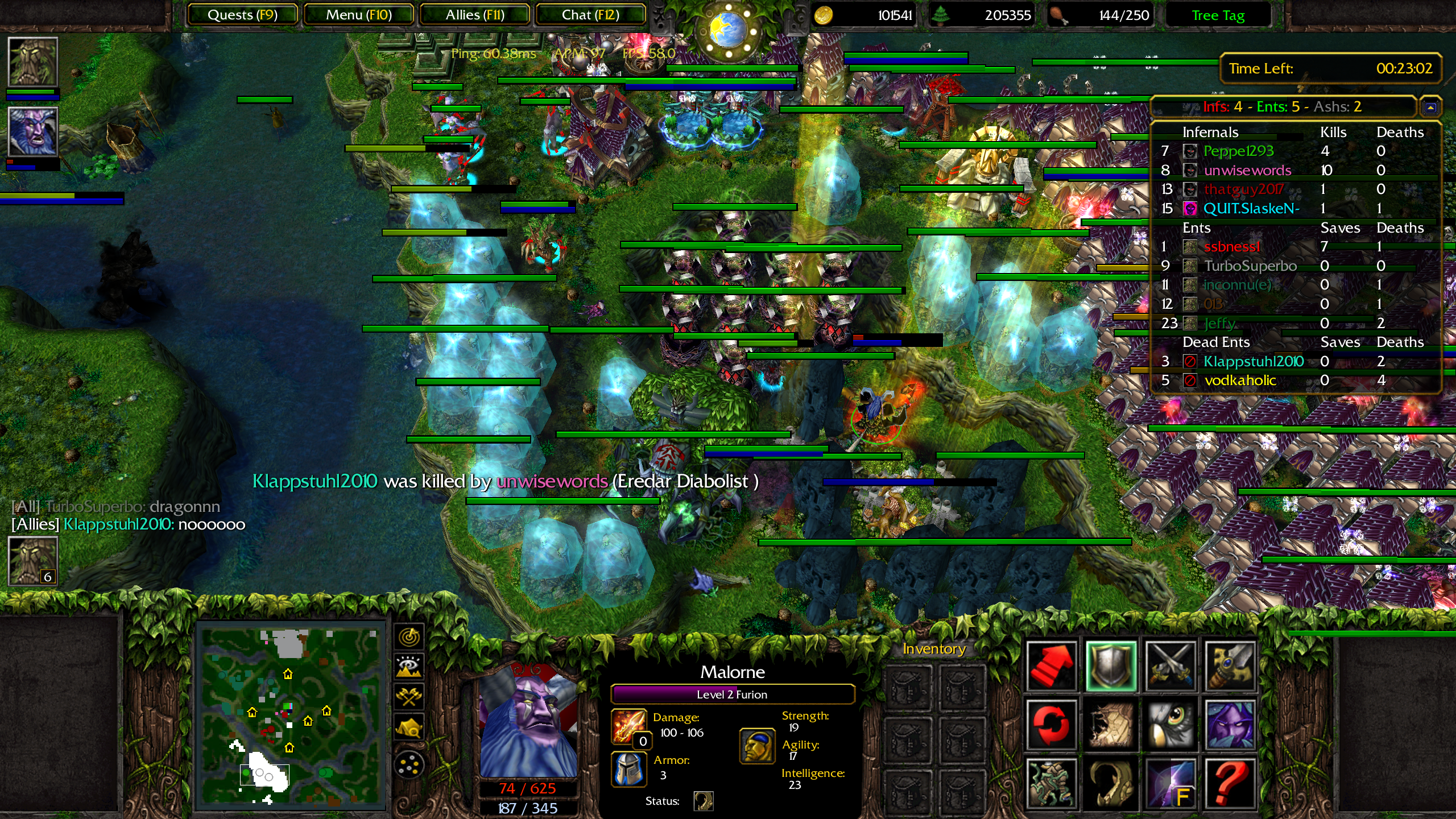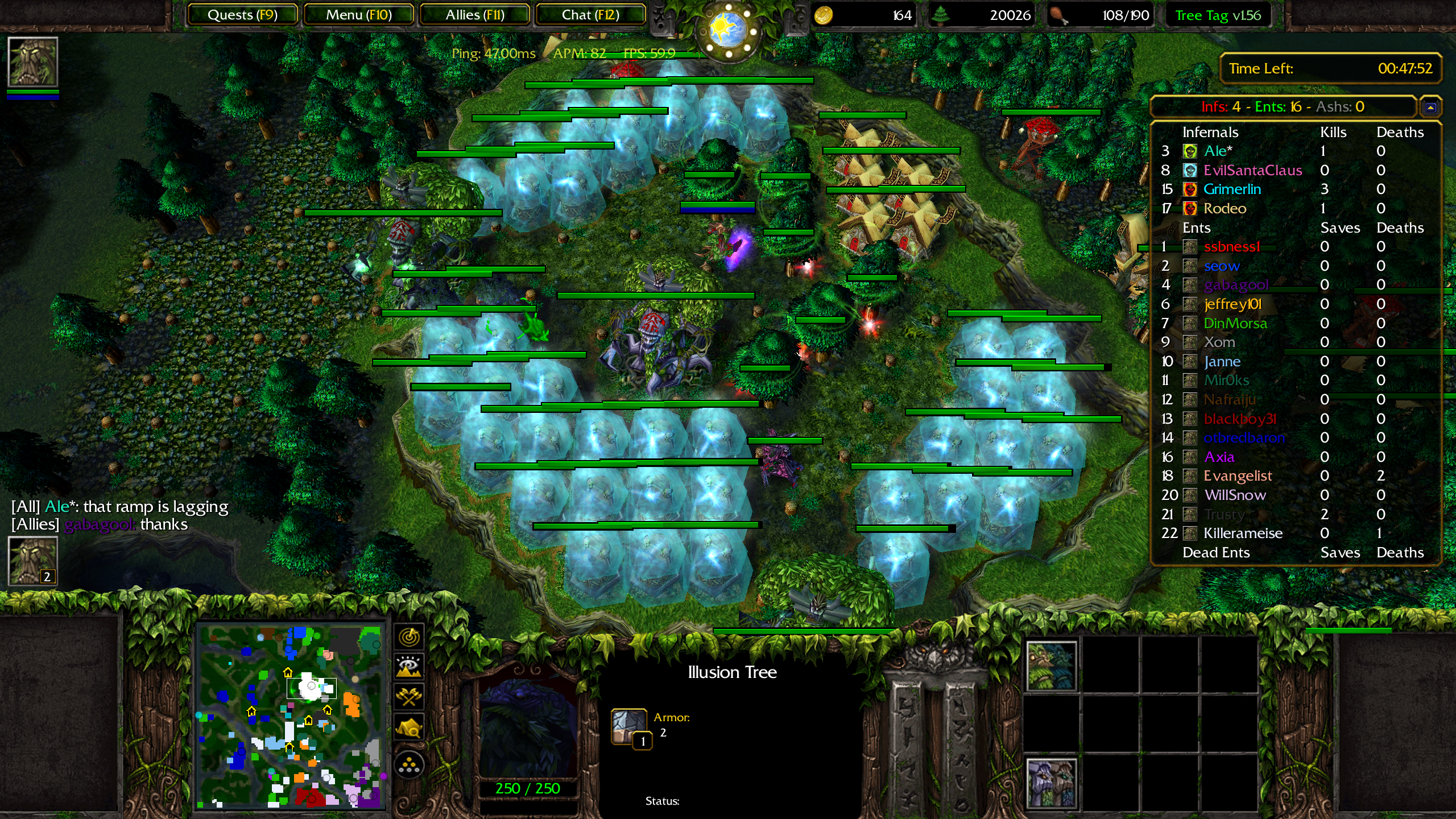 Gameplay videos:
- ent gameplay
- infernal gameplay
The credits:
- Crystal_Infernal.mdx by DarkHunter1357
- DemonTower.mdx by HappyTauren
- ShadowInfernal.mdx by UgoUgo
- HD_Loading_Screen.mdx by Softmints
- Selection_Octagon.blp by Avatars Lord
- ForceGem.mdx by RightField

​
The Changelog:
!! Note: You always find the latest changelog on the discord. !!

Changes (v2.11):
```
- Bugfix: Berserker Gauntlets no longer removes Potion of Invulnerability from your inventory
- Bugfix: Infernal talents now spawn on the correct level
- Deactivated Oneway tunnels now have 8 max mana
- Bugfix: The spells of Tinker/Illidan now also level up while Robo-Goblin/Metamorphosis is activated
- Ensnare (Blaze), duration: 2/3/4/5/7 -> 2/3/4/5/6
- Ents now have greatly reduced attack damage after rescue (as long as they have bonus armor/immunity)
- Summon Wildkin (Furion), hit points: 600 + (200 * level) - > 350 + (150 * level)
- Mirror Image (Maeiv), duration: 2.5 + (0.5 * level) -> 5 + (0.5 * level)
- Mirror Image (Maiev), number of images: 1 + (1 after each 4 level) -> 2 + (1 after each 8 level)
- Mirror Image (Maiev): Illusions now have a 50% chance to attack-move instead of only moving around upon spawn (to create a little bit more confusion)
- Supported modes: SD/HD -> SD (Bye bye Reforged)
- Repicked infernals now also have dust of appearance at start
- Tinker, armor base: 2 -> 0
- Bugfix: Full Potential (dragonball wish) now gives the hp/dmg buff to the right hero, if the targeted hero is not owned by the player who called shenlong
- Goblin laboratory, costs: 7500 -> 5000 gold
- Changed the projectile art of the Infernal Machine
```

Changes (v2.10d):
```
- The Kodo Beast is now an Infernal Machine and immune to spells
- Frost Attack, duration: 1/2 -> 0.75/1.25 seconds
- Ice Towers, attack type: Magic -> Chaos
- Furion/Tyrande, base hp: 150 -> 300
- Clockwerk Goblin / Goblin Blaster, food: 15 -> 25
- Goblin Tank, food: 30 -> 35
- Goblin Tank, hit points: 12500 -> 15000
- Goblin Blaster, damage: 250 -> 300
- Goblin Blaster, attack speed: 0.5 -> 0.55
```

Changes (v2.10c):
```
- Ents no longer lose half of their resources upon death, if they have less than 2500 gold
- Terra: Replaced Earth Trap with Volcano
- Fixed the tooltip of Furion (since he got Devotion Aura now)
- Deforestation Talent, duration: 28/34/40/46/60 -> 30/37.5/45/52.5/60
- Invasion Talent, damage: 85/145/205/265/325 -> 75/125/175/225/275
- Invasion Talent, hit points: 1000/1750/2500/3250/5000 -> 750/1500/2250/3000/3750
- Invasion Talent, duration: 60/75/90/105/120 -> 60/60/90/90/120
- Invasion Talent, attack speed: 1.75/1.6/1.45/1.30/1.05 -> 1.5
- Observation Talent: Now moves very slowly around
- Infernal talents summons are now named after their level (eg: Skeleton Chieftain IV)
- Farms, increased base feed: 10 -> 15
[All Farms: 12/19/30/45/70/108/162 -> 17/24/35/50/75/113/167]
- Rocks, decreased gold feed: 50/75/100/150/250/350 -> 20/40/100/150/200/250
- Rocks, decreased exp feed: 50/75/100/150/250/350 -> 25/50/75/150/250/350
- Rocks, base armor: 4/4/4/4/4/4 -> 2/2/4/4/4
- Goblin Laboratory, costs: 5000g/10000w -> 7500g
- Clockwerk Goblin, costs: 5000g/7500w -> 7500g
- Goblin Blaster, costs: 7500g/10000w -> 10000g
- Goblin Tank, costs: 15000g/20000w -> 20000g
- Goblin Sapper, costs: 1500g/2000w -> 2000g
- Tinker, costs: 2500g/5000w -> 2500g
- Tinker, hit points: 750 -> 500
- Tinker, gold feed: 500 -> 400
- A small overhaul of all goblin unit stats
- Wolf Cage, lifetime of wolves: 45 -> 60 seconds
- Uncaged wolves now automatically attack/move accross the map upon spawn
- Wolf Training, gold costs: 2500 + (2500 * level) -> 10000 + (5000 * level)
- Wolf Training, upgrade time: 30 -> 45 seconds
- The Wolf Training upgrade is now shared between all ents.
```

Changes (v2.10b):
```
- Fixed the Placed/Destroyed Wards stats
- The Sentry Ward upgrade is now an individual upgrade in the Upgrade Center
- Ent Ashs are no longer affected by Devotion Aura
- Renamed Anti Taunt to Repel; radius: 300 -> 350
- The ultimate abilities of all nightelf heroes now have 3 levels (6+,12+,18+)
- Furion now has Devotion Aura instead of Thorns Aura
- Summon Wildkin (Furion), duration: 30/35/40/.. -> 60/60/60
- Summon Wildkin (Furion): Always summons 3 wildkins
- Avatar of Vengeance (Maiev): overall buff, removed summons
- More small tweaking of all hero abilities
```

Changes (v2.10):
```
- Blink (Nature Lover, Advanced Lover), mana cost: 0 -> 25
- Advanced Builder, hit points: 24 -> 25
- Hired guards now burn nearby trees upon ankh activation (only shades dont)
- Changed the stat "Hired guards" (it now increases by 1 for each unit and no longer by the food cost of the unit)
- Added the stat "Killed guards" (number of killed guards) [i will try to add that it also counts if an ankh is used..]
- Added the stats "Placed Wards" and "Destroyed Wards"
- Watcher Wards now correctly show the remaining lifespan (they had 900 instead of 1200 mana before)
- If an infernal leaves in the first 15 minutes and noone wants to become infernal, a random infernal will get picked anyway
- Ent Ash, scaling size: 60 -> 80%
- Ent Ash, hp regeneration: 0.5 hp/s -> 0.1 hp/s
- Ent Ash Hp upgrade no longer increases the hp regeneration
- Ent Ash Hp upgrade, maximum level: 5 -> 4
- Ent Ash now has Hardened skin (reduces all attacks on it by 245, cant be reduced to less than 55)
- Ent Ash now has Anti Taunt: Pushes all enemy units within 300 radius away from the ent ash.
- You no longer lose all the bonus hp for rescuing ents, if you die (instead it get halved)
- The oneway tunnel now only lasts for 180 seconds
- The oneway tunnel now takes 8 seconds to detonate and the life span is indicated by the remaining mana
- Tunnel Entrance, build time: 3 -> 4 seconds
- Tunnels no longer can be connected, if they are still under construction
- Pissed of / Raging / Furious Tree, attack damage in uprooted form: 85/125/250 -> 45/75/125
- Pissed of / Raging / Furious Tree, bonus armor per upgrade: 2 -> 1
- Owl Scout (Tyrande) is now immune (no longer can become invisible)
- The Glyph of Talents now spawns next to the Infernal Gate with a short minimap ping
- Removed the Sentry Ward items from the game and gave it as ability to all infernals (can be ugpraded in the Infernals Heart)
- Added new icons for Owl Nest and Infernals Outpost
- Added Acesupreme to the patreon animals
- Bugfix: Animals no longer can be cloned with Illusion
- Animals now have Hardened skin (reduces all attacks on it by 10000, cant be reduced to less than 30)
- Changed the ability icons of the animals
- Frog, jump cooldown: 8 -> 5s
```

Changes (v2.09d):
```
- Observers no longer share their vision and ally chat with other Observers
- The number of regrown trees (for Nature Lovers) no longer shows to Observers, if they arent observing ents
- The dynamic Blink cooldown text no longer shows to Observers, if they arent observing ents
- The dragonball wish message is now also shown to Observers
- Rescue messages are now also shown to Observers
- Observers now can use the -i command
- You now can see which buttons are currently activated in the Observer menu
- Bugfix: The -votekick [Kick status] message now displays the correct result
- Bugfix: If you swap within the first minute to ent, you no longer start without resources
```

Changes (v2.09c):
```
- Mini Inferno Stone, hit points: 5000 -> 2500
- Bugfix: Inferno Stone, gold cost: 500 -> 1000 (i think i changed that accidentally)
- Furios Tree, gold feed: 125 -> 175
- Shade no longer get +100 armor after reviving with Demon Ankh (too easy Shade Push)
```
Reviews