Tree Tag 2019 Edition
Filesize:

13.05 MB
Rating:

(5 votes)
Downloads:

572
Uploaded:

Mar 3, 2019
Updated:

Jul 8, 2019
Resources:

4
Author(s):
State:

Approved
This bundle is marked as approved. It works and satisfies the submission rules.
Tree Tag 2019 Edition
The best Tree Tag Edition ever..!
Community discord:
its Tree Tag Time! (discord.gg/bkA3rz5)
Player-statistics website:
Tree Tag 2019 (treetagtime.tk)
The Tree Tag basics:
Ent: Survive until the time runs out.
Infernals: Kill all ents before the time runs out.
Ent in detail:
Survive in the forest and hide from the infernals.
Create Resource Storages to build up an income and to become more and more wealthy.
Once you got enough resources, you can start to build powerful bases.
Get items to strengthen your ent or discover secrets in the forest.
And remember:
If you get caught by an infernal, you can get rescued by your allies.
Infernal in detail:
In the beginning, you can select 1 out of 6 different infernals.
After 30 seconds, the infernals land in the forest and the search for the ents begins.
You gain experience and gold by destroying buildings and units of the ents.
Buy more and more powerful items and units to gain control over the forest!!
Features:
- fun and varied gameplay!
- automatic ingame team selection!
- choose from 6 different ent classes:
- Runner, Regrower, Illusionist, Warrior, Protector, Economist​
- choose from 6 different infernals:
- Pyra, Blaze, Burnin, Khale, Darkness, Voltron​
- collect the 7 dragonballs as ent..
- stats-system across all games (+website; Tree Tag 2019)
- easy to learn and lot of to discover
- .. and a very friendly community
Infernal setup:
- 1-5 players: 1 infernal
- 6+ players: 2 infernals
- 10+ players: 3 infernals
- 18+ players: 4 infernals
Game duration:
- 1-12 players: 45 minutes
- 13+ players: 60 minutes
Ingame pictures: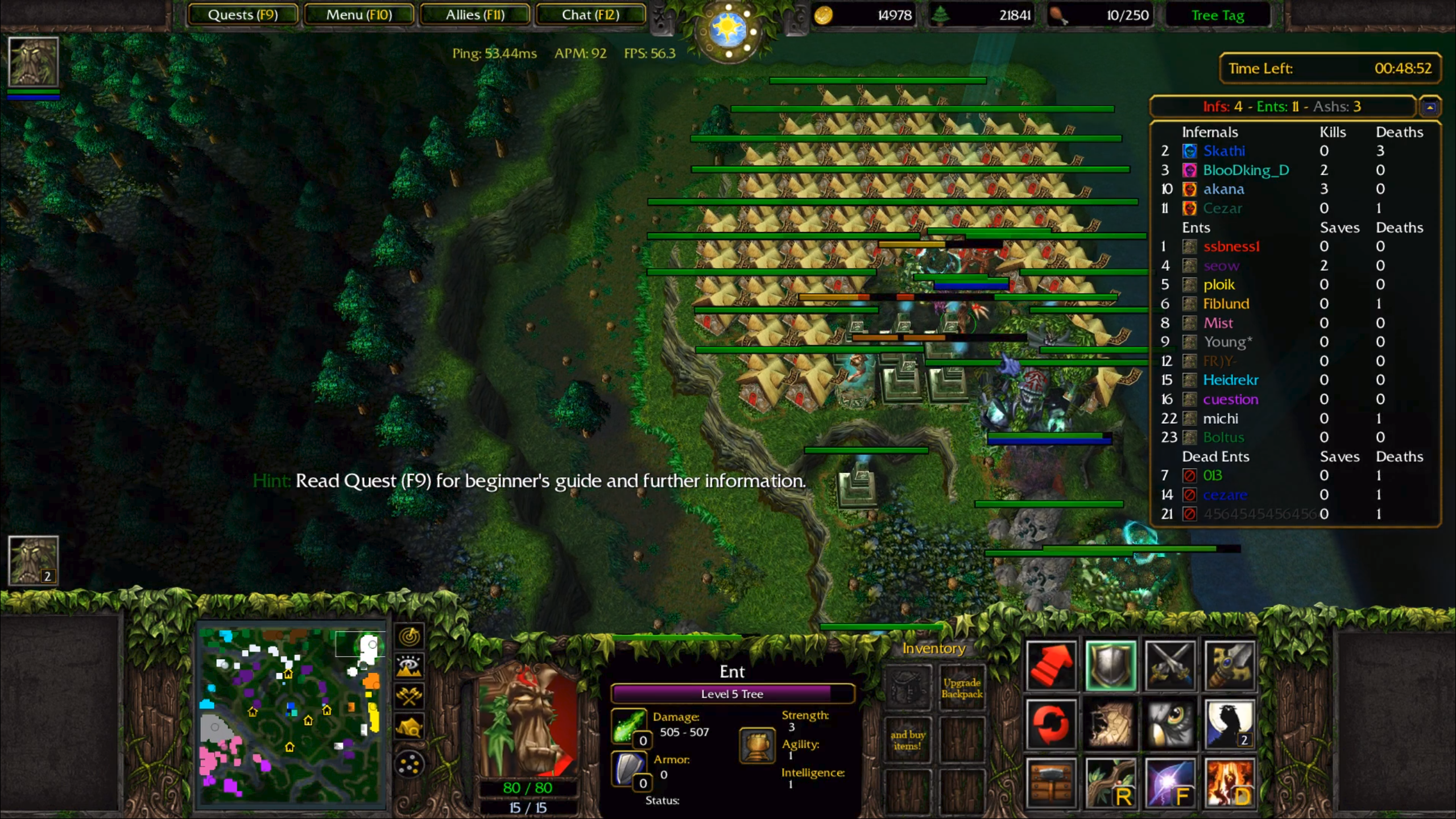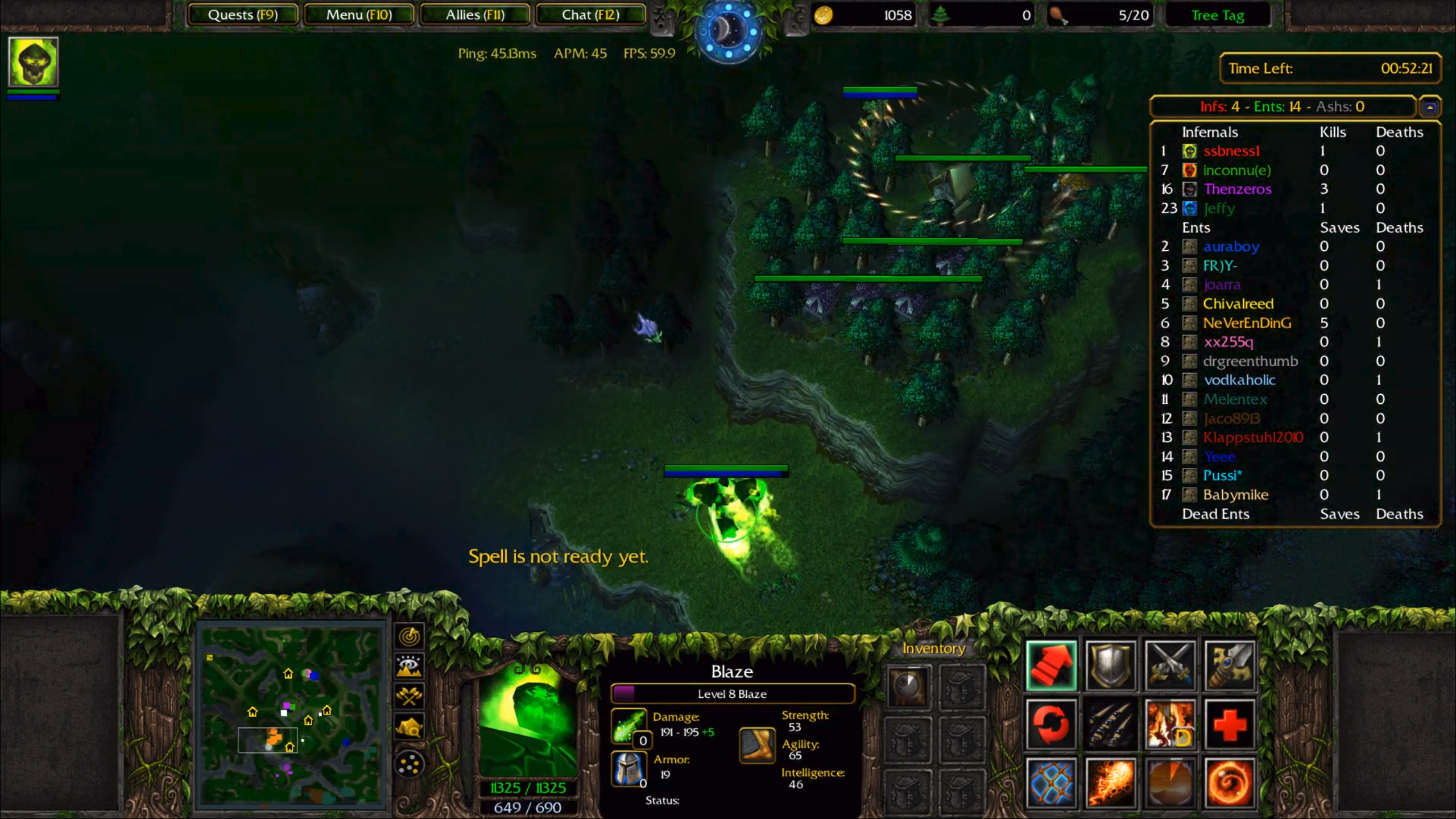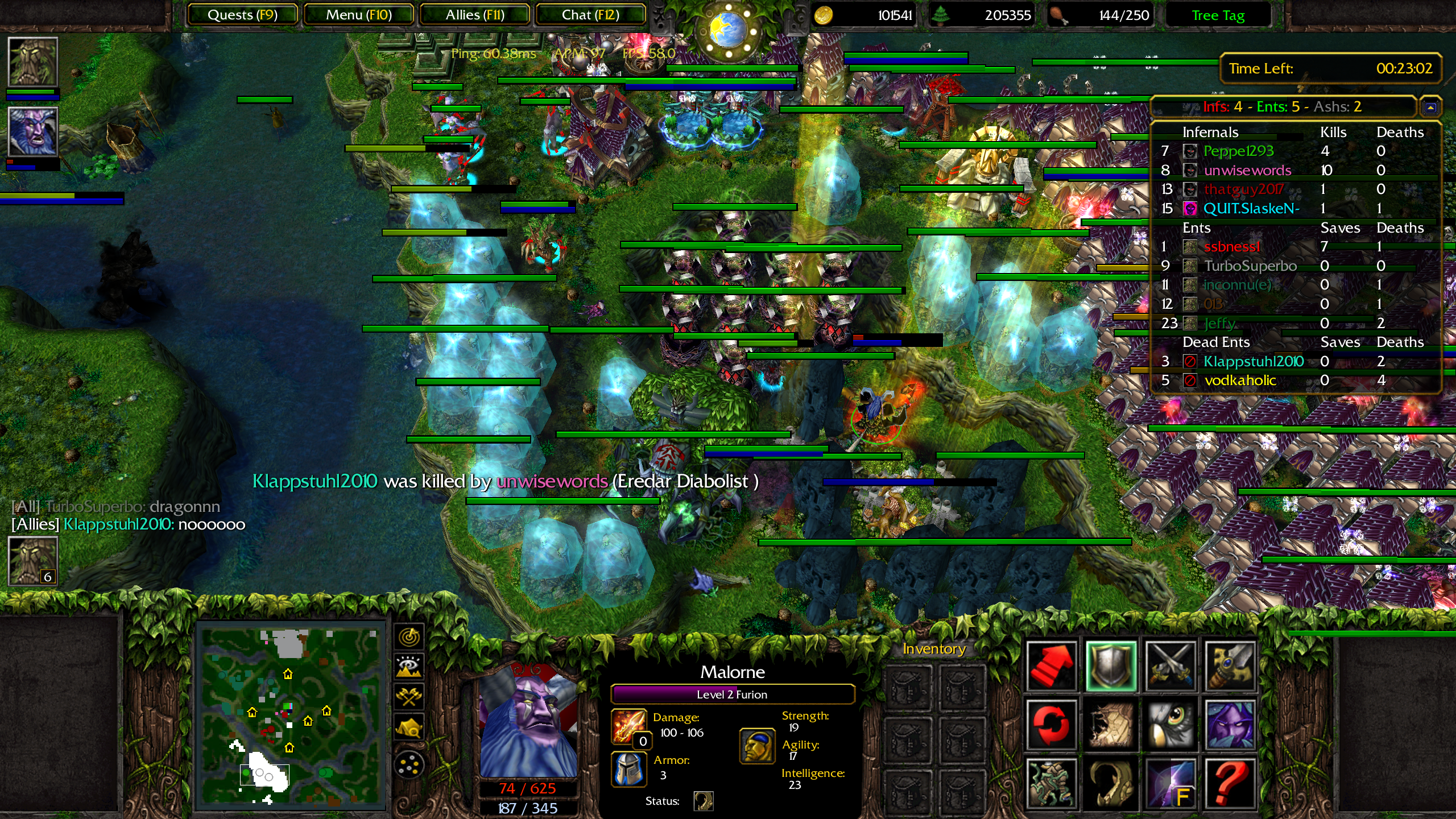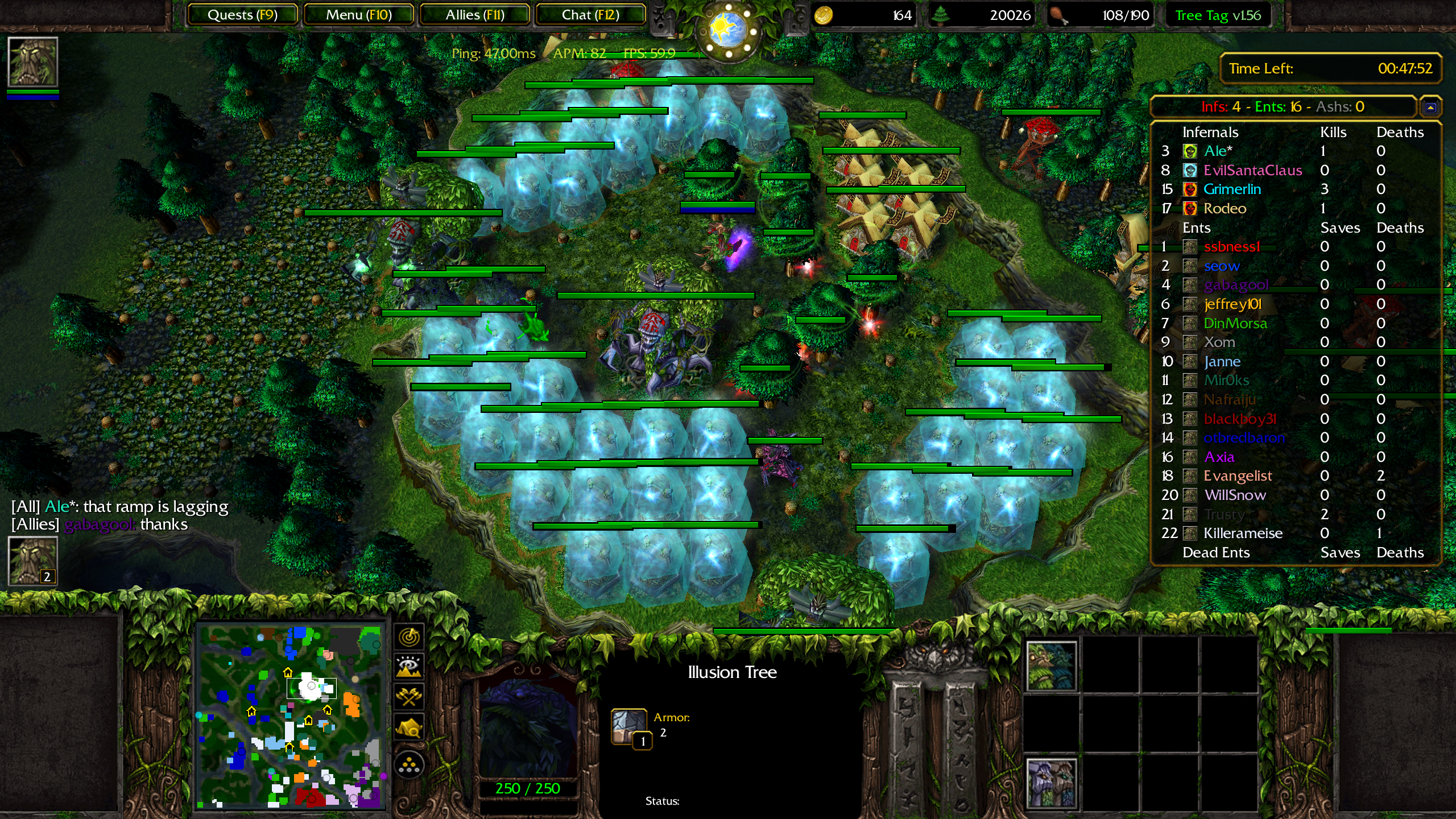 Player statistics:
Elo calculation:
Gameplay videos:
- ent gameplay
- infernal gameplay
The credits:
- Crystal_Infernal.mdx by DarkHunter1357
- DemonTower.mdx by HappyTauren
- ShadowInfernal.mdx by UgoUgo
- HD_Loading_Screen.mdx by Softmints
- Selection_Octagon.blp by Avatars Lord
- ForceGem.mdx by RightField

​
The Changelog:
Changes (v1.50):
```
- Bugfix: Swap fixed (if an ent is in hideout)
- If the swapping player votes for "No", his vote is counted 4 times
- If a player get kicked, his vote for chaos/bonustime will be removed
- Number of votes needed for chaos and bonustime: 2/3 -> 3/4 of the players
- Infernals have now a longer range against air units (-> owl scout nerf)
- Summon Wolf (Khale): higher damage; longer cooldown (90 -> 120s); automatically attack trees upon summoning
- Death and Decay (Darkness): Also reveals the targeted area now
- The upgrades in the Infernals Heart can now be bought without having any unit nearby
- Attack and Armor upgrade, levels: 10 -> 5; increased costs and effect of it
- Hit Point upgrade: Also increases regeneration by 20% now
- All players see now a message, if the bounty factor for infernals changed
- Advanced Lovers, new hotkey for renew: R -> C (it overlapped with regrow)
- Axe of Doom, life steal against units: 100 -> 50%
- Added usage to tooltip of dragonball wishes: Instant, target hero, target unit...
- New dragonball wish: Naval power (makes ships much stronger for all ents)
- The -income/-gold/-regrow commands are now sorted by the value (in ascending order)
- some more smaller changes..
```

Changes (v1.51):
```
- New chat commands: "-regrow all", "-feed all" to show stats of all (including left) players
- Shortcuts for -regrow (-r), -feed (-f)
- You can press ESC instead of typing -invis (but it has a 5 second cooldown, if you used it more than 2 times)
- Smaller collision size for units trained in the tree barracks and for wisps
- You can no longer blink into the water spots near the spawn; added rocks there
- Nature Lover: food costs 1 -> 2, mana points: 300 -> 400
- Enslaved Soul (dead nature lover): Only destroys a maximum of 20 trees, higher damage and hp, less duration 90 -> 60s
- Voidwalker (Darkness summons): Can now automatically destroy up to 5 trees (right-click trees)
- Regrow Tree ability for Ent Soul has now 3 levels and levels up with gametime
- Ent Ashs: Slightly bigger, easier to click
- Bounty messages: Now also shows the change to the previous value
- Reshaped the stats board (replaced hours played with stay rate)
- Renamed Score to Elo and changed its calculation a bit
- Some overall performance improvements to reduce the chance of crashes
```

Changes (v1.52):
```
- Changed dragonball wish "Treasure", received resources: 50k -> 10k + minutes played * 1500 (scales over time)
- Infernal Pit, food provided: 10/20/30 -> 5/15/25
- Limit of Skeletal Warriors and Burning Archers: 2/4/6 -> 2/3/4
- Limit of Shades: 1/3/5 -> 1/2/3
- Infernal Pit, new ability: Sacrifice unit (instantly kills one of your own units)
- Fel Beast (summons of Fel Stalker): Has 15% bash now
- Flames of Speed (Blaze), cooldown: 30 -> 35 seconds
- Ensnare (Blaze), duration: 2/4/6/8/10 -> 2/3/4/6/8 seconds
- Demon Fire (Burnin), duration: 4/6/8/10/12 -> 2/4/6/8/10 seconds
- Voidwalker (Darkness summon): No longer can destroy trees with left-click attack. Before level 3, they only can destroy 3 trees each
- Sodom and Gomorrah (Darkness): Darkness only transforms into Sodom (the golem) and can summon Gomorrah (the dragon)
- Sodom (Darkness): Attack speed can no longer be upgraded for him
- Electrical Light (Voltron): Before level 3, it no longer destroy trees on its way
- Increased mana costs for all infernal spells
- Destroy Trees (Infernal), cooldown: 15/14/13/12/11 -> 20/17.5/15/12.5/10 seconds
- Destroy Trees (Infernal), duration: 6/7/8/9/10 -> 10/10/10/10/10 seconds
- Mana burn (Illidan), cooldown: 7 -> 15 seconds
- Alternative chat command for "-w": "-l" (l for lumber)
- New addition to -regrow command: You see the number of currently destroyed trees
```

Changes (v1.52b):
```
- fixed mana costs for infernal spells
```

Changes (v1.53):
```
- Nature Lover, food costs: 2 -> 5
- Chicko (dog): Also get more hit points by mushrooms
- Chicko: Can eat trees
- Goblin Land Mine, full damage: 700 -> 1000 (partial damage is still 300)
- Battleship: Can attack air
- Goblin Sapper, Kaboom: No longer hits allied units
- Infernal, range against air: 325 -> 400
- Increased income for infernals: 10/25/50 -> 10/40/80 gold every 5sec (start/15mins/30mins)
(Total income in a 45min game: 15300 --> 23400)
- Decreased bounty factor by 10%
```

Added ent classes:
```
New building for ents: Fountain of Destiny.
Allows your ent to transform into different classes. Each class has an additional spell and can build a new structure.
Once you have selected a class, you cant change it anymore!
Runner:
Transforms your ent into a runner. Can cast Wind Walk and build Speed Crystals.
Wind Walk: Allows the ent to become invisible, and move 100% faster for 8 seconds. If the ent attacks a unit to break invisibility, the attack will do 500 bonus damage.
Speed Crystal: Increases the speed of nearby allies and provides line of sight.
Regrower:
Transforms your ent into a regrower. Can cast Natures Healing and build Natures Temple.
Natures Healing: Regrows for 15 seconds all dead trees in a target area.
Natures Temple: Can train Natures Guardian and Nature Lover.
Economist:
Transforms your ent into a economist. Can cast Eco Wisp and build Fortune Crystals.
Eco Wisp: Summons one Eco Wisp, which can gather lumber. Two eco wisps automatically merge into one better eco wisp.
Fortune Crystal: Increases the resources gained every income by 1%. Can be upgraded.
Warrior:
Transforms your ent into a warrior. Can cast Battle Roar and build Warrior Barracks.
Battle Roar: Gives friendly nearby units a 75% bonus to damage, 5 bonus armor and increases the regeneration rate by 500%.
Warrior Barracks: Barracks for powerful siege units. Can train the Ancient Chimaera.
Protector:
Transforms your ent into a protector. Can cast Protection and build Cannon Towers.
Protection: Increases a target friendly building's damage by 25%, armor by 4 and regeneration rate by 50%.
Cannon Tower: Heavy defensive structure. Can be upgraded to Ice and Fire Tower.
Illusionist:
Transforms your ent into a illusionist. Can cast Mirror Image and build Illusion Trees.
Mirror Image: Confuses the enemy by creating an illusion of the ent. Dispels all magic from the ent.
Illusion Tree: An illusive tree, which can transform into any other building.
```

Changes (v1.53b):
```
- Bugfix: Illusion Tree no longer can make an illusion of enemy buildings
- Bugfix: Large backpack (dragonball wish) will give all 6 slots back, if you gambled for Shenlongs Gem
- All ents see a message, if a player has chosen a class
- Changed -free command: Spawns a craving ent soul instead of instant reviving
- Changed -swap command, only works with a partner: -swap <player1> <player2>
- Added new anti-leaver mechanism: If an infernal leaves in the first 15 minutes, every ent will get asked, if he wants to replace the infernal. If one says yes, he will become it.
- Protection (protector ent), duration: 600 -> 900 seconds
- Skeletal Mage, Bloodlust duration on non-hero units: 45 -> 90 seconds
```

Changes (v1.54):
```
- Hero experience: Ents experience gain is also multiplied with the bounty factor (=> less exp for ents in full game)
(This also applies to the Tome of Experience)
- Heroes on higher level feed more gold: +(Level * 125 gold)
- If an ent got a class, the ent feeds more: 250 -> 450 gold
- Illusion Tree (Illusionist): Can be upgraded to Illusion Tree of Life (10 food, only this one can transform into Tree of Life and its upgrades)
- Speed Crystal (Runner): Has to be completely constructed before it grants speed aura
- Speed Crystal, build time: 15 -> 10 seconds
- If you have immunity, the Runner class wont turn invisible with Wind Walk (if you pick immunity up with Wind Walk, it will break invisibility)
- Fortune Crystal (Economist): +50% build costs and feed
- Eco Wisp (Economist): Level 2 and higher Wisps gather faster lumber
- Protection (protector), bonus regeneration: 50 -> 20%
```

Added talents for infernals:
```
You can buy the Glyph of Talents for 1250 gold at the Infernal Pit.
Allows your infernal to specialize in different talents. Each talent activates an unique power after you have killed an ent.
Once you have selected a talent, you cant change it anymore!
Deforestation Talent:
After you have killed an ent, a voidwalker will spawn and destroy nearby trees.
The duration of the voidwalker increases with the level of your infernal.
Observation Talent:
After you have killed an ent, a soul scout will grant you vision of the area.
The sight radius increases with the level of your infernal.
Invasion Talent:
After you have killed an ent, a powerful skeleton will control the area.
The strength of the skeleton increases with the level of your infernal.
```

Changes (v1.55):
```
- Fortune Crystal, bonus income: +1%/+2%/+3% -> +2%/+3%/+5%
- Fortune Crystal, gold cost: 150g/600g/1350g -> 500g/2000g/5000g (wood cost = gold cost)
- Fortune Crystal: limited to a total of 25 crystals (-> maximum: +250% income)
- If you upgrade Illusion Tree to Illusion Tree of Life, the illusions deal 15% more damage
- Illusions feed 10% gold (but no exp)
- Wind Walk (runner): Can no longer surpass the maximum movement speed for ents (440)
- Krillin: Sentinel -> Call Turtle
- Krillin: Can build the Fountain of Destiny (=> allows you to repick your class; but you lose krillin)
- Infernal talents, gold costs: 1250 -> 750
- Added more information to tooltips of the talents
- Talents: all spawned units last a bit longer
- Observation talent: Has True Sight in a 800 radius
- Observation talent: increased sight radius on highest level
- Invasion talent: Also destroys a few trees around the spawned unit
- Invasion talent: Skeleton Chieftain can right-click attack trees (but not automatically)
- Bugfix: The -swap <player1> <player2> command recognizes both digits of the second playernumber
- The stats show the average instead of total values
- Searing Blade (+250 dmg), gold cost: 3500 -> 3000
- Protection (protector): duration 900s -> forever, cooldown 30 -> 60s
```

Changes (v1.56):
```
- Increased bounty factor by 10% (reverted change from v1.53)
- If an ent kills an infernal, the received resources are now multiplied with the bounty factor: (Level of Infernal * 2000 gold * bounty factor)
- Infernal bounty: 1500 -> 150 (since ents already get resources for killing them)
(This should reduce extreme scaling for ents in early game and in games with more players)
- Infernals no longer can pick ent items up, which they could possibly abuse (and the other way around for ents)
- Shocking Crystal (Voltron): Level 1 deals slightly more damage
- Spiral of Decay (Khale): 15/30/45/60/75 -> 20/40/60/80/100 damage per second
- Dire Wolf (Khale summon): Also has Permanent Immolation now (25 dmg per second, damages buildings too), armor 10 -> 20
- Darkness Ward (Darkness): Increased hit points
- Bugfix: Your position will be revealed by entsight, if you are currently in a transport ship
- Rocks are limited to 40 per player
- Average of regrown trees are now shown in the stats
- Infernal talents also activate now, if they kill a hero (but level of spawned unit depends on hero and not infernal level)
```

Changes (v1.57c):
```
- Bugfix: Forest God in levitating form is targeted as air (allows infernals to attack him with range)
- Bugfix: Heroes/Ents with Orb of Venom can attack air
- Bugfix: If you swap as illusionist to infernals, your food wont get bugged, if you have built illusion trees before
- Bugfix: Blink in the first 3 minutes should no longer get your ent stuck
- The command "-attack off" now disables the attack for ALL towers (even for new built and upgrading towers)
- Changed scaling of Rocks: Added Large Rock as new upgrade between Big and Giant Rock (to balance it better out)
- Tree of Life/Ages, attack cooldown: 2.5 -> 3.5 seconds
- Ice Tower: Frost Attack is always active (before you had to turn it on) and also slows immune infernals
- Illusions of immune buildings are no longer immune
- Mirror Image (Illusionist), duration: 15 -> 20 seconds
- Fortune Crystals and Natures Guardian feed more gold/experience
- If there are more than 12 players in the game, you can vote how long you want to play (45 or 60 mins)
(The game duration will then be set to the average of all votes)
- The Golden Ankh disappears now after 10 minutes (instead of 15)
- Bounty factor, maximum: 150 -> 125%
(this only has an effect on games with less than 10 players; BountyFactor = 12 / <number of players> )
- Ents Regrow Trees (Level 2; after 15 mins), cooldown: 12 -> 10 seconds
- Ents inherit the resources of dead ent leaving (or of a left ent dying)
```

Changes (v1.58):
```
- Bugfix: Large Rock can be eaten by Invisible Tree
- Bugfix: The bonus Bolt uses no food, if you are playing as solo infernal
- Bountyfactor: Decreased by 5%
- Distance from mid, in which you lose half of your resources after dying: 2000 -> 2500
- Infernal range against air: 400 -> 450
- Demon Fire (Burnin): Movement speed reduction 100% -> 40%
- Avatar of Fire (Burnin), duration: 60 -> 45 seconds
- Lightning Trap (Pyra): Also destroys nearby trees by attacking units
- Lightning Trap (Pyra), attack cooldown: 2.6 -> 1.8 seconds
- Lightning Trap (Pyra), hit points: 250/500/750/1000/1250 -> 450/900/1350/1800/2250
- Nether Drake (Pyra): damage 150-165 -> 200-215, range 500 -> 550
- Nether Drake (Pyra): new ability Shielding (increases armor by 200 for 15 seconds; auto-cast if attacked)
- Voidwalker (Darkness), limit of destroyed trees: 3/3/5/5/5 -> 3/4/5/6/7
- Death and Decay (Darkness): No longer hits allied units
- Shadowsight (Khale): Is now an AOE ability and hits all units in the targeted area (+ buildings)
- Psychic Outburst (Khale), cooldown: 15 -> 120 seconds
- Psychic Outburst (Khale), damage per second: 50 -> 250
- Psychic Outburst (Khale), mana drained per second: 125 -> 400
- Psychic Outburst (Khale): no longer hits allied units
- Shocking Crystal (Voltron): Has True Sight (350 radius)
- Illusion Tree, damage taken: 750 -> 500% (but for Tree of Life illusions unchanged)
- Wind Walk (Runner): Also increases the movement speed of nearby units for 15 seconds
- Ancient Chimaera (Warrior): Overall buff (movement speed, attack range, hp regen..)
- Ancient Chimaera: Can summon 2 Faerie Dragons (60s duration, 90s cd)
- Battle Roar (Warrior), bonus hp regen: 5 -> 8 hp/s (wrong tooltip before: 500%)
- Protection (Protector), bonus hp regen: 0.2 -> 3 hp/s (wrong tooltip before: 20%)
- Eco Wisp (Economist): Has a chance to spawn multiple wisps (up to 4 wisps)
- Changed appearance of Eco Wips a bit
- Fortune Crystals (Economist): Costs more wood (500/2000/5000 -> 1000/4000/10000)
- Nature Love (Nature Lover): Instant death + regrow -> Slow death (-3 hp/s)
- Nature Lover: Regrow Trees has 3 levels (300/350/400 radius) after 0/15/30 minutes
- New icons for the ent classes
- Added random class to the fountain of destiny
- Ents cant build on the ankh of a dead infernal (to prevent respawning infernals to slip into bases)
```

Changes (v1.60):
```
- Changed number of infernals: 5+/9+/15+ -> 6+/10+/18+ players (2/3/4 infernals)
- Doom Guard, attack cooldown: 1.8 -> 1.5
- Doom Guard, damage: 450-500 -> 500-550
- Changed calculation of Elo a bit (added number of regrown trees to it)
- Sentinel (Ent), cooldown: 180 -> 120 seconds
- Death and Decay (Darkness): 4%/5% damage (10/15s) -> 5%/6% damage (8/12.5s) (same damage in less duration)
- Death and Decay (Darkness), initial damage: 160/240 -> 200/300
- Eco Wisp (Economist): has more hit points
- Psychic Outburst (Khale): reverted changes from v1.58
- Psychic Outburst (Khale), damage per second: 50 -> 75
- Psychic Outburst (Khale), mana drained per second: 125 -> 175
- Shadowsight (Khale): Increase cast range and duration
- some other small fixes
```

Changes (v1.61):
```
- Infernals receive 1 free experience every second (isnt much; for low-feed games)
- Skeletons, new ability: Destroy Trees (orders them to destroy trees for 30 seconds, 150s cooldown)
- Updated the tooltips and icons of some items/spells
- Items stack in inventory: Inferno Stone, Watcher Ward, Dust of Appearance
- Watcher Ward: Has 15 seconds cooldown now
- Potion of Omniscience: Also pings the locations of all ents now
- Staff of Teleportation, casting delay: 4 -> 3 seconds
- Lightning Trap (Pyra), cooldown: 60 -> 40 seconds
- Lightning Trap (Pyra), duration: 30/40/50/60/70 -> 20/30/40/50/60 seconds
- Glyph of talents automatically spawns after an infernal kills an ent for the first time
- Death of an Nature Guardian spawns a Fallen Guardian instead of destroying trees in a radius (lasts 150 seconds, can destroy up to 50 trees)
- Sentinel (level 2), cooldown: 120 -> 90 seconds
- Maiev: Wind Walk -> Mirror Image (lasts 7 seconds, illusions automatically run to random points of the map to confuse the infernals)
- Changed attack priorities when attacking buildings (all have a 2-2 attack, now infernals dont try to attack towers first, which makes attacking farms way more comfortable)
- Buildings with the Protection buff wont get resetted, if a player -swap the team
- Invisible Tree, feed: 20/200 -> 50/250 (gold/xp)
- Rescue bonus (for the rescuing player): 300 gold/wood -> (minutes played * 75) gold/wood
- Rescue bonus: If a hero/ent rescues a dead ent, he will receive experience
- preview image looks a little bit cleaner now
```

Changes (v1.61b):
```
- Fixed the Synergy ability of Wisps
- Glyph of Talents spawns in mid and you can select it via a hero icon
```

Changes (v1.62):
```
- The stats of players with colored names should now also be saved
- The ent classes are now displayed in the multiboard
- The -feed command now also shows the total passive income of the infernals
- Picking up dragonballs with full inventory is easier (if you right-click a dragonball with full inventory, the ent will be ordered to move to the dragonball)
- Bugfix: Advanced Lover has Regrow Trees again
- Bugfix: Forest God can be controlled again in Levitation form
- Forest God, feed: 30k -> 50k gold
- Teleport (Forest God), cooldown: 20 -> 40 seconds
- Darkness Ward (Darkness), cast range: 1200 -> 1400
- Darkness Force (Darkness), casting range: 700 -> 800
- Darkness Force (Darkness): increased AOE by 20 for each level
- Voidwalker (Darkness Force), damage: 15/25/35/45/55 -> 25/50/75/100/125
- Voidwalker (Darkness Force): automatically start to attack trees after 6 seconds, if they are idling
- Death and Decay (Darkness), increased cast range: 650/850 -> 1000/1000
- Gomorrah (Darkness ulti), hit points: 7.5k -> 10k
- Gomorrah (Darkness ulti), damage: 175 -> 250
- Sodom, destroy trees ability: radius: 200 -> 320, cooldown: 1 -> 5 seconds
- Nether Drake (Pyra ulti), damage: 200-215 -> 250-265
- Lightning Trap (Pyra), damage: 25/55/85/115/145 -> 50/100/150/200/250
- Lightning Trap (Pyra), duration: 20/30/40/50/60 -> 40/60/80/100/120
- Ensnare (Blaze): no mana cost
- Watcher Ward (item cooldown): 15 -> 3 seconds
- Sentry Ward: Has a shorter sight range during night, if night vision isnt upgraded
- Scout (Tyrande): lasts longer, but also higher cooldown; level 8: 65/30 -> 100/60 (duration/cooldown)
- Owl Scout: less hp (150/300/500 -> 150/250/350)
- Limit of rocks: 40 -> 25
- Naval Power (dragonballs): stacks up to 3 times (but has less effect after the first wish)
- some more smaller fixes..
```

Changes (v1.63):
```
- Create Watcher Ward upgrade: costs 3k -> 4k, the created wards are invulnerable
- Bugfix: Sentry Wards no longer can be attacked by farms
- Bugfix: You cant repick your infernal more than one time
- Necklace of Immunity: Now reduces the movement speed of the carrier by 25%
- Necklace of Immunity and Shenlongs Gem create a special effect around the carrier (to see easier, if a unit is immune)
- Full Potential (dragonball wish): +3000 experience / +30 stats -> +2500 experience / +750 hit points / +125 base damage
- Owl Scout (Tyrande), casting time: 0 -> 1 seconds
- The remaining life span of the Owl is indicated by its current mana
- If the owl dies, all units which fall out of the owl will become dizzy for 20 seconds (move/attack slower)
- Darkness ward (Darkness) -> Haunting Skull (is invulnerable and has more vision + true sight, but shorter duration)
- Force of Darkness -> Summon Voidwalker (only changed name / icon)
- Bugfix: Voidwalkers shouldnt automatically start to destroy trees, if they are currently attacking buildings
- Aura Well no longer provides auras, if it isnt fully constructed
- Votekick has a 30 second global cooldown (and 120 seconds for a single player)
- Skeletal Warrior, hp: 400 -> 800
- Burnin Archer, hp: 300 -> 650
- Skeletal Mage, hp: 600 -> 900
- Added new ability to Infernal Pit: Order Skeletons (orders all your skeletons to destroy trees)
- The gold feed of Rocks is no longer affected by the bounty factor (this means it feeds more in early game and in full house games)
- some more smaller improvements..
```

Changes (v1.64b):
```
[Infernal Pit]
- Shade, food costs: 1 -> 0
- Skeletal Warrior, hp: 800 -> 750
- Burning Archer, hp: 650 -> 600
- Skeletal Mage, hp: 900 -> 800
- Skeletal Force, bonus hp: 500 -> 450
[Infernal items]
- Staff of Teleportation, cooldown: 90 -> 60 seconds
- Cliffjumper Boots, cooldown: 90 -> 60 seconds
- Entsight, cooldown: 180 -> 120 seconds (you can bypass the cooldown anyway by giving it to another infernal)
- Sentry Wards: are invulnerable for the first 10 seconds
- Observer Wards (infernal upgrade): are no longer invisible
[Infernal spells]
- Death and Decay (Darkness), level 2 duration: 12 -> 11 seconds (72% -> 66% damage of total hp)
- Ball Lightning (Voltron): Is invulnerable, range: 500 -> 600
- Shocking Crystal (Voltron): Purges all units in the targeted area upon cast (slows for 2 seconds and dispels all buffs)
- Shocking Crystal (Voltron), damage: 20/30/45/60/75 -> 25/50/75/100/125
- Shocking Crystal (Voltron), duration: 6/7/8/9/10 -> 7/7/7/7/7 seconds
- Shocking Crystal (Voltron), cast range: 800 -> 900
- Gameplay constant, Magic damage against medium armor: 75 -> 100% (for better consistency, ents have medium armor)
(Voltrons Shocking Crystal is one of the few infernal spells with magic instead of spell damage)
- Electrical Light (Voltron), cast range: 800 -> 1000
[Ent classes: Protector]
- Increased base damage of all Protector class towers by 25
- Firebolt (Immune Fire Tower): damage 450 -> 550 (range 1000 -> 1200)
- Frost Nova (Immune Ice Tower): damage 450 -> 550, AOE damage 250 -> 400 (range 1000 -> 1200)
[Ent items]
- Shenlong's Gem reduces the movement speed by 15% (necklace of immunity does 25%)
[Ent buildings]
- Pissed of Tree, build time: 10 -> 8 seconds
- Raging Tree, build time: 15 -> 12 seconds
[Other]
- After a player swapped the team, infernals no longer lose unit control of their allies
- Swapping now also resets the vision of all destroyed trees (before you could see where trees were destroyed)
- Fixed a few unreachable spots for the infernals (in which immune ents could hide)
- Bugfix: Illidan no longer loses the Full Potential buff after using Metamorphosis
- Bugfix: dragonballs should no longer reappear in the inventory after getting rescued
- Added new chat-command: -rot <angle> (To rotate your camera around <angle>)
- Changed hotkeys of Illidan/Maiev (Windwalk/Mirror Image: D -> E)
- Changed the hotkey of Nature Lovers / Natures Guardian Windwalk (D -> E)
- Ent Ashs have now the ability "Search Soul", it selects the Ent Soul for you
- Selecting a class now removes the Improved Sentinel research from the upgrade center
[For newbies]
- Added a few more hints to the tooltips of ent buildings (tell me what i can add more)
- You have to build first a Resource Storage and Sentry Tower to unlock the other buildings (not sure if i keep it like this)
- The very first Sentry Tower costs no resources
```

Changes (v1.66c)
```
- A few fixes on the stats system
- Death and Decay (Darkness): No longer can hit Ent Ashs
- Full Potential (dragonball wish): Gives less bonus, if it is stacked (First: +750hp/+125dmg, Stacking: +500hp/+75dmg)
- Full Potential (dragonball wish): Bonus experience is multiplied with the bounty-factor (less experience in full games)
- Tome of Experience gives less experience to heroes over level 10
- Rescuing ents gives a little bit more experience
- Ents/Heroes receive some experience by picking up mushrooms
- Reworked ent heroes: All spells go up to level 20, reduced the stats gained per level, spells cost more mana
- Tyrande: Has Searing Arrows instead of Regrow Trees
- Furion: Has Summon Wildkin instead of Regrows Trees
- Reviving heroes costs less gold
- Aura Well, initial mana: 1500 -> 500
```
Reviews