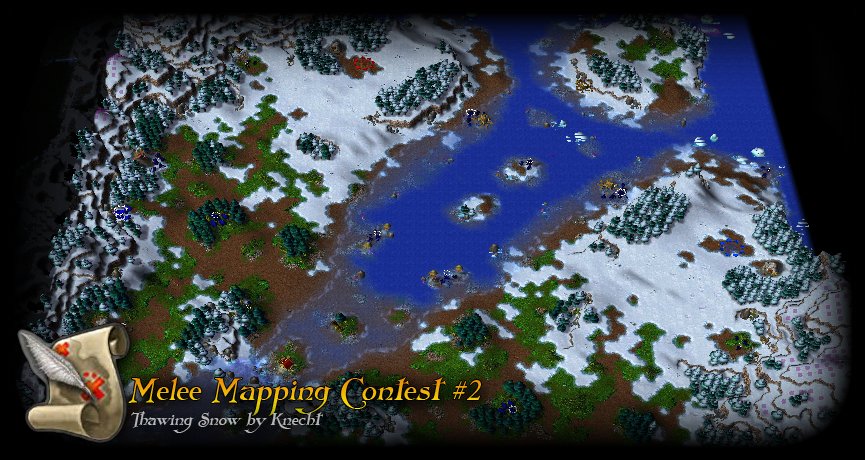 Create a competitive 1v1 melee map that excels in terrain, dynamic, and creativity, but most importantly balance.

Each user can only vote once in the poll.

You cannot vote for yourself

. If a voter has the same IP as the author then the vote will not be counted and it may result in the disqualification of the entry.
You cannot create multiple accounts to vote for an entry in the poll. If a voter has been found to be using multiple accounts none of the voters votes will count in the final result.
You cannot bribe users for votes. Contestants who break this rule will be disqualified and given negative reputation.
You cannot invite friends to vote strictly for you in the poll.

1st place: 30 reputation points
2nd place: 20 reputation points
3rd place: 10 reputation points

Judges: 5 rep
The three winning entries will receive an award icon, representing the winning entry.



| | | |
| --- | --- | --- |
| Balance | Is the map balanced for a player vs player 1v1? Are the positions and distance between points of interest fair? Does the map allow the 4 races to be balanced? Consider balance when implementing the pathing, resources, creep camps, and item drops. | 50/100 |
| Terrain | Is the map visually pleasing in mediums of terrain, doodad placement, and overall theme? Is the map repetitive? Is the aesthetic well designed but not overly obstructive? | 35/100 |
| Creativity & Uniqueness | Does the map bring something new or creative to the table? | 15/100 |
| Bugs | Scores may be brought down if there are bug-like issues such as faulty pathing, unusable resources, etc | - |
80% of the winner shall be determined by the contest's appointed judge(s).
20% of the winner shall be determined by the results of a public poll.
Contest thread can be found here:
Melee Mapping Contest #2
You can download all the contest entries in the ZIP file down bellow.
Assigned Moderator:
@Naze
Last edited: