The map was quite fun. Not outstanding in gameplay or scale but that is to be expected for an introduction map. It's got some challenging fights and requires the use of consumables which is very good. For a first project that is definitely a solid start.
Just a few issues/possible improvements :
- The loading screen is the standard one from melee. I don't know if that's a bug or not, especially since the map has a description, but you are going to want to add a loading screen introducing the chapter.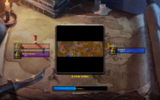 - The hero's abilities are slightly off to the side compared to where they should be.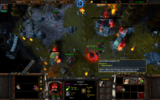 In the first cutscene, the orcs start speaking before all the elves are dead. I think you should make the cutscene last longer so you have a moment between the fighting and the talking.
It is possible to go directly from the start of the mission to Aedosora's section through a hole north of the start.
Considering the amount of sorceresses slowing you, it would be nice to add a dispelling item.
The fel orc warlocks should probably have a caster level indicator.
The level lacks an ending cinematic.