Dismiss Notice
Second Orc Book of Arkain (Patch 1.29.2 or newer!)
Tags:
Filesize:

46.79 MB
Rating:

(23 votes)
Downloads:

16608
Uploaded:

Apr 1, 2019
Updated:

Dec 12, 2020
Resources:

1
Author(s):
State:

Approved
This bundle is marked as approved. It works and satisfies the submission rules.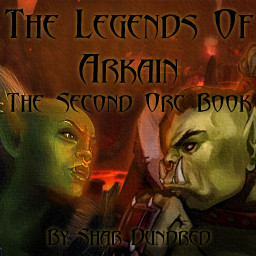 A Campaign Series made by Shar Dundred
! Requires Version 1.29.2 or newer !
You are not allowed to publish any edited version of any Arkain map! This includes but is not limited to Reforged edits!
Story
While the Orcs had managed to break through the lines of their Imperial enemies, it quickly became clear that their invasion was doomed from the very beginning. The Demons used their attack to further their own invasion and not only smashed through the Human defenders but also through the clans. Now they on the run. A new strategy must be found. Allies must be found.
Command the powerful Orcs and form alliances with those who would ally with your kind in order to become more powerful than any Orc army of the past. Use your new forces to withstand the armies of your enemies and destroy them to survive this war and to find a place for your people to live.
Will you be able to unite all those different factions? Will you be able to maintain peace among your own ranks while fighting your enemies or will you fight not only against the enemies of your kind but also against your own? Only time will tell.
Features
- Three different storylines/campaign series
Take control of one of the three factions, the proud Humans of the Empire, the plundering and strong Orc Clans or the mysterious Undead Nexus and their endless army of the dead, and face the demonic invasion as well as other struggles that await you.
- New units
Command units, you already know, as well as completely new units with new upgrades and abilities.
- Decide the fate of Arkain
At some points of the campaigns, you'll have the opportunity to decide things, that affect the storyline, characters and sometimes even the chapters you play or how you have to play them. By doing or, well, not doing certain side quests, you can also affect the campaign.
- Three difficulties
You can play the campaign in either easy, normal or hard difficulty, just like in the original WC3 campaigns. It will impact on the AI difficulty and scripting as well as other minor changes.
In easy version, for example, the AI won't rebuilt lost buildings.
- Full Jass AI
In this campaign series, every single AI is written in Jass instead of being created with the AI editor. This makes the AI more intelligent.
- Universal hotkeys
All abilities, units and buildings use QWER hotkeys.
- Race Mechanics
Every available race has its own unique race mechanic to improve gameplay - and, in some cases, to add new ways influencing the story.
Characters
Rangul
Growing up as a usual member of the Deathbreeze Clan, Rangul's abilities and his dedication to his race along with his strength made him rise up the ranks of the clan quite fast until he became the first and most trusted lieutenant of the chieftain. Rangul sees his race on its way to utter extinction and dreams of a realm for his people. A strong realm that would prosper and serve as staging ground for many invasions. Dedicating his life to create this realm himself, he planned to not only be the successor of the chieftain but to also unite all other clans under his command, sending them against the Kingdoms of the Humans. Their lands would be taken over and used by the Orcs who would then become more than simple marauders and pillagers.
However, his plan has one major hole: The Demons and their constant attacks. While Rangul thinks that his people could be powerful enough to defeat some demonic army, he has yet to come up with any ideas on how his people should wage war on the Kingdoms on the one side and defend against the Demons on the other.
Amari
The chieftain of the Cliffhunter Clan, Amari, was born as the daughter of Rangul. While women in the Orc society were forced to stay at home and take care of it and the children while the males were fighting, Amari wanted to prove to her father, whom she knew was more tolerant towards new ideas - him adopting a human girl was perfect proof for his. She secretly gathered a few other members of the Deathbreeze Clan and went on a mission to gain his trust. However, she was betrayed and forced into exile - like all Orc women who were unwilling to "stay home". The fate of an exiled female was often death. However, Amari did not want to accept that fate. She sneaked her way through to the Kingdoms where she met other exiles and together they founded the Cliffhunter Clan - a clan consisting of all Orc women who had been exiled by their clains. Therefore the Cliffhunter Clan is considered an exile clan by the other Orc clans - and therefore hardly even considered a real orc clan.
Amari and her followers raided the Kingdoms for a long time, with Amari being smart enough to keep her clan moving instead of settling anywhere to avoid being detected by the armies of the Kingdoms. Since the foundation of their clan, the number of exiled Orc women has increased dramatically, showing that there are many women who want to fight. Amari promised to herself that, one day, she would make the other Orc clans accept her clan and reform the society of her people regarding females.
Sasrogarn


Sasrogarn is Rangul's eldest son and a strong spellcaster - like his father. He is Rangul's left hand and one of the few Orcs who already know of his plans and supports him. Sasrogarn shares the dream of his father and has sworn that he'd carry on his dream in case his father dies. But he doesn't share the patience of his father and approves of taking a more direct and aggressive approach. This seeming eagerness for war has not quieted the whispers that the son of Rangul is a weakling and coward, however.

Grofzag
Being the son of Ephrog, Rangul's closest advisor and ally, Grofzag grew up together with Sasrogarn, the two being friends ever since their birth, being even born on the same day.
Unlike his childhood friend, Grofzag has always been a strong and respected member of the Deathbreeze Clan. When he was still considered a child, he ripped out the back of a wolf that was trying to eat him and used it, to punch its rider, a member of an enemy clan, to death. Grofzag staying at his friend's side is often considered the only reason why Sasrogarn is even still alive, for he saved Sasrogarn's life in battle several times, providing the strength and brains his friend lacked.
While proving that he possessed the brutal strength of most Orcs, Grofzag is considered far less simple-minded than most others, including his close friend Sasrogarn - the friendship being the one thing whispered to be the only mistake he has ever made, so far. He also is one of the few members of his clan who respects the human Vanessa.
Vanessa


Vanessa grew up as the daughter of a lesser noble in the Human Kingdoms. When she was five years old, the mansion of her father was raided by the Deathbreeze Clan. Due to the absence of her father, they managed to defeat the guards and take everything they could find. Somehow, the girl wasn't terrified by the strange creatures and didn't hide. She was found by the Orcs and their leader, the young Rangul, decided to take her with him instead of killing her. She grew up among the Orcs and was even accepted as a member of the clan - at least by the chieftain and half of the clan. Many dislike her for still being a Human instead of an Orc. Still, she dedicates her life towards Rangul and the Deathbreeze Clan.

Commander Daric
The mercenary commander Daric spent many years in service of the Empire, putting down revolts and uprisings in many regions both in the Empire and the Kingdoms. For his service and his ingenious tactics and strategies, he had been rewarded with lands between the Kingdoms of Salria and Rengar. However, Daric refused to take any noble title and instead had decided to continue using his title as a mercenary commander, focusing on taking down the enemies of the Empire.
It is said that Sir Lerrig Goldheart has hired Daric to make up for Lerrig's own rather lacking strategic skills. While Daric himself considers Lerrig a poor tactician, the experienced mercenary acts professional and respectful and is the one keeping Lerrig's men in line - though now many soldiers began to say that things would go much better if Daric was in command instead of Lerrig.

Click here to learn more about the other characters!
Feel free to post your suggestions, opinions and questions!
Please report any bugs!
Keywords:
Arkain, Legends, Legends of Arkain, LoA, campaign, series, Gardon
Reviews