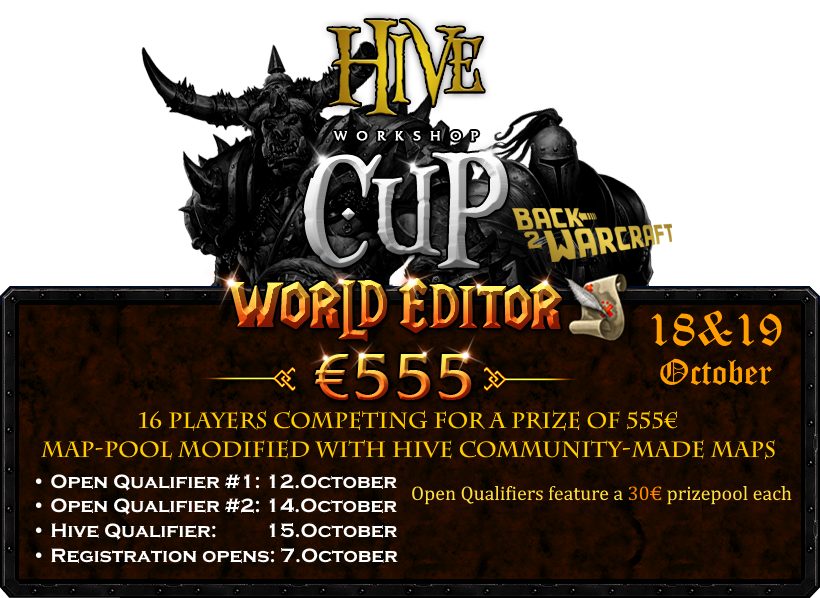 We are excited to announce the first ever The Hive Workshop pro-tournament for Warcraft 3.
The Hive Workshop Cup is a competitive 1v1 tournament where members of our, and the greater Warcraft 3, community will compete for a prize of
€555
.
Today, we're excited to have the opportunity, thanks to the sponsorship of
@Nightmare2077
, to run a competitive 1v1 Warcraft 3 tournament for our community, and Warcraft 3 as a whole. We are also working with
Back2Warcraft
to organize and cast this event.
The Hive Workshop has been a dedicated community creating custom experiences in Warcraft 3 for many years. And it's important for us to have the tournament to reflect this. This is why we'll be using community maps for the map pool.
A contest for our community tournament!
We're hosting a melee map contest where the top 4 maps get a spot in the contest. You're allowed to submit 1 of your maps - new or old - for this contest. Either create a new map, polish an existing one, or submit an approved map you've previously made.
Tournament schedule:
The tournament map pool contest will be conducted from now until October 6th, 2019. The top 4 maps will be selected for the map pool.

The Hive Tournament will have 2 open qualifiers from October 12-14, 2019. The top competitors of this group will move on.

Following this, the Hive qualifiers will take place October 15th, 2019. Exclusive to members of the Hive community (prior to September 20th, 2019), the top 2 competitors of this group will move on.

The Playoffs and Finals will take place October 18th and 19th, 2019. The top players of all 3 qualifiers will compete for the grand prize of €555.
Details on registration and format will be announced soon.
Last edited by a moderator: