*This guide is aimed at experienced modellers, and will not contain information about the making of models but on things that aren't always addressed and may seem insignificant.
Furthermore this guide will contain information only about "
Building"
type of models. And how mapmakers may view your models.




Greetings fellow modellers and other kind of people.
You may think that making models is all about making them all look nice and not crash the world editor, but evidently as I put "you may think" in the beginning of it, it automatically implies that it is in fact incorrect.
I will now proceed to disprove this by showing you a lot of screenshots (preferably fancy) to help me push my agenda.

Model Angle is an important factor to consider when making building models.
Much like in photography, you will want to find a suitable angle which will help show off all the details and features the model possess.





What better example could be given than one made by Blizzard itself, The Human Town Hall.

Now let's say it was rotated and faced an angle of 360* ish, or maybe a dull 90* angle.




Now comparing them to the original, we may observe.

Looking at Variant A, we can see how many of the model features and details are lost, appearing quite bland for the eyes of the player.

Variant B manages to keep it's features and details such as the main entrance and the entirety of the clock tower. However when grouped up with more buildings we can see that it isn't looking quite right, and it won't assuming most other buildings will have the standard vanilla angle.



Examples with custom models



The models in qu

e

stion I would ar

gu

e are of great quality, but some things are better than others,

not for the reasons you may think though

.

Let's compare 2 custom models, one made by @Mike and one made by @skrab .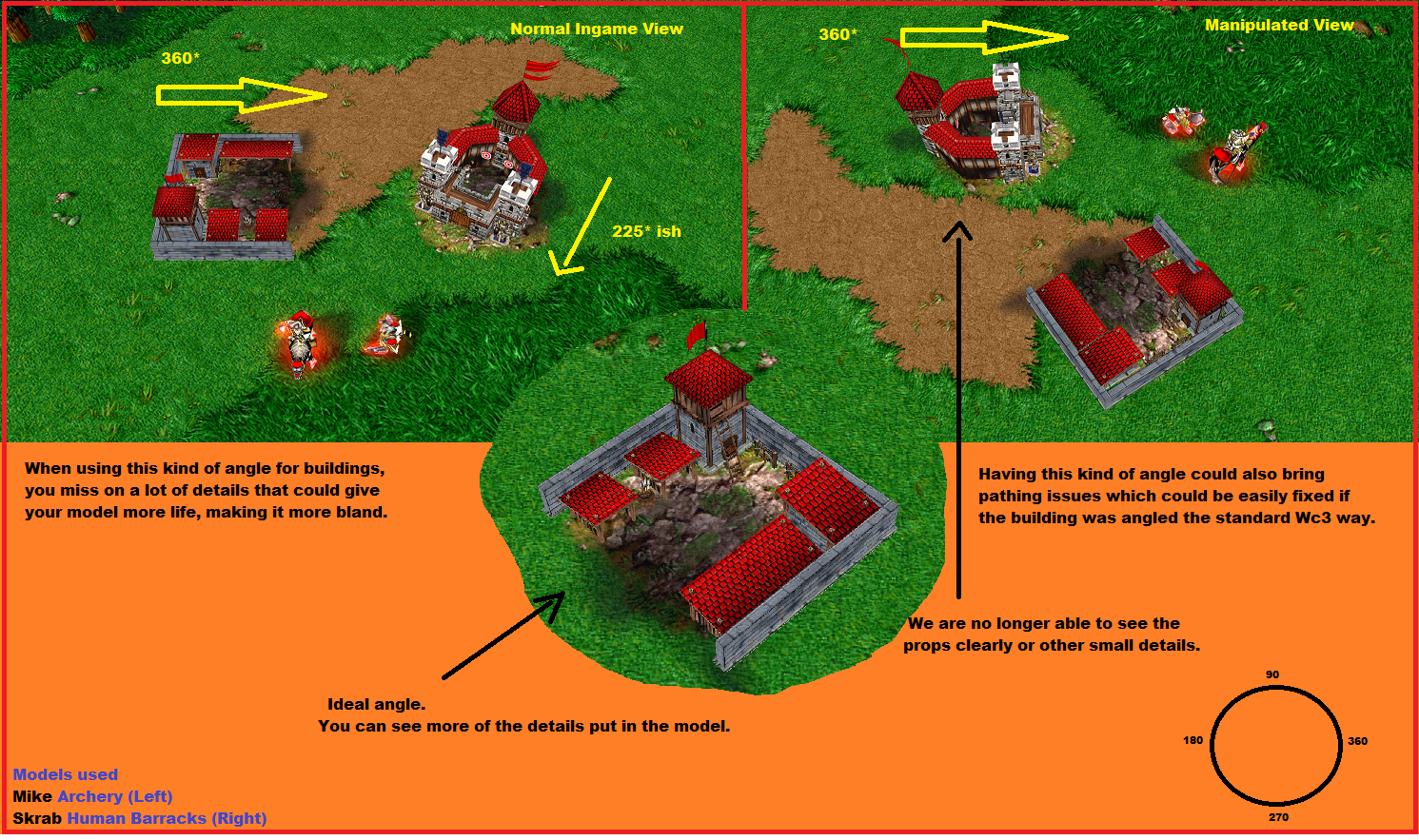 As I have explained in the picture, having a 360* angle can damage your model, in this case specifically as you will not be able to see many of the small little props and other details you put in to it.
Therefore it is important that when making a model you think which will be the main dominant angle (could be any angle) of your building and which yields the best outcome.

By changing the angle of the archery range we can see many more of the props and features, giving it more life making it fit much better.
Sometimes, adjusting the angle may be able to fix pathing problems while also fixing the aesthetical: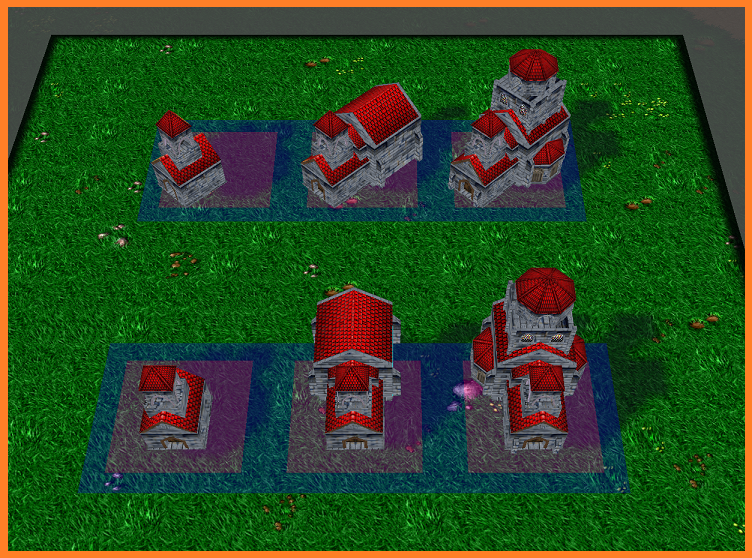 Model by Mike

Another problem which was partially adressed above is model positioning, this may happen when the model is not properly centered or/and when the model expands from what appears to be a small point in to something very large resulting in some unpleasant looking pathing.

This is dominant in tiered buildings, the idea of having a small hut become with a few upgrade in to a grand palace is very good, but may not prove such in practice.
When making tiered buildings It is important to define the boundaries in which the model expands, generally one should try having the first tier represent the largest the model may get: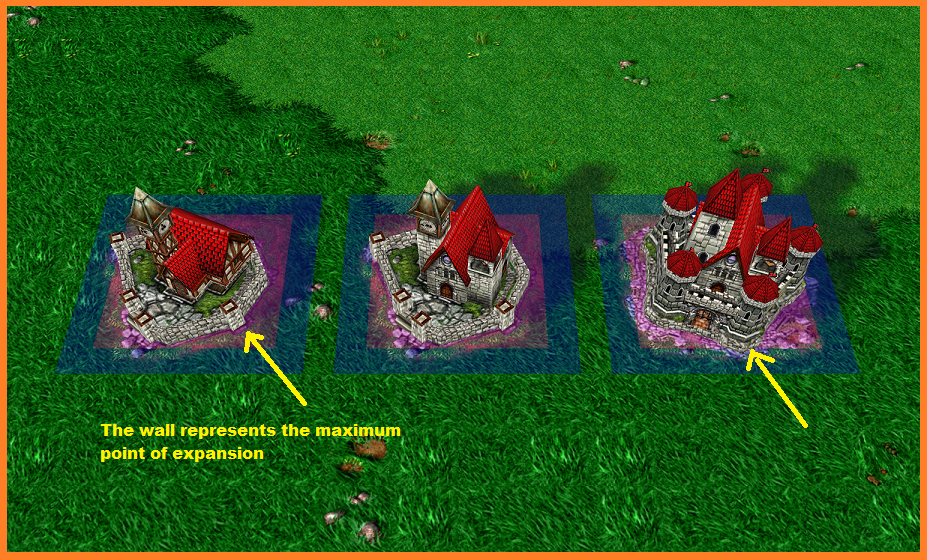 Model by Massivemaster
These may not be as important as the above, but can still be quite troubling.



Models by MassiveMaster


This occurs due to Z fighting, for fragments from any 2 surfaces that are close enough to each other that the Z buffer cannot reliably distinguish which is in front. The distance one can consider close increases the further away from the camera the surfaces are due to floating point machine epsilon.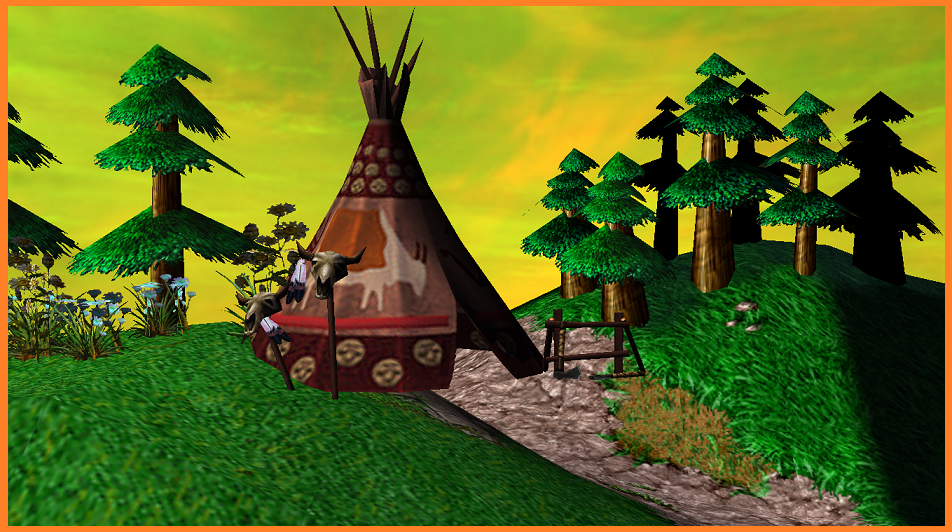 Model by Fingolfin


This usually happens when the model doesn't have a base, it is important for the model to have a base for the off chance of it being built on hilly terrain and giving the impression it is floating.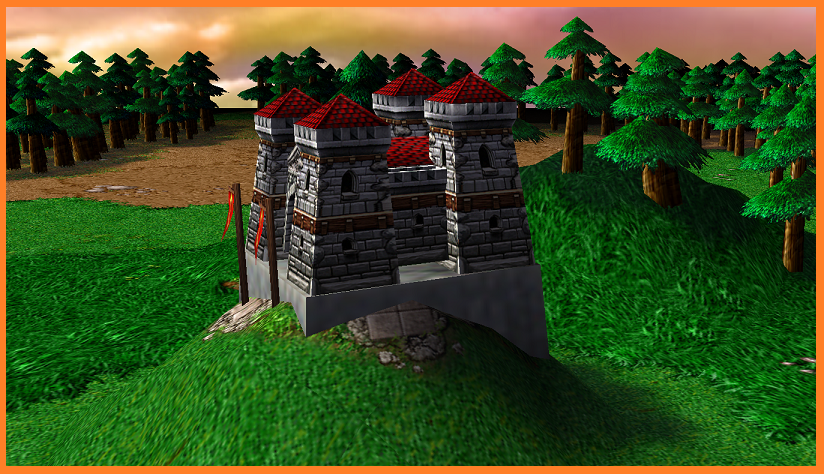 This concludes that.
Last edited: