Joined

Jan 7, 2012
Messages

72
I want to introduce a new map - Diablo AOS.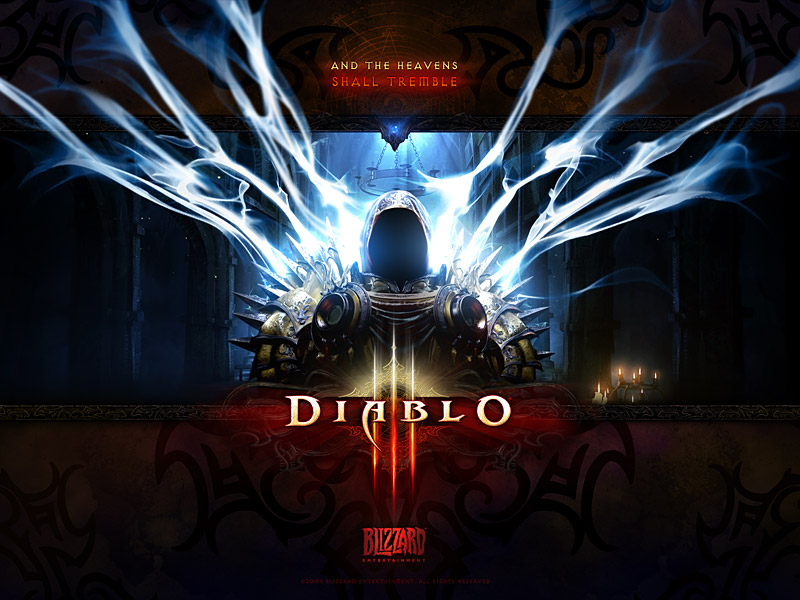 Author:
FatalBlade
Genre:
AOS
Number of Players:
10 (5 on 5)
Size:
128 x 128
Land Type:
Jungle (Sunken Ruins)
Description and Review
It's gameplay is similar to DOTA, but with much and much differences:
Gameplay

- Heroes can choose skills, 3 out of 9, with which they will play along the game. The are 3 skill trees, each tree has 3 skills. You choose 1 skill for each position on the panel. There is also an ultimate skill, the 4-th skill, that can be learned only at 20 level. Actually, with this system, each hero has 27 variations of development, which can be much different from each other. Each variation is a different style of playing.
- 10 Heroes for each side (it's not many, but with the choosing-skills system each hero can be as many different heroes)
- 40 levels for heroes.
-
AI included
.
- Nearly 150 items.
- Realistic, dynamic and not-standard skills.
- Nice landscape.
- Mobs and Neutral Creeps get slightly upgraded from time to time.
- 4 Neutral Bosses - Azmodan, Belial, Andariel and Duriel, that should be killed in party, not alone.
- Bosses have their own AI, they will use skills in some situations.
- Elite mobs instead of Towers, who fight
- Instead of World Tree and The Throne as the main quest objects, there are 2 main Bosses: Tyrael at the Good side, and Diablo at the Bad sidfe. As Bosses, they will also fight those who try to kill them, and both have their AI.
- New and original damage-in-line system for mage-classes. Each nuke of the mages' attack does line damage, in front of the hero. The I|ntelligence Stat and Magical Weapons increase the line damage and decrease cooldown. Also the Hero Level affects the damage. Fixed bug from the previous version, that those nukes could interrupt other hero's abilities.
- When your hero gains a level, he gets 5 Stat Points, like in the Diablo game series. You can choose what Stat you want to increase for your hero. For that, you have 30 seconds. If you don't distribute the Stat Points with 30 seconds, they will be distributed automatically, using the best setting for the current character class.
- When a unit dies, each player sees the amount of gold he has been rewarded for that unit. Actually, I mean Floating Text.) The same is the damage of the mages' nukes are shown.
- There are tutorials in the game, which can be turned on and off using chat commands "-helpon" and "-helpoff". The language of the tutorials can be changed between russian and english, using the "-eng" and "-rus" commands, to English or Russian accordingly.
- Fighting Bosses is complicated and interesting. The bosses summon minions or cast spell at certain HP levels. They also have some speech replies. Dying, the bosses drop 5 different items.
- When a boss dies, everybody gets rewards of Stat Points and Gold. The amount of these depends on the damage the entire team has dealt to the boss.
- The system described above is more fair to the players. If a team was farming a boss, until it had a very low HP level, and a hero from the opposing team has come and made the last hit, he would not get all the rewards, only what he deserves according to the damage he had dealt.
- Player counting system is applied. The more active players are in the game, the more Exp and Gold will be gained for killing creeps and enemy heroes.
- Backstab. When a melee-rogue class using an immediate damaging spell at an enemy unit from the back, the damage will be doubled, and there will be a floating text above the target, that says "Backstab!"
- Added Horadric's Cube, which is a mobile storage or a vault for items. The item that a hero can not use at the moment, goes to Cube. Item restriction and craft formulas DO NOT WORK inside the Cube.
- Added the Cow Farm, where mobs drop different items, except for Full Sets and Socketed weapons. However, these mobs give less exp and gold creeps which are equal to them in strength outside of the Farm. The reason I did it this way, is to make sure that players will not be always stuck at the Cow Farm, and will go killing creeps and advancing to the enemy base either
Item craft, Equip system, Multi-Traders, Herbs
- Multi-traders. There are 2 merchants - 1 is armor merchant, 2 is weapon merchant. For example is you click the Weapon Merchant, it will show you various types of weapons and accessories: Normal Items, Rare Items, Unique Items and Socketed Weapons. When you choose, for example, Rare Items, it will show you all the Rare Items the merchant sells. You can return to the category menu and choose Unique Items, then it will show you all the Unique Items it sells. The same is with Armor Merchant.
- Realistic equip system. A hero cannot equip 2 identical items.
- There are 4 categories of equipment: Armor Sets, Weapons, Accessories and Other.
- All items are available for all classes, but there are a few restrictions: If a hero has a Full Set item, he cannot equip an item that is a part of a set. The same thing is about the opposite, if you have items from different sets, and one of the sets lacks only one item to get the full set, then you will not be able to pick up/buy it, because you have items related to other sets in your inventory.
- When you collect all the four items of an armor set, which are: Armor, Helmet, Gloves and Boots, they will be merged into 1 item - a Full Set. This operation cannot be undone.
- Full Armor Sets, or set parts can be equipped only at 20 level and above!
- Weapons which names are written in gray color, can be socketed. Socket is an effect added to the weapon. It gives a certain additional bonus to the hero that equips the weapon. Its also visually shown on the weapon in game. The bonuses are written in the item's description.
- There are 4 types of Sockets: Ruby, Emerald, Amethyst, Sapphire. Each of them gives different bonuses.
- Sockets are added by an NPC. When the player clicks on Socket,a dialog window pops up, where there is a choice of all the items (weapons), which are currently in the inventory, and can be Socketed.
- The armor is devided into 6 sets. When a hero equips all the parts of a set, these 4 items merge into 1 item. This item has the total bonuses of all the 4 items.
- There is a list of various achievement that the hero or a team can accomplish to get Extra Gold, like First Blood, or killing an enemy hero within 6 seconds, or kill a Boss, or get level 24 before all other heroes, or the team must kill more enemy heroes then the other team, within 3 minutes and etc...
- Herb dropping system: all mobs and creeps drop herbs, that when a hero walks over them, they automatically disappear, healing his health or mana. They don't need to be targeted as items to be picked..
Screenshots






Download

Version:
v1.2
File:
Diablo AoS v1.2 (with AI)
Last edited: