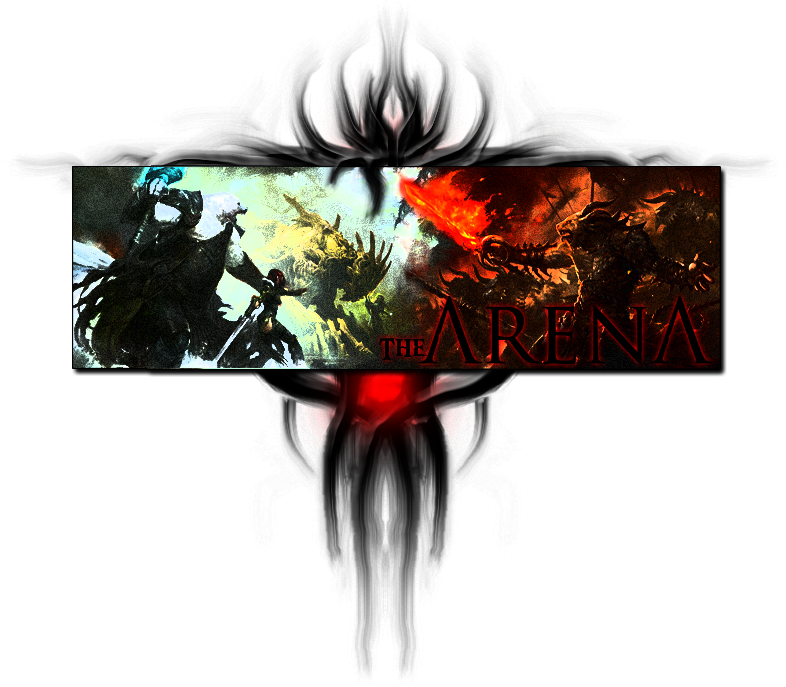 The arena is a place where anybody from anywhere can come and fight for glory! Here at the arena you can fight for fun, for rank, or in a tournament. Team up with a friend or a few friends to fight an external force, that isn't controlled by players. Form your own alliances and battle other ones!
This does not have a lore since it is a player controlled Role Play. I will do my best to keep up with the fights and have your wins/losses updated if you wish. I shall keep an eye out for people who are strong at Rping and those who are not so much so in Tournaments that are arranged, i can oversee if an unfair pair or team are set up. Tournaments will be arranged by me if time allows, and may be arranged by others if it is agreed in mass.


1. ABSOULTELY no god modding, it is a rule that should be known by all RPers.

2. Keep the fights even! by standards may join the fight by themselves or siding with one of the fighters, however ganging on one person is frowned upon.

3. On your first post (Your introduction to the battle field) you must describe (If you are the challenger) the terrain/battle field, A description of yourself and optionally your entrance to the battle field, and any preperations or taunting.

4. The challenged does not have to make the first move, they may taunt their enemy, or stall in some way.

5. An attack must be described in enough detail that your enemy has the potentiel to block, dodge, or counter.

6. An attacks power level is based on its detail, and length of attack. Words must have meaning however, useless words do not add to their power.

7. Strong attacks must be countered with an almost equal length and detail, if not the attacker has the opportunity to break through your counter attack. However a powerful ability may be dodged to certain lengths.

8. The honor system is used in this RP, so if you are cornered and you know you have no way to escape, dont make something up, have good sportsmanship
Tournaments:

A tournament will allow you to show your skill and potentially win a reputation among your fellow RPers, they are optional to be joined and anybody can enter. They will be arranged in brackets based on how many people join, and optionally a userbar will be awarded to first second and third in the tournament if you want it.
Other:

Again, this is a player controlled role play so have fun with it! if you are not part of a fight dont be afraid to jump into their fights and observe from whatever is in the described terrain. Try to stay on topic, and please, stay in one place at a time! Just because the max of fights in a thread is hit doesnt mean you cant post! I encourage you to give new ideas, im open for anything. To keep the sub-forum spam free, i would appreciate not to open a new thread without consulting me, or a moderator. I will open 3 threads, this is the main thread where the majority of the battle shall take place, i will have a Free Play/Roaming thread, and a tournament thread. That is if people join of course.
This is the main hall so no fighting shall take place here. Arranging fights, character registration, any Off-Topic comments you need to make, questions about future tournaments, and Suggestions should be posted here.


All fighting should commence on one of the Planets:

Arcadia (Strictly a Tournament Planet)
Since this roleplay does not have an actual lore, you do not have to follow this. I invented this lore for the example battle in the thread of Planet Zero.

People from all over the universes are disappearing. A planet in the Null-Universe, an untraceable universe where all the bad things are kept, is alive again. This planet known to people by many names, however its origin is not known. A planet completely barren of all life, but a large building survives. This building is known as the Main Hall. Portals are opening up from all over the planet bringing in new people. The ring master is unknown but once you enter the Main Hall you cannot leave until you are the last one. For those who don't wish to fight, they are forced through a type of mind control. The technique is unknown but it starts with 3 chimes, after that you go blank. For now only other planet used, is Planet Zero. I hope to find out more about this game....

Journal of Urahara Kisuke


For those who wish to follow the lore, or add onto it with your insight, im open for anything!
Last edited: