I'd like to request a model edit of
@Hermit
's
Spirit Touch Model
, I'd like to have a clear colour hexagon like pattern over the surface with the hexagonal pattern fading off from the center (similar to how spirit touches star spreads out!
Instead of the "Spirit touch/Defend Star" currently on it.
Additionally, if it's all right I'd love a step by step, on how you did it so I can learn!
I'm planning to use this in pack of shield-like- abilities along with my submitted resource
Bone Armor
that uses Hermit's Spirit Touch Model, so some variations of themes can be applied.
Example of "hexagon pattern"
(Preview of my Resource Bone Armor using Hermit's current spirittouch model - Note that the example is using random player colours for testing purposes!)
(Protoss Shield Example)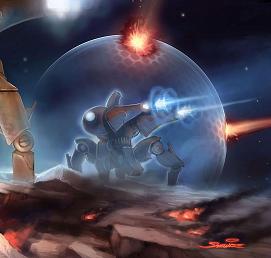 Review of Request:
White/Clear hexagon patterned texure Spirit Touch Model (this is so player colours can be applied!)
Fading Texture Animation - similar to the Spirit Touche's animation.
Let me know if this is too much to ask for, I'm a novice in this field and I have no idea of the scope of the difficulty
Participants will have their Name within the credits and the maximum amount of rep I can give.