-Medieval Realms-
Medieval Realms is a grand and complex RTS. It overhauls all the old WC3 systems and adds many new systems along with new mechanics for combat, construction, and much more. Test alpha map will be released soon. Still a work in progress...

Inspired by Stronghold and Age of Empires II

Features
Camera Zoom, New Combat Mechanics, New Construction System, New Harvest System (7 Total Resources), Everything (Units, Structures, Abilities, etc) is Upgrade-able, Walk-able Walls, Ladders, & Stairs, Custom Pathing, Revised Hero System, Revised Creeps System, Lots of Items, Farming System, Trade System, and Alliances.
8 Player Map - Altered Melee - Terrain inspired by Germany's beautiful landscapes.
MassiveMaster, ZiBitheWand3r3r, and Koltira (Triggers)
Mirage1 & Himperion (Animations)
NFWar, The_Silent & Eagle XI (Icons)
Hayate, Mike, .KC, paladinjst, & GhostThruster (Models)


Construction
All structures start off as Building Plots then upgrade into a chosen structure. When Selected, each building under construction has a worker amount and type requirement displayed in the upper right multiboard. (Worker Type: Required #/Max #) Basic buildings require workers, however more advanced structures require an architect in addition to workers. Workers use the construct ability to build structures - simply right click or manually use the construct ability. The more workers constructing, the faster the building is constructed. Also more advanced workers and upgraded workers construct faster.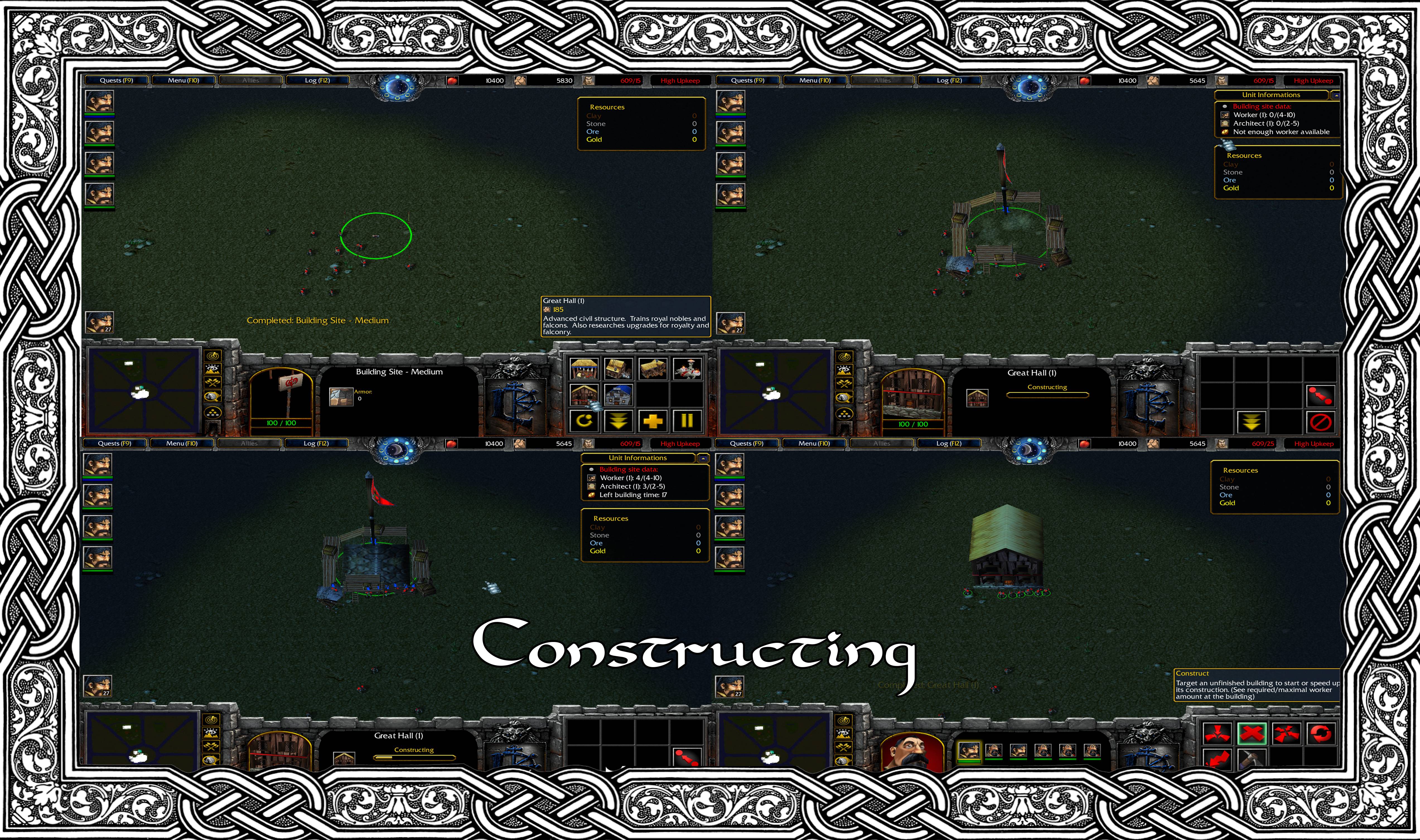 Lots of structures... All built from 4x4, 4x8, 8x8, 12x12, and 16x16 Building Plots.

Combat
New Combat Mechanics overhaul the old damage/armor types and implements a stagger/critical/block/parry system for all units.
Armor Types:

Cloth

Leather

Mail

Plate

Cavalry

Fortified

Beast
Attack Types:

Slash

Stab

Smash

Ranged

Beast

Strike


Resources:
Food, Lumber, Population, Clay, Stone, Ore, and Gold.
Food - Harvested from Plants, Fish, and Animal Corpses.
Food is used as a primary resource for all human units.
Lumber - Harvested from trees.
Lumber is used in building construction, repair, and as a secondary resource to some human units.
Population - Accumulated from housing structures.
Population is used up by all units as well as some fortifications: towers, gates, and stronghold.
Clay - Mined from Clay Deposits.
Clay is used in building construction and can be processed into Ore.
Stone - Mined from Stone Deposits.
Stone is used in building construction and can be processed into Ore.
Ore - Mined from Ore Deposits.
Ore is used for advanced and armored units.
Gold - Mined from Gold Deposits and Profited from Trade.
Gold can be exchanged for any other resource.

*Need help with Triggers and Animations. PM me!*
Sorry some images are pretty pixelated - I'll do new in game screenshots soon.
Last edited: