The Knights of the Round Table RPG, Recruiting
Still in Alpha, but close to being playable (single player & 8-player co-op.)
Recruiting
for help with anything.
- Added Map Summary
- Added Help Wanted
- Added Very Organized & Shorts in About Map
- Updated Spells List
- Updated Spells Descriptions
- Added About Map Systems
- Added Inspirations
- Added Screenshots in Spells Descriptions
Objectives:
- Defend Camelot from the onslaught of the evil Morgan Le Fay (this objective will last until the game is over)
- Find Morgan Le Fay

Optional Objectives:
- Find Merlin's ancient friends
- Defend an old ally's city from an orcish assault
- Cleanse the island of Avalon with the help of Percival Pellinore
- Kill the Black Knight, the Green Knight, and the Red Knight
- Search for and obtain the Holy Grail with Galahad the Pure
- Discover and complete several more minor side quests

Note: The map does not contain a quest log, yet.
- Re-terraining (Re-do the entire map, more than one person needed, please help)
- Triggers (I can get by, but any help and ideas are appreciated)
- Cinematography (help needed)
- Modeling (thank you hiveworkshop, unique models for my map would be cool, though)
- Texturing (done)
The trigger editor of my map has several sections such as;
-
Introduction
(saying thanks for dling, the map is 1-8 players)
-
Prologue
(Intro to the story)
-
Help Wanted
(what I want to get done)
-
Changelog
(what I've done)
-
Walkthrough
(basic gameplay, rescuables/items locations) [not started]
-
About Me
- Shorts: blooper stories above cinematic triggers & background stories for each knight above character select triggers) [not started]
Special Features:
- Cinematics (not much so far, but I plan on making it entertaining)
- Very Organized
- Terraining (medium well, but will get O so better)
- Aquiring weapons changes the appearance of your weapon
- Each character has a type/s of unit/s to train at their building (some buildings must be found)
- Fun battles in which enemies come from the FOW/forests to lay siege to the castles or to just surprise you
- Epic bosses w/ epic spells eg. Black Knight's Lightning Pillar, Morgan Le Fay in her final form
- Side Quest; The Search for the Holy Grail
- Some open terrain w/ a few creep spawns
- Mostly linear with major path choices
I will add plenty of systems:
Including an Equipment/Custom Inventory System, an Ability Lvl Up System, a Quest Generating System (that's not boring like everyone elses) for side quests, a Weather System, a Creep Revive System (not everywhere making the map tiresome like everyone else does in ORPGs). Also, I am considering an optional Camera System and a Cinematic System to make creating lots of entertaining cinematics easier. I will create buildings with doodads imported from the Ultimate Terraining Map and from other archives, and I will attempt to use a Region Levitation System to make them multiple story buildings. Last but not least, I will add an Acceleration System that works by speeding up units running down hill and slowing them running up hill, and I will try to re-terrain the map so that it abuses this system in a very fun way.
- Legion the Legend of Excalibur by Midway Games for the PS2 (Reason for making a Knights of the Round Table game; inspiration for some Storyline, most of the Characters, and a few Spells)
- The Kingdoms of Kalinron (Amazing Terraining, Map Size, and unique and awesome UI's and Systems)
- Truevision ORPG preview video (Beautiful Terraining, Hero Revive System, and Indoor Shop)
- The Lone Panther (Beautiful Cinematics and Terraining)
- The Hive's Terraining Forum, ie. Legendary Terrains & Contests
- Reserved for more stuff I forgot about

I would love to see more. If you wouldn't mind me using and crediting one of your creations please PM me.

Note: I haven't mentioned material I directly used from the hive. Everything I downloaded and used will go in my credits when I release the beta. Also, I have not begun implementing or re-terraining since I have been inspired by most of these productions.
Updated: (*) implemented/working
Terraining will change drastically... eventually.
Word of advice, go jump off a bridge before using Windows Movie Maker.
Updated:
Guinevere is able to call the powers of the nature to support her in battle. This allows her to conjure five magical birds which will fly around her. If there is at least one enemy within a 400 AoE of a bird, the bird will charge this enemy. If a bird reaches an enemy, the bird will smash into the enemy location to release the combined powers of nature in a 200 AoE. Every enemy in this area will receive one of the three following effects and takes 15/30/45 extra damage.
Enchant
The target may miss with a chance of 50% on attacks. Lasts 5/10/15 seconds.
Poison
The target receives 10 damage per second. Lasts 5/10/15 seconds.
Root
The units movement and attackspeed is slowed down for 50%. Lasts 5/10/15 seconds.
While the birds rotate around Guinevere they will improve her life regeneration and the life regeneration of all allied units in 200 AoE by 1/2/3 HP per second.
Summons a great bird that fuses with your current energy (mana), which smashes itself into the target location.

Range: 1000
Cooldown: To be Determined
Damage: Amount of mana before cast
Calls forth a catastrophic lightning storm form the heavens to strike the hero's enemies. The lightning storm follows the hero for 10 seconds, striking every second. Everything in a small radius of the lightning bolt will receive 100 damage.
Sends two powerful elemental orbs towards a target location, the frost orb will freeze enemies that come near it, while the fire orb will deal damage to all units it passes.

Level 1 - Freezes units for 2 seconds, deals 50 damage to enemy units, has a 15% chance to combust on a unit causing 25 damage in a 50 AoE. Final explosion deals 100 damage and freezes units for 2 seconds in a 200 AoE.

Level 2 - Freezes units for 3 seconds, deals 100 damage to enemy units, has a 20% chance to combust on a unit causing 50 damage in a 100 AoE. Final explosion deals 150 damage and freezes units for 3 seconds in a 250 AoE.

Level 3 - Freezes units for 4 seconds, deals 150 damage to enemy units, has a 25% chance to combust on a unit causing 75 damage in a 150 AoE. Final explosion deals 200 damage and freezes units for 4 seconds in a 300 AoE.
Freezes time in an AoE for a duration. Any enemy unit that is caught in the AoE cannot move or attack.

Level 1 - Freezes for 3 seconds.
Level 2 - Freezes for 6 seconds.
Level 3 - Freezes for 9 seconds.
Creates many waves of fire and water around the caster that shoot in random directions dealing damage to any enemy ground unit they come into contact with. Lasts 1 second.

Level 1 - Each wave deals 20 damage.
Level 2 - Each wave deals 40 damage.
Level 3 - Each wave deals 80 damage.

Additional effects may be added
Launcelot thrusts his lance forward, creating a deadly force which damages every enemy unit it comes in contact with.

Level 1 - 100 damage, 500 cast range
Level 2 - 200 damage, 750 cast range
Level 3 - 300 damage, 1000 cast range
Launcelot unleashes glaives controlled by spiritual power, creating 3/6/9 rotating spinners around him, each spinner has a random amount of time until it will strike outward and hook an enemy unit that collides with it dealing lethal damage over time.

The glaives in this spell are imported, but I may change them back to the tri-blade default ones. I think that looked better.
Launcelot teleports to a target enemy ground unit and starts slashing them, using his arcane energies. Each slash deals 5% of his current mana with 5% of his remaining mana stacked after each slash into damage for the next slash. Each slash costs 20-30 mana. Slashes 4/6/8 times.
Causes a bladestorm of destructive force around the Lancelot, rendering him immune to magic and dealing 110 damage to nearby enemy land units. Causes knockback.
Sates the area around Galahad with holy magic that restores mana and health of allied units.

Level 1 - 20 hp, 10 mp per second, 250 aoe, last 10 seconds.
Level 2 - 40 hp, 20 mp per second, 350 aoe, last 15 seconds.
Level 3 - 60 hp, 30 mp per second, 450 aoe, last 20 seconds.
Summons the legendary Hammer of Thor to the hero's aid. The hammer hovers in the air, and launches projectiles at enemies nearby. After a while the hammer slams the ground, stunning and setting enemies on fire for three seconds.

125 damage per hit
8 second duration
24 burn DPS
3 second burn and stun duration in a 600 AoE
Dashes to a targeted area at high speed. Cast range is 1000. Each level increases the damage.
Note - the hero will stop if he counters any cliff or boundary, but he can dash through trees.
The caster strikes the target five times at lightning-like speed causing severe fiery lacerations cauterizing flesh. Each successful swing deals Arthur's attack damage as well as...

Level 1 - 15 bonus damage.
Level 2 - 30 bonus damage.
Level 3 - 45 bonus damage.

Cauterization can cause damage over time, preventing the casting of spells, and reducing attack damage by 25%.

Level 1 - 100 damage over 14 seconds.
Level 2 - 225 damage over 16 seconds.
Level 3 - 375 damage over 18 seconds.

Burning lasts roughly half as long on Heroes.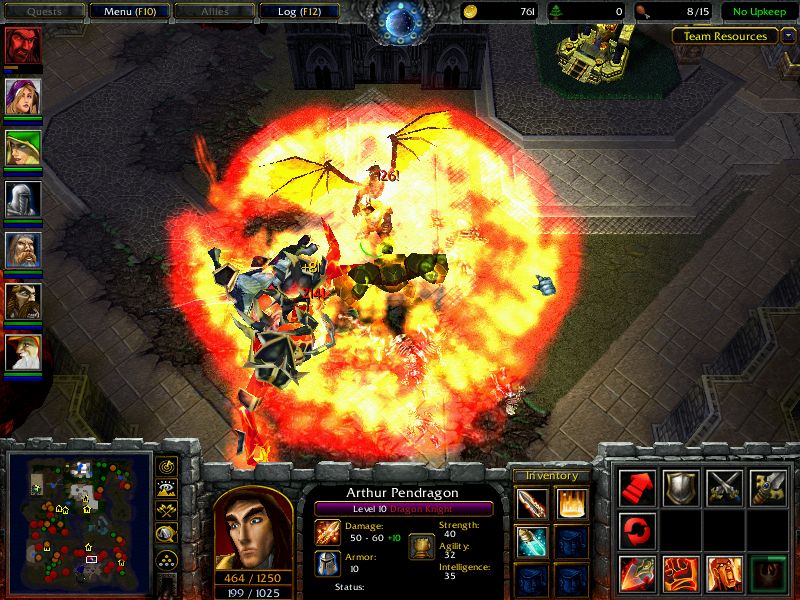 Unleash the spirit of the dragon.

Aerial Strike: By Joker(Div)
Elemental Helix [v3]: by kenny!
Lightning Speed Lacerations (Flurry): by Maker
Drachen Fire: by me
More credits for spells/models in video to come...
Please comment/critisize. I really really want some feedback. THANK YOU for your interest.
Need to finish a few things:
First, I need help fixing the AI.
Next, I'll finish the spells I haven't implemented/created or thought of yet (this goes for bosses as well).
Then, I'll import around two dozen more doodads to re-terrain a good portion of the map.
Finally, I'll optimize it and the map will be in beta at that point.
I will create an RTS version after completing this RPG which is slowly becoming more like an ORPG.
Last edited: