Achilles is a male in his early adulthood, who is living in a village under the control of the Roman Empire. Every year in a certain day, the Romans send soldiers to these villages and take the males into their ranks of the army after putting them through a hard training. Achilles is going to be taken this year. Now he has to forget his pain and work his way up to get stronger each day.

Newly recruited soldiers like Achilles are to be tested and assigned to their suitable commanders. Achilles and his two friends from his village, Rhaskos and Pietros, are assigned in the same group. The commander of this army group is Varinius who has a tough and merciless personality. His actions from the past have not been much appreciated and his reputation is not very good among the Roman army., since his name is mostly mentioned with killing, torture and cruelty.

Things start to go downhill from here, traitors and backstabbers cause Varinius to get into poor situations and Achilles finds himself in the pits where people pay for the fighters and the fighters fight for their lives until one of them dies, mostly brutally.
The campaign will start by the beginning of all these. Explaining what happened in the Roman army, showing us how he got into the pits and how he rises from all this to be a gladiator.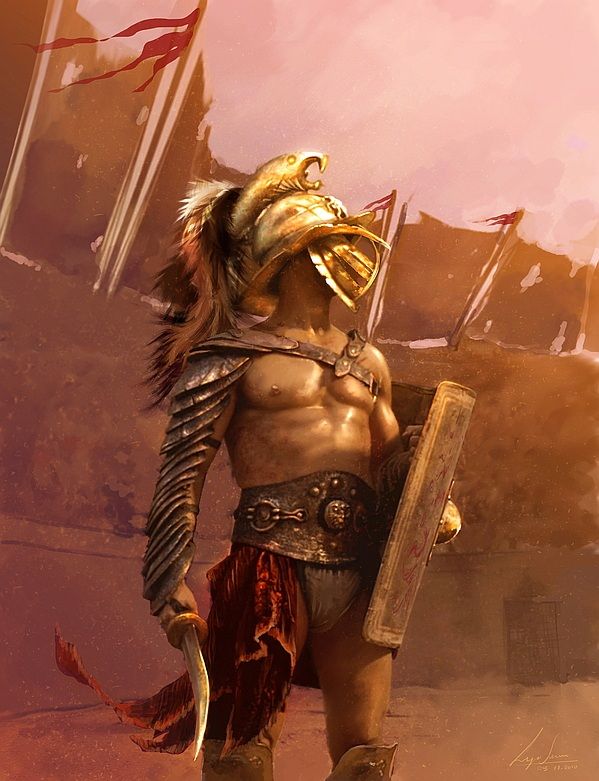 The campaign is story driven, and will offer some choices to have consequences. Some will not have much impact while some will have significant effects on the story. The campaign is in its very early stages, I will update the thread in time.


1- Gameplay
Movement System:

The movement system will be with arrow keys, with being able to run or walk. There will be some features of parkour in the game, as in Assassin Creed series. Some vaults over fences and climbing over some walls etc...
Immersion:

There will be many accessible areas in maps, with side quests and mini games which will reward the player for their time. Some rewards may be permanent stat boosts, skill points etc... The NPCs will act as immersive as possible. Applauding and cheering when the player plays piano, or sing. Encourage and roar when in combat etc.. They will not just be static units.
Combat:

Combat stance will be available only when in combat. The game will provide the user with combo systems and many animations, such as pressing Q three times and pressing Q once and E two times will have a different combo. The player will be able to avoid the incoming attacks by rolling/diving toward a direction or just simply block it or parry with proper timing. The game will have mostly 1v1 combat for the sake of simplicity, but if I can achieve it I would like to add more complicated battles in the game. NPCs will have their own unique skills like one being faster while the other being stronger etc... They will not blindly attack and try to catch the player unguarded and they will be able to block or parry, but not roll. Combat will be dependent on timing and skills mostly which is very much inspired by Dark Souls series.
2- Factions
Roman Empire:

My aim is not to depict the Roman Empire's historical profile. I'm using the civilisation just for the era and some of their traditions, mostly for the Colosseum. The Roman elites are mostly cruel and watch violence for their own amusement. The poor citizens are behaved so mercilessly so they get violent between each other since they can't oppose the soldiers. That's why they like to watch the games at the Colosseum, where the gladiators kill each other.
Gladiators:

These are men with the only purpose of surviving. Some have accepted their fate and want to gain honor and fame by killing in the arena while some still don't accept this tradition(!) and see it as slavery and want to breakout from these chains. But out of the arena they are of course treated as slaves maybe a bit better than the common ones.
3-Development Progress
This part will be updated with progress.

Chapter One: A Great Victory - Introduction

Chapter Two: Kingdom Come

Chapter Three: A Give and A Take




Chapter Four: ~~~
4- Screenshots
1.
5- Development Team
6- Progress

-The movement system is now working fully functional.
-Parkour system is being developed.
-The combat system needs a lot of work though.
1) First Map: Introduction
Terrain: Almost done, missing some bushes and grass here and there
Coding: Got a lot more needed :3
2) Second Map: Kingdom Come -> Almost finished. Just need to add in quests, and cinematics.
3) Third Map: Just a few starting areas.
JOIN IN OUR DISCORD SERVER for better communication during the development phase!
Last edited: