Defend Wintercastle
- alpha
By WaterKnight
Story:

A
bout one month ago, two peculiarly luminescent orbs draught across the sky. While one featured a blue color and immediately vanished again behind the far horizont, the red one bolted right into us, our great town, which was meant to be peaceful home to all of the known species. The shock wave easily tore buildings and roads apart and cloaked every nook in gray dust. As many died from the impact, with us survivors facing the poor remains, nothing was left but utter chaos and despair. Whereas some took it for the coup de grâce, I perceived it as divine mockery that shortly thereafter the sky darkened and a bittercold early winter set in.
O
nly the of a strange material consisting glowing meteorite we lifted from under the debris seemed to spend some even weirder soothing warmth. Though the sky cleared a bit within time, the cold persisted and a growing restlessness of our environment became noticeable. So we set out to seek shelter in the adjacent shire of count Drakul, owner of Wintercastle, right at the foot of the Crystal Mountains. Along our journey did we bring that life-shattering rock whose still thermal energies emitting nature easily mesmerized us.
S
ince that time we try to get by with the small rations here and hope that the sun will return to us someday. Yet, the problems keep piling up: Besides the lack of food and the ongoing frost which we call the "Dark Winter", the surrounding forest's inhabitants are getting very anxious and have begun to engage us. Most of us refugees do not dare to leave the castle anymore. And how long will the strange stone provide us with strength and hope?
Facts:
Difficulty: medium to very hard
Language: English (I'm not native to english, but I try)
Max players: 7
Original thread:
Defend Wintercastle - inWarcraft Forum
(german)
Size: 128x128 (Medium)
Tileset: Icecrown
Type: Hero Castle Defense PVE
Features:
The task is to protect the castle or more precisely the meteorite from all attacking invaders. If the meteorite's hitpoints drop to zero, your team loses. Everyone damaging the meteorite is killed. Therefore you may give some lifepoints away to reduce the attackers' strength but this way you will lose their loot too (gold+exp+items maybe). After you have successfully finished the last boss, it's your victory.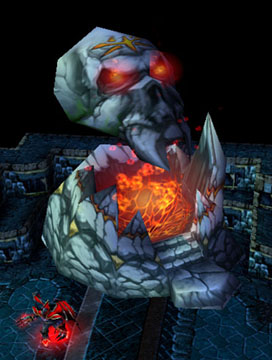 The meteorite has another functionality to be kind of like a commander tower the first player or host can control in order to cast some useful skills.
The game is divided into six chapters, displaying the various invading forces Wintercastle encounters. Each chapter consists of six levels featuring different sets of monsters. The first five levels each come consecutively with only a timer window separating them. The chapter's boss follows then, when all previous spawns are gone.
Every player controls a unique hero of the listed ones below. These heroes come with two custom spells + one (of two) ultimate(s) and can buy additional spells from the local store (you must think of the gold loot as general goods the castle can offer and acquires from the corpses (among others)). The additional abilities are addressed by charged items. Nevertheless, there are still other permanent and chargeable items they have to share a limited inventory with. While the custom spells are buffs and other unique skills that fit to the characters, the buyable spells mostly interpret warmth and frost variants of damage spells and are therefore better replaceable among each other. However, all spells are levelable via skill points you receive from hero levelup. So, there is specialization you might only reset with a book of retraining.
I am currently reconsidering whether I include optional quests that I had originally planned. The normal system should be completed first. Even without these quests there are some features that should make defending more complex if my concepts work out. I strive for a defense game of "go and stop" (especially on higher difficulties), you have to kite the enemies away and reorganize the battle positions among your party to not take too much focused damage and maximize your own. So, for example, you have to estimate where and when to use channeling spells and although the heroes have different roles, they will overlap a bit. The tank won't be able to absorb every damage and the ranged damage dealer cannot safely stay in the third line forever. The spells and effects are also laid out that way that some get advantage from a near-standing party/enemies and others from the opposite.
Rough overview, terrain is under development
There are three passages you may enter Wintercastle by. Next to the main entrance, two invulnerable towers shoot AoE rocks at the incoming spawns. This portal also receives more spawns than the other sides. Then, there are the equal side entrances that each possess a healing fountain. These and the towers should stretch the game and hinder from simply concentrating all players in the central place in front of the meteorite. It's also more convenient to show new players how they have to play. Outside of the castle, in front of each doorway, you may kill snowmen (I hope you haven't watched Snow Blood before) to temporarily gain possession of them. They grant sight and if you have all three of them under your control at the same time, you will get an extra bonus. The sight is to foresee looming spawns because there are some extra pushes from random directions and to reveal invisible units.
Among the spawns some champions flavor the gameplay and use items and spells to enforce the group. Items have the advantage that they may be charged and therefore having more spawns and champions won't accumulate too much.
Heroes can gain exp, thereby level up at some point, learn/improve spells and get stronger in general.
The current exp gathering system looks like this:
Exp is mainly obtained by finishing off enemy units. Each unit is assigned a certain amount to drop on death. The hero of the player that owns the killing unit gets a percentage out of this, the remainder is shared among near-standing heroes taking into account that the killer can be repicked.
The killer bonus depends on the amount of the picked heroes:
Code:
heroes amount: killer bonus --> remaining / heroes amount
0: everything goes to killer
1: 35% --> 65% remaining / 1 = 65%, so killer max. receives 35% + 65% = 100%
2: 30% --> 70% remaining / 2 = 35%, so killer max. receives 30% + 35% = 65%
3: 25% --> 75% remaining / 3 = 25%, so killer max. receives 25% + 25% = 50%
4: 20% --> 80% remaining / 4 = 20%, so killer max. receives 20% + 20% = 40%
5: 15% --> 85% remaining / 5 = 17%, so killer max. receives 15% + 17% = 32%
6: 10% --> 90% remaining / 6 = 15%, so killer max. receives 10% + 15% = 25%
7: 5% --> 95% remaining / 7 = 13.57%, so killer max. receives 5% + 13.57% = 18.57%
there are not more heroes
This system should allow a somewhat flexible exp distribution and avoid that potential resources can be lost from different team lineups (if you go solo or with whole team). When being in range, the player doing the last hit on an exp dropping enemy gets the greatest share, which seems intuitive. However, the same one is also rewarded by gold loot, gaining double bonus. This advantage is counteracted by the fact that higher levels require more exp, therefore the divergence in strength won't be too large, the lasthitting/damage applying hero will less likely stay the same, not snowball.
The killer percentages flatten with more heroes in range since the remaining exp is divided by a bigger number then. The other ones would not get much out of it else. Additionally, it seems unequally more difficult to control last hits in group fights, so I decided to disperse the killer bonus to a borderline with more heroes around.

Two Fountains found at the side branches are said to have regenerative properties. Scattered throughout the castle, some Reservoirs save the water for quick use and emergencies.


The Garbage Collector offers substantial equipment. Its range of goods changes with game progress. There is one next to the Meteorite and another at the corner of a side branch.

The Pharmacy has effective charged items in stock that are expedient even later on. There is one next to the Meteorite and another at the corner of a side branch.

The Library holds wisdom and various runic papers that can be dissolved in order to unleash the magic powers sealed inside them. These spell scrolls have a limited amount of use. The Library is situated in the heart of the courtyard.

The Taverns are outside of Wintercastle across the jungles. They currently only sell a special drink that temporarily boosts one's stats. Useful for junglers.


When Count Drakul entered the Crystal Mountains, a strange visitor approached him and gave him three seeds, which Drakul planted on the mountain and soon ermerged into splendid flowers. Despite of the harsh winters of this place, they would not wither for about 40 years. However, they finally began to shed their glance as the Big Winter set in. Sebastian was instructed to cast a barrier around them but it did not help, so only the wards remained.

Each entry of Wintercastle has one Snow Figure in front. They can be activated for 30 seconds in order to trigger a global armor and gold loot buff.

Ct. Weynard "Drakul" Dreadmoore
(The Count)
He is the owner of Wintercastle. Even before the Big Winter he had been living here secludedly from society, although nobody exactly knows why. However, he did not hesitate to share his residence with the refugees. This and his always accurate and self-controlled appearance make him pretty popular.
The Count is a close combat user, even if he does not come with the most of hitpoints. In return, he is able to suck life from his enemies and is granted another chance with 'Rigor Mortis'.

Emphatic Bite:
Slips to the target, steeping teeth deep into its neck and healing
Drakul
by sucking blood from it. The effects thereafter depend on the target's disposition.
on ally: Heals the target and boosts its attack damage.
on enemy: Causes damage (physical, triggers damage events),
bleeding
and
silences
the target.

Infection:
When this spell is activated,
Drakul
obtains a boost in spell power. Normal attacks infect the target,
poisoning
it, reducing armor and spawning a descendant of with the shape of Drakul upon death. Furthermore, attacks go through the primary target to hit those behind it in a cone for some minor damage.
Bat Swarm (artifact):
Summons bats from the ceiling of Wintercastle to engulf the target unit.
on ally: Creates a
spell shield
to deflect a single negative spell.
on enemy: The target will be rendered in an
eclipse
.
From there, the bats fly to the next nearby enemy targets to cause damage (physical) on them and restore lifepoints each to the target of the spell.
Chilly Breath (elemental):
Drakul
ascends into the air to eject a wave of freezing madness. Aside from magic damage, which becomes stronger as the spell is channeled, targets incur
coldness
and
madness
.

Rigor Mortis (ultimate):
Puts
Drakul
in a near-death state only to be resurrected again after a short delay. As an after effect, part of his life and mana are restored and he gains
greater invisibility
and ghost.
Fountain of Life and Death (ultimate ex):
Summons a fountain that possesses two abilities.
Decay Aura
: A destructive aura dealing damage per second to nearby enemy units and lowering their resistance.
Palingenesis
: Temporarily revives any organic unit and passes its control to the owner of the fountain.
_____________________________________________
Sir Kimrad "Smokealot" Eyestroke
(The Stormpike)
is an old friend of Drakul. Since his parents died early and nobody provided him, he went to the bad and committed some unpleasant crimes wherefore people hated and repelled him. One day, he tried to steal from the count and was caught by him and morally confronted. Finally, Drakul invited him to live at Wintercastle. Later on, against the will of his master, Smokealot left the castle in order to participate in the far-eastern war of humans, dwarves and fairies against the might-driven elves. Only when the cold shock applied, he decided to return. He never could get rid of his old addiction, smoking.
The title 'The Stormpike', this hero maintains, is not for show. Using his horse he can reach high speeds and his swordsmanship skills are considerable. Other than that, only average attributes.
Tempest Strike:
Slices through a short distance to dash in the target direction. Encountering units will be damaged (physical, proccs damage event) and if at least one unit is hit,
Smokealot
will gain an attack speed bonus.
'
Tempest Strike
' lifts the cooldown of '
Sapphireblue Dagger
'.
Depriving Shock:
Channels a lightning on an enemy target unit, suppressing it (not on heroes), burning its mana and dealing damage over time. Part of the mana is absorbed by the caster. If the target dies under the effect of '
Depriving Shock
', it gets reanimated on the caster's side for a duration time.
Smokealot
receives a
swiftness
token for casting this ability.
Sapphireblue Dagger (artifact):
The mystical dagger instantly teleports the caster to the target location and
freezes
every foe in the space between. Subsequently,
Smokealot
's blade is charged with extra magical damage.
Smokealot
also gains a
Swiftness
token.
Inner Force (elemental):
Smokealot
heats up to briefly jet waves of spiritual power. Each wave picks units around the caster, deals damage to foes and knocks them away but is gentle to friends and heals them. During the duration of effect,
Smokealot
experiences a bonus to critical value.
Relentless Shiver (ultimate):
Smokealot
enters a mode where he covers himself inside a gelid sensation that makes him more robust, persistent and even involves his environment. Increases the stamina regeneration and resistance. Periodically emits missiles that target nearby enemies, deal damage (magical) to them and apply the
coldness
debuff.
This ability draws mana per second from the caster and is defeatable at any time.
Sanguine Eyes (ultimate ex):
Intimidates a single enemy unit by an immense charisma, up to the point that it cannot act any longer, even physically starts to
bleed
and is put under such pressure that it
explodes
on death. Any damage the target takes is converted into life for
Smokealot
. The ability is refreshed as soon as the buff vanishes.
_____________________________________________
Gen. Reginald "Rocketeye" Grylls
(The General)
This fighter of dwarvish origin was present in the war, too. They say he had rivalled with half a dozen of elfish officers on his own. He is a peaceful fellow who yet always needs some action. The tavern is a place he likes to go to sometimes. This ties him to the next person.
He is the meter-tall bulwark with a heavy punch. Forming a team with his Polar Bear chum, together, boosting the fighting spirit is their aim. Unfortunately, the dwarf is short on legs and hardly experienced in magics.
Warcry:
Enforces the battle strength by buffing the attack damage of all nearby allied units (depending on vigor). Enemies in the same area will be disarmed for a short amount of time and lose a percentage of their remaining life (depending on the distance to the caster).

Polar Pal:
Calls for
Rocketeye
's thick-skinned buddy, a strong bear summon, who pounces at the target unit to taunt adversaries away from dear friends.
on ally: Renders the target
invulnerable
for a moment.
on enemy: Grants the bear the ability '
ArcticBlink
' (level 1).
While the summon resides on the map, this ability is substituted by '
Callback
', which can be used to release the bond, unsummon the bear and grant
Rocketeye
part of its remaining life force.
The bear grows stronger with each level.

Stone Shield (artifact):
Raises an enchanted stone to rotate around the target unit, protecting it and boosting its armor.
The stone shrinks weaker over the duration as it explodes within intervals, dealing damage (physical, focus dependent) to nearby enemies each time.
Monolith (elemental):
Thrusts a magical rock into the target direction that shoves all units away and deals some damage to enemies. Afterwards, the rock becomes an immovable structure that emits a mystic aura called '
SacredAura
'.
Sacred Aura
: An aura that increases the mana regeneration of nearby units.
Mountain King (ultimate):
Rocketeye
grows in size and transcends into avatar shape, greatly boosting all his hero attributes and equipping himself with the '
Thunderbringer
' ability. Also adds a life leech effect (spell power dependent), magic immunity and ghost.

Boulder Crash (ultimate ex):
Channels a devastating ability, which steadily pulls all the nearby enemy units towards
Rocketeye
and hurts them over time. The damage dealt gets higher as a target gets closer.
_____________________________________________
Pakon "Stormy" Stormbrewer
(The Barkeeper)
is the publican of his own little tavern which is situated near to Wintercastle. He is a really drunkard what is signalized by the keg he always carries around. He sees a friend in Rocketeye, who pays a visit occasionally, and is a likewise halcyon, tamed panda. Well, if you decry his beer, you might get to know his bodyslam.
This lively bear originates from the northern polar regions. About five years ago, he moved here alone because the climate up there never appealed to him. Also, there, he comes badly by beer. He is perhaps the most average in the group except his blood alcohol level. Yet, he can produce mana potions for the rest and alcoholize the enemies.
Sleeping Draft:
Hurls a bottle filled with the strongest soporifics at the target unit. Itself and other nearby enemies will be put to
sleep
for some time but
Stormy
is incited, regenerates stamina, benefits from a higher attack speed and his punches apply
coldness
.
Sake Bomb:
Throws an alcoholic mixture on the ground and sparks the fuse. On impact, enemy units become
intoxicated
. The construct blows up after a few seconds,
empoisoning
nearby foes once more. Enemy units will take slight damage (magical, as well as become coated with poison. Already intoxicated units take greater initial damage.

Magical Bottle (artifact):
A stimulating shake is thrown to a target unit, its effect depending on the target's disposition.
on ally: Restores mana, adds a spell power buff.
on enemy: Dispels buffs, restores mana if at least one buff is dispelled and
whirls up
the target.
Severance (elemental):
Throws a missile on the targeted unit, which from there bounces to further potential targets nearby. Each unit struck falls into
madness
, loses armor and movement speed and receives minor damage (decreases with each bounce).
Units can be hit multiple times
Panda Paw (ultimate):
Stormy
furiously brandishes his paws into all directions while rushing to the target point (and becomes
untouchable
while doing so). On arrival, enemies will be shoved away by the accrued vortex, getting knocked up and landing hard on ground or other obstacles, subsequently being stunned. The dealt damage (magical) benefits from the caster's attack damage and triggers damage events.
Passively grants
Stormy
a life leech effect.
Sober Up (ultimate ex):
After a short delay, this spell affects all nearby units.
allies: Are dispelled from negative buffs.
enemies: Receive damage (magical, depending on the negative buffs they carry) and get banished.
_____________________________________________
Lady "Aruruw" de Sarafin
(The Huntress)
Lady Aruruw is an excellent huntress and archeress. Effortless, she hits an apple off a tree from a range of 50 meters (approximately 2000 units in the world of warcraft). Her white tiger Mukkuru has 3 hp and needs a lot of run.
Fast, strong, graceful and a superior handling with the bow adorn the reputation of this young defender. In contrast, she cannot keep pace in melee and owns a minor mana pool. If it should become tight, she will call animal spirits for support.

Ebony Shot:
Fires black bolts spread across a cone, the cone being thinner if you pick a farther target. Each missile deals initial damage (physical, benefits from attack damage, triggers damage events) and additional grazing damage while it's still in the unit's collision range.
Hop'n'Drop:
Executes a mighty pounce directed at the target location while dropping explosives underneath. These traps activate after a short delay and deal
explosion
damage as well as stun nearby foes.
Hawk Eye (artifact):
A sensory skill that reveals nearby enemy units. The affected targets lose resistance and begin to
bleed
when attacked. If a unit dies under the effect of the debuff, the killing player's hero regains some mana.
Twin Wolves (elemental):
Summons a pair of wolves in front of
Aruruw
to assist her in combat. Those possess the abilities '
Carnivore
', which grants an additional critical value and a life leech effect, and '
Brotherhood:name
', which links both wolves to share part of their pain.
Aruruw
uses her friends to keep enemies on distance, so she can effectively show her archery skills.
The wolves grow stronger with each level.
Enchanted Arrow (ultimate):
Inflates a huge magical arrow over a short channel time, which then launches off into the target direction. Any enemy unit it encounters is snared and dragged along the path. The missile only stops for terrain obstacles, where it explodes, causes heavy damage (magical) on the targets and stuns them.
Zodiac (ultimate ex):
Buffs an allied unit with an immense aura that steadily heals nearby friends (benefits from animus) and boosts their movement speed. The spell target itself becomes
immortal
for the whole duration.
_____________________________________________
Keralda "Kera" Zeron
(The Steel Rose)
Covered in metal, Kera is the Sarafin family's bodyguard and mentor of Aruruw. Underneath her cloak, she holds a whole armory of devastating weapons which she knows well to effectively make use of in combat.
Razor Blade:
Throws a big shuriken into the target direction, damaging (physical) and pushing back enemies. When reaching the destination point, it splits up into smaller blades that return to the caster and slice up every foe (physical damage) along the way.
Passively grants
Kera
spell vamp.
Wan Shroud:
A veiling gas is released at the target location. It harms enemy units (magical damage), degrades their hit chance and armor (percentual).
Attacking the affected units restores life and mana to the hero.

Silent Boots (artifact):
Kera
turns into stealth mode, turning her
invisible
. During this state, her movement speed is increased but the bonus steadily weakens over the duration. When attacking while '
Silent Boots
' is on, the target will receive extra damage and be disarmed and
silenced
for a moment.
Ghost Sword (elemental):
Summons a set of spectral blades that circle around the target unit, which may be any organic unit. The swords attack nearby enemy units, burn mana for extra damage and
purge
them when hitting critically. Furthermore, the target unit emits an attack speed and critical chance amplifying aura.
Doppelganger (ultimate):
Kera
creates an illusion of herself by phase shifting perpendicularly to the target direction. The movement length equals the casting distance. The illusion has only a percentage of the original's power but possesses an
icy
attack. Furthermore, it can blow itself up via its own ability '
Big Boom
'. The original
Kera
meanwhile obtains a fiery (splash damage) attack.
Steel Impalement (ultimate ex):
Executes an artistic slow-motion jump while sending tons of weapons through the ground and air in nova waves, which impale any hostile unit in an immense range. Hit targets take damage, get snared and
bleed
.
Kera
becomes
immortal
and uninterruptable until the casting ends.
_____________________________________________
Than'duin "Tajran" Leaog
(The Shaman)
The last in the round is an orc. Hm, how does he fit? He pretends to be a shaman that has left his warlike tribe because he refused to execute one of their enemies. Ever since then, he seeks for protection from the Big Winter as well as from his own tribe he is being chased by. Count Drakul bestows admission upon him. Time will tell whether he does not abuse his faith.
The greenskin is an apprentice of Shamanism. This allows him to heal the other group members and to summon the energies of nature. Maybe, thereby, he can gain the others' trust by doing so. He is seated on the back of a black timber wolf.
Khaki Recovery:
Enwraps a couple of allied units in a greenish light, instantly recovering their hitpoints whereas each new target receives less than the previous one. The first target will also be dispelled from negative buffs. All targets receive a move speed boost.
Passive properties:
Tajran
's affinity to nature enables him to regain life and mana from killing foes.
Nurturing Grounds:
Sows grass at the target position, which quickly spreads in a circle shape. The new texture
poisons
enemies on touch and yields green seeds in intervals. Those seeds can be transformed into moving treants by receiving a healing effect.
Tainted Leaf (artifact):
Tajran
uses the leaf's power to cast on a targeted unit.
on allied units: Heals a percentage of the target's life (less if the target is the caster) and bestows a buff that heals more (absolute) hitpoints over time and grants a bonus to max life and magic immunity for a short duration.
on enemy units: Deals damage around the target and puts hostile units to
sleep
.
Thunderstrike (elemental):
A spark rises above
Tajran
's head up into the sky, only to strike down in a flash once it reaches the climax. Deals moderate damage and stuns hostile units in an area.

Shamanic Bubble (ultimate):
Migrates the caster to the target position after a short delay. There, all nearby allies get engulfed in a protective aura (except for
Tajran
), rendering them
invulnerable
. As the ability is channeled, '
Thunderstrike
' is replaced by a ranged variant and
Tajran
's heal ability is increased.
Cyclone (ultimate ex):
Calls upon the mighty winds to meet up as a coherent entity. While doing so,
Tajran
makes them gush into a target direction, hurting all enemy units in a line (physical damage) and
whirling
them up. What manifests in the end is a steady shape of rotating air, bound together by the spell, which the caster can move around. The summon has the ability '
Wind Dance
', which deals damage to hostile units per second and makes them gyrate around it.
_____________________________________________

"Lizzy" Liz
(The Fairy)
This mignon creature is a fairy from the East. When her home was completely wiped out, Sir Smokealot rescued here and she followed him out of admiration and homelessness. She is not able to fly anymore since her wings were torn out.
This little cheeky fairy has a fragile body, which does not permit her open battles. Since here wings were pulled out, she is not able to fly anymore. Still, she has got a lavish magical potential and is a master of theurgic curses, which could become well handy.
Purging Rain:
Consecutive clusters of shooting stars crackle down on earth in order to smite
Lizzy
's foes. The magical damage increases with each wave. Hit targets are
purged
for a couple of seconds. The caster needs to channel this ability.
Arcane Attractor:
Summons a fairy dragon above the target point that immediately starts to channel this ability. All nearby enemy units who do not possess the 'Crippled' debuff yet, are charged with it, receive damage (absolute + percentage of the remaining life) and are strongly pulled towards the fairy dragon for an instant.
The debuff reduces a target's attack speed and attack damage and is lifted after a few seconds, so it can be attracted again.
Violet Earring (artifact):
When this dapper trinket is activated, it emits a fairy light that is able to swap the position of the caster and any non-structure target unit. It also instantly restores a portion of mana and refreshes the cooldowns of '
PurgingRain
' and '
ArcaneAttractor
'.
Passive properties: Amplifies
Lizzy
's attack in intervals and charges it with a
banishing
effect.
Fireburst (elemental):
A fairy dragon is summoned in order to launch an array of fireballs onto the target unit but they explode on the first enemy they collide with. Each fireball deals area damage and
ignites
the targets.
Fairy Shape (ultimate):
Transforms
Lizzy
into her native fairy shape,
banishing
herself and gaining the ability to walk through units. Periodically shoots lightning bolts on nearby enemy units that suck off mana, heal
Lizzy
for it (depending on the burned mana) and put the target into an
eclipse
. Also improves other abilities:
PurgingRain
: No longer has to be channeled.
ArcaneAttractor
: Additionally applies a stun to targets.
Fireburst
: Jumps to a secondary target, dealing part of the original damage to it.

Mana Colossus (ultimate ex):
Creates a magical sphere that slowly pulls enemy units to its center. These adversaries that soujorn in the zone are caught in an eclipse and lose mana over time, which is transfered to the caster. This mana sucking effect also applies to allied units but their mana simply vanishes.
_____________________________________________
Jota "Jota" Temoinas
(The Magician)
An elven acquaintance of Count Drakul. There is not much known about this character either but he seems to be into a variety of magics like arcane conjuring, shape shifting and elemental weaponry.
Water Bindings:
Summons a water elemental with moderate hitpoints and damage but slow movement speed.
Jota
gains bonus animus for each elemental on the map.
Water elementals have the '
SoakingAttack
' ability, which additively slows down the attack and movement of engaged targets.

Conflagration (replaces Water Bindings in Salamander shape):
Spews a cone of smouldering in front of the caster in order to enshroud enemy ground units with the
ignition
and
eclipse
debuffs. Deals additional initial damage.
Garments of the Salamander:
Takes on the Salamander shape with its attributes.
Jota
obtains another attack with shorter range and normal damage type and additonal armor, too. The Salamander features an increased life regeneration per nearby allied unit but does not refill mana. The ability '
Water Bindings
' gets replaced by '
Conflagration
' (cone damage +
ignition
and
eclipse
), '
Vomit
' (line damage +
poison
) takes the place of '
White Staff
'.
Jota
can switch back at any time but '
Garment of the Salamander
' has a short cooldown.
White Staff (artifact):
Channels a spell on an allied entity in order to replenish the caster's mana over time. The target unit also benefits from this link by gaining an enhanced evasion against attacks.
Jota
can use this ability to blow up summons and make them
burst
.
Vomit (artifact, replaces White Staff in Salamander shape):
Spits a slimy ball in the target direction at a medium distance, affecting all enemies it passes through. Causes damage (physical) over time and applies the
poison
debuff.
The missile disintegrates on impact, dealing additional damage (physical) in a small area.
Ice Shock (elemental):
Instantly
freezes
the primary target, damaging it (magic) and
chills
down nearby secondary enemy units, damaging them as well (magic).

Negation Wave (ultimate):
Fires a chain of lightning bolts at hostile targets. Each unit takes damage, gets
silenced
and
Jota
steals positive buffs from the primary target.
Mass Mimesis (ultimate ex):
Opens up a portal at the target position. Casting any ability on any unit (excluding illusions, structures, wards, enemy heroes) makes a copy of this unit and spawns it under the portal. The thereby created (untouchable) illusion runs to its original's position. While the spell effect proceeds, this ability is replaced by '
Charm
'.|n
Charm
: Teleports a non-hero unit to the portal of '
MassMimesis
'.
Team:
Well, only me actually. I have searched for assistants but these came sparely online and did not participate actively (and lacked knowledge). So, actually nothing was made by them.
Progress:
The idea to Wintercastle dates back to christmas 2007 I believe. Its creation was started in spring 2009 but was then recently afterwards put on ice because these that originally wanted to help needed a timeout and I wanted to take the opportunity to upgrade my other map. This year, I have started again in april and reworked the whole trigger system (there was not that much before anyway) as I'd gotten some new techniques and made it cleaner.

Up until now, most of the basic system is finished, basic spawn, defeat condition, infoboard, unit behaviors, hero selection, hero revival, all hero spells, a set of the buyable skills, some other. I had an introduction dialog between the defenders but this one was too long. Some items are ready, I have started to program a bit of computer intelligence because the spawns also have abilities and some shall have special behavior.

I hope to release a demo version within the next month, featuring the first two arcs. To do so, I still need more items, to select the right buyable skills, some system work, maybe to improve the existing skills a bit, the spells for the meteorite, to enhance the terrain, the arcs' bosses, to extend the spawn's ai, to balance and to write tooltips.
Misc:
Code:
[COLOR="white"]
[B][U]0.76g[/U][/B]
-new hero spell kits
-terrain slightly more spacious
-spawns go the diagonal way to the Meteorite instead of to center first
-Meteorite defense shifted to braziers
-hero selection remodeled
-bgm added
-lots of graphical updates, especially in conjunction with the hero kits

[B][U]0.76b[/U][/B]
-hostile spawns, when targeting a hero, get a buff boosting move speed, as a counter measure, the normal move speed is decreased
-terrain pathing is now painted via border tool
-new multiboard control per esc/arrow keys, allows a better handling and the maximize/minimize button can be used for its native role again
-also removed timer dialogs in order to improve screen visibility
-host appointment: on game start it's the topmost player, on leave it gets determined by fastest access, furthermore reflection on a voting dialog
-changes on specific waves and the general mechanics: 2-3 waves a time are merged to a set. Sets are in distinct sequence but the waves of a set are played in a random order.
-host has to type "-rdy" to start a new set of waves -> more time for breaks
-ui enhancements
-loading time decrements, object and script optimizations
-lots of other small stuff I failed to keep track of

[B][U]0.75[/U][/B]
- Lunar Restoration (Reincarnation of wolves) fixed: They were resurrected with full mana and the spell has no cooldown, thus they would always be reanimated when not deprived of mana; the availability of the effect now is visually displayed
- stamina now is a direct factor for movement speed, scaled to an efficiency value of 60% to 120% --> final speed = MIN + (speed - MIN) * ((120% - 60%) * (curSta / maxSta) + 60%) with MIN = 150, which represents the absolute lower bound
- stamina consumption doubled, stamina bonus per agility doubled
- channeling can be cancelled by right-click on point/widget target if the caster is the only selected unit
- fix: Purchasable abilities are again exchangable by left-click on the item in inventory
- fix: rounding errors minimized which occured on the constant modification of max life of the meteorite in wc3's standard display
- fix: removed thorn effects that were attached to the heroes
- exp curve flattened, initial value decreased
- terrain changes, global pathing map deactivated for now until it is adapted, added 2 reservoirs next to the meteorite
- heroes do not start with meat/ice tea anymore but get an "Eternal Vial" usable every 60 seconds to restore life, mana and stamina, also a teleport scroll as second starting item
- Lizzy: heightened base damage; her Violet Earring gains an additional effect: every 5 seconds her attack gets percentually amplified; further changes on her with next update
- Stormy: SakeBomb: less damage, less cooldown; further changes on him with next update
- Jota: fix: does not get kind of reset to human form on death anymore; Conflagration less initial damage, longer ignition; Vomit shorter cooldown, longer duration, higher mana costs
- Rocketeye: SummonPolarBear: higher invu duration; Warcry: less base damage
- Tajran: KhakiRecovery: longer-lasting stun; the restoration effect per kill was shifted from HandOfNature to this skill; TaintedLeaf: Now does some splash damage around the target
- Kera: RazorBlade: New effect: spell vampire --> life leech on spell damage; WanShroud: removed healing effect, more damage, armor debuff now absolute; Silent Boots: reduced cooldown, now passively improves attack speed and actively removes unit collision
- credits updated; each save will automatically insert a credits.txt in the map archive, it contains the imported resources of others
- henceforth, functions in jass codes are sorted to avoid indirect calls (trigger evaluates), e.g. JassHelper replaces some downcalls this way, which is not advantageous for performance

[B][U]0.74[/U][/B]
- values in tooltips now should all be replaced, no occurences of $var$ anymore.
- regeneration bonuses gained through hero attributes were multiplied by 5. Maybe I will add later that one regenerates faster when not in combat.
- cooldown groups of items fixed, in addition a bug with the IceTea items that made it activate using a false ability level.
- Sapphireblue Dagger (Smokealot) does some aoe damage again.
- Depriving Shock (Smokealot) now applies damage over channel time and stuns the target at the same time. The mana theft/burn/some extra stun effect is executed after a successful channel.
- lightnings now fade out
- AI reactivated
- sleep is not infinite and rendering the unit invulnerable anymore
- have started to reorganize the waves to 3+3+(2+1boss) as I have hinted before
- heroes revive with full hp (50% before). The ability channels for 2 seconds. Ghosts can no longer learn abilities.
- channeling is interrupted by stun
- bars (mana, stamina, channeling) are displayed again
- Garments of the Salamander (Jota) morphs the hero properly again
[/COLOR]
Last edited: