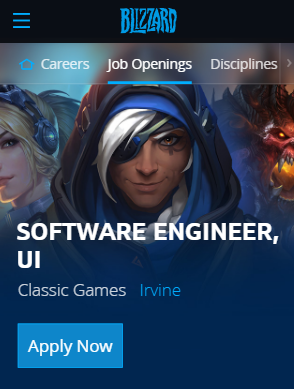 Blizzard needs your help!
Position:
Software Engineer, UI
Location: Irvine (Southern California, USA)
Division: Classic Games (Warcraft 3)
>Link<



Responsibilities
Work closely with designers and other engineers to establish a shared vision for compelling UI features.
Implement functional and elegant UI features from approved concept images and paper designs.
Develop back-end functionality to support front-end features.
Requirements
Comfortable working in both C++ and JavaScript
A minimum of 5 years' experience in a professional software development environment.
A solid understanding of best practices and techniques regarding JavaScript
Extensive expertise in working on front end view frameworks, such as React, Ember, Vue, etc…
Experience with web page layout and styles optimization
Expert analysis, troubleshooting, and debugging skills
Expert knowledge of computer science fundamentals, including algorithms, data structures, and design patterns
Self-motivated with strong initiative
Able to work in a fast-paced, dynamic work environment
Passion for Blizzard games
Pluses
Experience developing for multiple platforms.
Experience with Node and NPM.
Computer Science or related degree.

This announcement is specifically for the position of UI Software Engineer, but you can find other Classic Game job openings here.

Either way, please contact our friendly neighborhood Blizz employee, @Kam, directly in private if you are considering joining the team.