Welcome to the Hive Workshop!
The Hive is a WarCraft 3 and StarCraft 2 modding community. There is a spot reserved just for you whether you need help, want to learn or contribute with quality resources, knowledge or help.
The site also contains a vast resource section including most of the resources that anyone will ever need for a modding project. You will find campaigns, icons, maps, models, skins, spells, scripts and tools. Extensive tutorials contain realms of information on how to create, improve and perfect your resources and maps. The Hive's forum allows everyone to talk about playing the game, modding it, making resources and many other subjects.

News
Haxxored
Apr 21, 2016 - 6:24 AM - by Ralle
Hey guys,

Last night was tough. About an hour before I had planned to go to bed, Shar Dundred messaged me about the site returning a 404 File not Found when visiting it. I was shocked and checked it out myself. Yep, the site was gone. I logged onto the server and confirmed that the site was removed. Speechless I logged onto my home server and confirmed that I had a backup. It was only five hours old. But simply recovering the data would not protect us against what happened. It might as well happen again.
In the database I found plug-in which would give an attacker a backdoor. On disk I found a script that did the same. I removed these and started recovering from backup. I also found that multiple admin accounts had new passwords so those were reset. But I still hadn't found the security hole. Ash showed me a website where you can find exploits. We found one for an addon we use and how to protect against it. The company that develops this add-on is not in business any more but there were instructions on how to patch it.
I'm glad I set up backup on The new server, it's only a few days old. I have updated my backup script to back up files every four hours instead of every 24. We lost five hours worth of pastebin entries, resource images, custom avatars and custom profile pictures. This is almost nothing, whew. The rest of the site is stored in a different location and was not affected.
This is while also part of the reason why I want to move to XenForo. It is maintained and generally more secure than our current setup. I know there are still many things I need to change for it to be in all aspects as good or better than this.
The site was down for maybe 20 minutes but it took a few hours to get all the pastebin entries back.
I have written a script that monitors the the web server for code changes. If any file is changed, added or removed I will get an email immediately. This should help with monitoring if something happens.

Ralle
44 Replies
Trial Import
Apr 17, 2016 - 9:04 PM - by Ralle
Trial Import

Gather around everyone. I have made a trial import of all data on The Hive Workshop onto the Beta site. The beta site now contains the latest version of the site and all data until about two days ago. I want you to take a hard look at the site. Try to login using your account. Look at your resources and your posts. Look at the site. Is anything missing or out of place? Is anything broken?

Everything except galleries is imported. There is not enough space to have two of everything for a prolonged period of time, so you just have to imagine how the galleries look. They will of course all be imported when we do the real import. I am confident that they work and that you will be happy with them as the XenForo Media Gallery really is awesome.

Social groups are missing. I have decided to ditch them. However, ALL discussions remain. Right now you can see them located here. This is not debatable so don't waste time talking about it.

I want you to test the site. Upload resources, delete them, break them, sell them. Enter the chat and crash it, kill it, burn it. Find all bugs before we move. It's much better to find all problems prior to moving.

If no bugs are found, I plan to schedule the final import in two weeks' time. If not, we'll see if I manage to fix the bugs before that deadline.

Do you find the new site to be slick but not very impressive? Allow me to explain why. This is the MINIMAL amount of work needed to move the site off vBulletin and onto XenForo. Basically it just has the systems needed to manage the data we already had (resource sections, pastebin, chat, rep). The real work starts now. Now where I don't have to maintain two versions of the site. You can expect many new features to show up and a few old ones that did not make the cut just yet.

Oh and by the way. The import of data (except user galleries) takes at least 16 hours. So the site may be down for at least 24 hours when the process is initiated.
86 Replies
Now Hosted on Linode
Apr 01, 2016 - 7:40 PM - by Ralle
Moved to a new Server
The Hive Workshop is now hosted on a server with Linode. I have been using them for a long time with various customers and at my job too. They are fast and they are awesome.

Some of you have had the following issues today:
- unable to login due to IP block
- unable to stay logged in
- unable to see attachments
- unable to attach files
- unable to enter the chat

These have all been fixed during the day and it has been pretty smooth sailing since.

By the way, We are on a server with enough storage to host this site including a complete import of Hive 1 into Hive 2. I will soon publish a new Beta of the site where all content is imported and ask you to take a look and see if everything looks alright. A few weeks after that we will be moving for good.

Ralle
45 Replies
The Future of Warcraft
Mar 27, 2016 - 7:41 PM - by Ralle


Members of the Hive staff Kam and PurgeandFire visited Blizzard on the week of patch 1.27. They went there to discuss the patch and the future of Warcraft 3. We are excited to share some great news and the account of their journey.

The Beginning

A few months ago rumors began sprouting about a potential patch to Warcraft III. Blizzard was supposedly in contact with a number of competitive players in China. With the success of NetEase and Blizzard's official GOLD tournament many of us were optimistic that life would be breathed into Warcraft III. A few of you are aware of dialogue that began late January with Blizzard in regards to patch 1.27a - here is the story.

One of our users, Kam, was extra optimistic and resolved to contact Blizzard directly to give input for the patch. He decided to start by contacting Mike Morhaime. The response was rapid and Mike forwarded the conversation to the new Classic Games department headed by Rob Bridenbecker and Pete Stilwell. It was clear from early conversations that there was a genuine investment in helping Warcraft 3 thrive. Kam asked Ralle for help and was adviced to start a thread in Staff Contact to gather as much information as possible for a document to submit to Blizzard. Kam, PurgeandFire and several other staff members participated in the creation of this document. Kam had several phone conferences with Blizzard discussing its contents.

It was compiled using Ezekiel's patch thread along with various suggestions from the Hive community within the Patch 1.27 rumor thread. We wanted it to be open but "razor sharp" so we tried to condense and refine multiple takes on similar themes throughout the forums. We reached out to multiple users and staff members to get feedback as well as read the public threads. It purposely left out melee balance changes since the competitive players have already discussed that with them.

As for Blizzard's feedback on the list and what they will accomplish we can't say because of the scope and we signed non-disclosure agreements. They were definitely excited and extremely appreciative of the report and they'll do what they can at their own discretion. Some tasks have extended production schedules, some are rather vague, some might not be possible, and quite a few are already in production. You can all rest assured that the focus is "not to break shit"!

The document is attached to this thread.

The Journey

Fast forward to the past few weeks. Blizzard invited Kam to visit their headquarters in Irvine, California. He was asked to invite other key members to come along. He extended the invite to several staff and community members, however only PurgeandFire was able to attend.



Quote:

Originally Posted by Kam

We traveled to Irvine, spent a few days exploring southern California on the weekend, and visited them on Monday. It started off with a campus tour through their museum which changes regularly, and then through many of their 12 or so buildings which are laced with fantastic Blizzard art. It was pretty amazing - PurgeandFire tried to take as many photos as were allowed:

http://imgur.com/a/eDaun

After that, we went and visited the Classic Games department. We first met with Pete Stilwell and had a conversation with him about ourselves and about Warcraft III. Unfortunately, Monday was substantially hectic. They were expecting to release the patch within a few hours! We also met with Rob Bridenbecker and several programmers. Then we went to lunch at the World's End Tavern and chatted about the future of Warcraft III as well as the details of how things were implemented/going to be implemented.

We met roughly 11 people total on the team for Classic Games (including Rob and Pete... 12 if you include Felix). After lunch, they decided to let us test out the patch before its release! They set up two computers for us and had us duke it out in a 1v1 NE (PurgeandFire) vs. Kam (Orc).

Afterwards we talked a bit about third party tools and assisted in installing JassNewGenPack on their system. It would be unfortunate if the patch ended up having JNGP no longer working (people would have to go back to 1.26a for development or migrate their maps away until someone fixed Grimoire). We showed them how to set it up and it ended up working without any issues.

We talked with the devs a bit more and then, unfortunately, it was time to leave. They had to get the patch out before a deadline, and Pete saw us out.

All in all, it was a fantastic day and it genuinely left me excited for Warcraft III. It is crazy to think that a game so old still has such an enormous fanbase and a company that cares enough to update it.

The Takeaway

There is an enormous amount of information we are not able to share with you. I know this is frustrating but we will attempt to communicate Blizzard's intentions in place of specifics. Please do not ask Kam and PurgeandFire for information - all we can currently share is here.

Blizzard has been really supportive of our feedback and this compatibility patch is just the first step. Some people have been a bit disappointed with the most recent patch. They had actually been working on the OS updates for a few months, and I believe they wanted to get those issues out of the way before moving on to bigger things. Sorting through the code sounded a bit like archaeology from the way they described it. Fixing all the old compatibility problems was not trivial, but they found some cool stuff along the way -- some of which may be related to the arbitrary order-per-second limit placed on BNet servers.

Blizzard is reading the Hive and other fan sites, and are interested in a continued feedback loop. Most of the document we created will be addressed in the coming patches. This includes the launch of Bnet 2.0 and a substantial increase in map file size limit, perhaps 150 MB+.

Kam and PurgeandFire met numerous coders working in the Classic Games division in addition to Rob and Pete. All of their team is genuinely excited about the future of Warcraft 3. This patch is not a one time deal.

Destiny awaits, my friends.
271 Replies
Patch 1.27a - Patch Notes
Mar 15, 2016 - 5:52 AM - by A Void



Quote:

Today we will be deploying 1.27a for Warcraft III. As with Diablo II, this patch focuses on modern system compatibility. It's exciting to bring some additional support to another core Blizzard game, and we thank you for your encouragement and patience as we continue working behind the scenes on these types of updates.

Please be aware that while we are working on a balance change and new map pool, that work is still in progress and is not part of this patch. We'll have further details on that as development progresses.

Patch 1.27a has been released, you can download it here. Or you can click on the Battle.Net button to update your client automatically.

1.27a Patch Notes

Download Patch 1.27a (Reign of Chaos)
Download Patch 1.27a (The Frozen Throne)



Quote:

--------------------------------------------------------------------------
Patch 1.27
--------------------------------------------------------------------------

Specific Changes & Improvements
- Throw away that old PowerPC Mac in the closet, we've created a new installer to support Mac 10.10 and 10.11
- Improved compatibility with Windows 7, 8.1, and 10
- Fixed a crash caused by Chain Lightning

Known Issues

- Windows 8.1 and 10 saved games are still stored in a location that requires running as system admin
- Some graphical issues with the cinematics are still occurring
- Changes to gamma settings will not take effect in windowed mode
- Cyrillic characters are still not displaying
- Disabled ambient sound while a MIDI issue is being resolved
- Mac 10.9 and earlier are not supported
- Mac build does not support the editor

--------------------------------------------------------------------------
179 Replies
WarCraft: Armies of Azeroth - Crowdfunding
Mar 14, 2016 - 10:58 PM - by Archian
Warcraft: Armies of Azeroth is the Starcraft II based remake of Warcraft III!
The mod adds some new gameplay features, but saves original balance and graphical design with massive use of resources from other games created by Blizzard Entertainment.
When the core mechanics and classic campaigns are complete, the team definitely wants to add some custom things.
Things like new races, heroes, game modes, campaigns and even remake the other two games of WarCraft Franchise (WarCraft I & II)
Indiegogo is the largest global crowdfunding & fundraising site.
Watch project member Aleksandr Nikolaev aka. Jusper talk about Warcraft: Armies of Azeroth and their Indiegogo campaign!
Justification of the campaign
The WAA Team has been developing Armies of Azeroth for over three years with no funding whatsoever, donating their time and effort to its development with no monetary reward.
All developers on the project have had to return to work after their normal day jobs, dramatically hindering the progression of the project due to its time intensive requirements.
After releasing the 3 melee maps to the public, we're hoping to receive backing from both the awesome StarCraft & WarCraft communities to push our project forward and expand the team with sufficient funds to expedite the development process.
With your help, we'll have the time, motivation, and resources we need to put that fresh looking AAA polish on Armies of Azeroth and get it out to you faster and better.
What will the money donated be spent on?
Developing Armies of Azeroth is just as complex and time consuming as developing a stand-alone.
Primarily, the money will be spent on the lead developers and 3d artists so we can produce the mod full-time just like a job.
Split among us, we are taking a VERY small amount of money for basic living expenses over the next year of production.
Remember that 80,000 quickly becomes 76,000 after Indiegogo take it's share. We also have to pay for software, hardware, arts and the list goes on.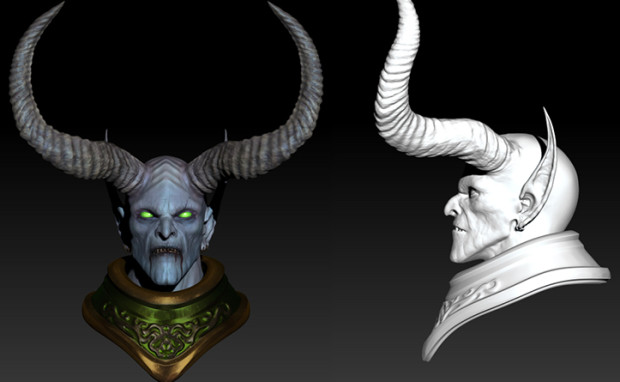 DreadLord's Portrait Model
Modding isn't anything like it used to be in WarCraft 3. People's standards are VERY high now, and to produce something of quality takes significant time, energy, and sacrifice.
| | |
| --- | --- |
| | Keep in Mind |
All special effect flags, unique skins and models will be available for all players when the mod is complete, after earning the special ingame achievement.
Custom Models, Units, Races etc, will be included in open assets, when the first goal is achieved. Additional content will be provided dynamically within the development progress until the Delivery Date.
Can you take a look before you decide to back it?
Yep! Please note Armies of Azeroth is still in the Alpha stages of some elements of its development, but it's fully playable!
To begin playing, just log into your StarCraft II client, click on the Arcade button, and search for WAA in the reach box!
Also, you can use the
PDF instruction
on Moddb.com.
Don't have the time to play through online, or haven't downloaded the
StarCraft II: Starter Edition
?
No worries, you can check out these game-play videos, or search «Armies of Azeroth» on youtube to view some of the many player-uploaded videos and see their reactions!
You can also view the Warcraft: Armies of Azeroth Alpha Arcade Trailer
29 Replies
1.27 has been confirmed.
Mar 12, 2016 - 4:38 PM - by A Void

Patch 1.27a has been announced by Robert Bridenbecker - Blizzard's Vice President of Online Technologies. It will be available worldwide in March 15 2016.

Bridenbecker, who is Blizzard's head for Classic Games, made the announcement to the Chinese eSports Warcraft 3 community. What seems unusual about the announcement is that the last time Warcraft 3 received a patch was in March 25, 2011, or nearly five years ago. Bridenbecker also revealed that this update, named Patch 1.27, will be released simultaneously worldwide on March 15, 2016.

Our source found a confirmation of the reported patch as early as last January. However, back then this came from a report in Chinese, that had to be machine translated. With Bridenbecker himself appearing onscreen, this time it is all but confirmed that the patch is on its way. Full article...



Quote:

Greetings Warcraft 3 player community in China, my name is Robert Bridenbecker and I'm at the classic games group here in Blizzard. Thank you very much for your support over the past decade of playing Warcraft 3. Over the past few months you may have noticed we've introduced a new battle platform, it's introduced features like matchmaking, the ability to communicate with your friends, the level that is unparalleled to anything that we have done with Warcraft 3 in the market before. And on top of that we're proud to announce that on March 15th the next patch for Warcraft 3 will be available on the market simultaneously with the rest of the globe. This is only our first stop and we look forward to having a long journey. Thank you again for all of your commitment and we look forward to seeing you online.

Original announcement video can be found in

here

.
84 Replies
Legion TD 2
Mar 10, 2016 - 4:22 PM - by A Void



Legion TD 2 is an online free-to-play game that will be available on Steam. It's free-to-play, but not pay-to-win. It's the standalone successor to Legion TD, the hugely popular Warcraft III map that became the inspiration for StarCraft II's Squadron TD and Dota 2's Legion TD: Reborn.

As the creators of the original game, our vision is to take the genre to the next level. We've built Legion TD 2 over the past two years without being paid a dime. We're almost there, but we need your help getting Legion TD 2 through closed beta.

The closed beta will launch later this year with 4 playable legions (races) and over 50 unique fighters. The closed beta is a fully functional, multiplayer game. It will run for a minimum of 6 months before it is opened to the public. After the closed beta is stable, we'll be adding additional content and improving & balancing the game for years to come.





Legion TD 2 Official Website
Legion TD 2 Steam Greenlight
Legion TD 2 Kickstarter
14 Replies
New job listings!
Mar 03, 2016 - 2:40 AM - by PurgeandFire


New jobs have been listed relating to Blizzard's classic games!
Senior Software Engineer, Server


Quote:

Responsibilities

Implement server infrastructure changes to support new gameplay features.
Create conditions for experiences that look as good as they play.
Own implementation and curation of features new and old.
Combat hacking to improve multiplayer.
Diagnose and fix all the things: crashes, deadlocks, overflows, heap corruptions, etc.

Classic Games Test Lead, Quality Assurance


Quote:

Responsibilities

Be an expert in dynamic analysis techniques for verification and validation of a product.
Lead all test planning, execution, control, and closure phases for the scope of work for the test team.
Create the test plan and maintain it through all test phases.
Justify key resource allocation including test capability and environments.
Prioritize and schedule test efforts with stakeholder buy-in against competing initiatives.
Oversee bug maintenance, triage, and standards.
Establish, communicate, enforce clear entry, and exit criteria.
Develop and maintain positive business relationships with all test stakeholders.
Ensure test maturity develops by implementing lessons learned iteratively per test cycle.
Contribute towards the final risk assessment for the product.

These jobs are listed in addition to the old ones: Senior Software Engineer, Art Outsource Supervisor, and Software Engineer (no longer listed). It seems that Blizzard is really getting the ball rolling for classic game support. This can only spell good news for Warcraft III!
12 Replies
Hoodie & T-Shirt
Mar 02, 2016 - 8:32 PM - by Archian

Would you be interested in wearing a t-shirt or hoodie and support the Hive at the same time? Now you can! Available until March 16.
Check "Available Styles" to view the hoodie or women's T-Shirt. Comes in diffrent colors.
Shipping is more affordable depending on the selected location:
For US:
https://teespring.com/the-hive-workshop-merchandise
For EU:
https://teespring.com/hiveworkshop-merchandise-eu
111 Replies