Spell Framework [vJASS + GUI] v2.1.0
Tags:
Filesize:

254.79 KB
Rating:

(3 votes)
Downloads:

250
Uploaded:

Jun 12, 2020
Updated:

Sep 1, 2020
Resources:

1
Author(s):
State:

Approved
This bundle is marked as approved. It works and satisfies the submission rules.
Spell Framework
For fast & convenient custom spell development
Aside from easing spell creation, this framework also allows you to create spells mechanics and
spell modifications beyond what is previously doable (without messy workarounds). Examples of
these include
multicast systems
,
single-target spell blocks
,
spell pool
,
random spell activation
,
and much more!
The complete documentation can be found inside the map. Be sure to spare a time for reading.
How to Import
1. Copy the 'Spell Development Framework' trigger category into your map
2. Copy the 'Spell Development Template' trigger category into your map
so you can use the premade templates (OPTIONAL)
... and that's it!
Supported Patch
Any
Preview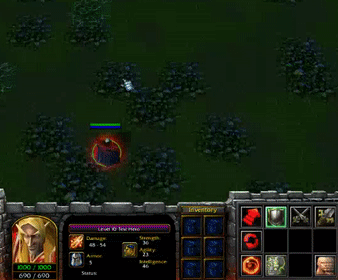 The preview above shows two illusions seemingly casting an ability
Code (vJASS):

library

SpellFramework

/* https://www.hiveworkshop.com/threads/325448/


*/

uses

/*


[FRAMEWORK CORE]
The core of the spell development framework contains three components namely, SpellEvent, SpellEventGUI,
and SpellCloner. SpellEvent and SpellCloner go hand in hand in creating an organized template for spell
development in vJass.
Below are VERY brief overview of the purpose of each component. A more intensive description of each one can
be found on the header of each listed library.

*/

SpellEvent

/* https://www.hiveworkshop.com/threads/301895/
SpellEvent handles and automates common spell-related tasks such as spell indexing and event registration.
It further provides useful advanced features such as manual event invocation, event parameters overriding,
and event cancelling. It also provides event response variables/functions that are intuitive to use and
recursion-safe.

*/

SpellCloner

/* https://www.hiveworkshop.com/threads/324157/
SpellCloner provides a framework for ensuring the maintainability of custom spells. It divides the
custom spell into two sections namely, the spell mechanics, and the spell configuration. This provides
convenience in updating the code for the spell mechanics without touching the configuration section.
The spell configuration section can also contain more than one set of spell configurations - which is
cool.

*/

optional

SpellEventGUI

/*
The SpellEventGUI in itself is a framework specifically made for GUI developers. It is built upon the
SpellEvent library, from which it derives many of its functionalities. It also provides utilities for
other spell-related tasks that are not so convenient in GUI such as filtered unit-group enumeration.
It also automatically handles channeling abilities interruption/finish for the spell developer unlike
in its vJass counterpart where freedom in usage is given more priority over total automation.


[UTILITY COMPONENTS]
These components are included as they are almost always used in spell making.

*/

Alloc

/* https://www.hiveworkshop.com/threads/324937/
Allocator module - compatible for recent patches with the updated JASS_MAX_ARRAY_SIZE
You can also use any other Alloc if you prefer but be sure to update it to adapt to JASS_MAX_ARRAY_SIZE

*/

LinkedList

/* https://www.hiveworkshop.com/threads/325635/
Library providing linked-list modules with different variants


[List of External Library Requirements]
Required:
> Table
https://www.hiveworkshop.com/threads/188084/
Optional:
> RegisterPlayerUnitEvent
https://www.hiveworkshop.com/threads/250266/
> ResourcePreloader
https://www.hiveworkshop.com/threads/287358/
> ErrorMessage
https://github.com/nestharus/JASS/blob/master/jass/Systems/ErrorMessage/main.j

*/

endlibrary

/*
* An Alias
*/

library

SpellDevFramework

uses

SpellFramework

endlibrary








Code (vJASS):

/*
This folder contains templates for spell-making using the various components of the SpellFramework Library.
Multiple templates are given to accomodate the varying design categories of spells.

|==================================================================================|
| These are six (6) templates provided for making spells using the SpellEvent ONLY |
|==================================================================================|

Spell Template A:
- In this template, we used the simplest form of spell as an example. The spell has no periodic operations
and immediately performs its effects after cast.

Spell Template B:
- Uses the most common form of spell that we usually see in public spell resource submissions. The spell
has a setup section (onSpellStart), periodic section (onSpellPeriodic), and a cleanup section (onSpellEnd).
The spell has no child components and can easily be described using a single node that is created after a
spell is cast.

Spell Template C:
- Similar to Spell Template B but is more flexible. It automatically detects if the spell must be 'channeling'
based on the value of <SPELL_EVENT_TYPE> in the configuration by checking if it is equal to <EVENT_SPELL_CHANNEL
+ EVENT_SPELL_ENDCAST>. Any other event combination will turn the spell into non-channeling.
The template shows how the framework easily allows the developer to make the method of invoking the spell
(in this case, whether the spell is channeled or not) configurable by the end users.

Spell Template D:
- The featured spell is another common format seen in public submissions. The spell has child components
(could be one or more levels) that together, make up the overall characteristic of the spell. When the
primary node (the spell instance) expires, all existing/remaining children nodes are destroyed alongside
it.

Spell Template E:
- The featured spell is a bit similar to the one in Spell Template D. However, there are times when we want
the children nodes to outlive the primary node. We can usually see this in spells that involve summoning
a separate entity that in turn summons sub-entities over time. For example, a Turret summoning spell. The
summoned Turret will periodically launch missiles towards enemy units within a certain radius. When the
Turret expires, we don't want the remaining missiles still travelling to disappear also. Therefore, the
missiles themselves need to be totally independent from their parent/primary node.

Spell Template F:
- The featured spell is not so common but still warrants a template :D. It usually has no significant
operations concerning its primary node except that it creates multiple child components at the time of cast.
Its components are usually the ones that provide the overall effect of the spell themselves. Due to this,
we can easily disregard the primary node (not include it to the list for which the periodic operations run)
and let its children do all the work.

|================================================================================================|
| These are three (3) templates provided for making spells using BOTH SpellEvent AND SpellCloner |
|================================================================================================|

Cloneable Spell Template A:
- Here it feature a spell similar to that in Spell Template B, but using SpellCloner. The method of cloning
here can also be applied to other spells featured in Spell Templates A, D, & E.

Cloneable Spell Template B:
- Featured spell is similar to that used in Spell Template F, but using SpellCloner.

Cloneable Spell Template C:
- Featured spell is similar to that used in Cloneable Spell Template A, but only uses the 'SpellCloner'
module unlike the usual 'SpellClonerHeader' + 'SpellClonerFooter' + 'SpellEvent' combination. This method
also provides better automation when it comes to running the spells configuration setup.

*/










Cloneable Spell Template A




Cloneable Spell Template B




Cloneable Spell Template C




Cloneable Spell Configuration Template

v2.1.0
- Spell Template C changed from being specifically a channeling spell template into a flexible one that automatically detects whether the spell is channeling or non-channeling based on the value of <SPELL_EVENT_TYPE> in the configuration
- Some fixes for Spell Template E, Spell Template F, & Cloneable Spell Template B related to their data structures
- Fixed an instance leak in sample spell 'Teeth' along with minor improvements
- Minor improvements for sample spell 'Reflection'
- Added tooltips for the sample spells
- Updated the libraries used
- Other minor changes

v2.0.0
- Renamed the resource from 'Spell Development Framework' into 'Spell Framework'
- Major update to SpellEvent resulting to backwards incompatibility in API
- Significant updates to SpellCloner library
- Significant updates to LinkedList library
- Updated all the spell templates to match with the new Framework API
- Other important updates

v1.0.1
- Updated documentations across the libraries
- Updated the utility lib 'LinkedList'

v1.0.0
- Initial release
Spell Resources Using this Framework
Archimonde Spellpack
Jaina Spellpack
Kael'thas Spellpack
Torrent Array
CREDITS
Reviews