I'm doing some quick doodles to practise various stuff - shading, colouring, posing.. you name it. So I figured I'd make a dump. Hey! At least I'm making some more or less finished stuff instead of working at the speed of a snail on some of my more important artworks (which I'll probably never be fully satisfied with).
Art Thread, explanation unnecessary I'd say.
Artworks are sorted in categories (HIDDEN-tags), and within each category each separate artwork or character is put in it's own HIDDEN-tag, in which they are sorted so that the last artwork is the latest.
The images in this category have no relation to each other and are mainly for fun and practise.
I'll start it off with this head.. began as a speedy sketch yesterday on Tinychat. Picked it up an hour ago or so and applied some colours.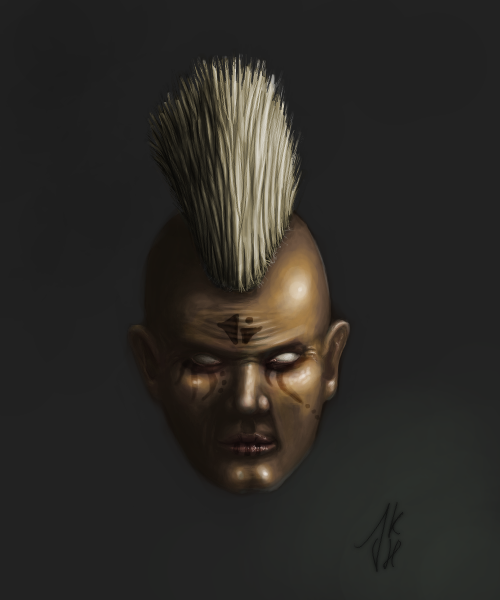 Mr. Goblin challenged me to paint a goblin with a Christmas hat.. so I did.
A rough, fun portrait of TRD. Nothing serious.

No comment.
No comment.
"PREPARE YOUR ANUS"

"IMPOSSIBRU"
No comment.
At least I tried.
I guess I
tried
to make it look a bit like Liam Neeson, but I think I failed at that.
http://fav.me/d4fxivz
These artworks are portraits of fictional as well as real people, commissioned or done for fun and practise.
Batch 1 (3/10 sketches)
Freelance, non-commercial work.
Did this during class today. Lots and lots of faults, I know, that's why I like it.
Still a WIP, worked on it as a warm-up today. Doing some female faces to prepare for painting Mya's face.
http://fav.me/d4gcgd4
http://fav.me/d4gkxli

http://fav.me/d4gkxtg
http://fav.me/d4gg04p
A disastrous attempt to paint Connie Nielsen, but if you disregard who it is meant to be, I am quite satisfied with the result.
These artworks are exclusively related to my personal
demon race
, the Iniquit.
Ranged unit for my Iniquit race/faction (don't want to reveal too much, so I'm not going to classify them properly, yet).
Skins are coming (one is complete, one is in the making and the others are still to be concepted), and hopefully a few models as well if I can enslave a modeller or two.
Some of you might know a bit about my Iniquit race by now, but I'll try to explain briefly. The Iniquit are the result of a virus-like substance infecting already existing species, altering their appearance and mindset turning them into vicious monsters. This is a new WIP for the Prophet.
I do a lot of silhouettes and sketches of various poses, a major bias towards females. Sometimes I share some, and then they end up here.
Various references used, quick sketch, might use it for a character concept at some point.
Various references used, quick sketch, might use it for a character concept at some point.

Quick sketches, for practice. (I forgot to crop it, sorry.)

Quick sketches, for practice.
Quick sketches, for practice.

I lie, these are sexy gals in stupid poses.

Inspired by Keiji's short story
Narrow Escape
.
Occasionally, when I've been going at it for a while, GIMP crashes on me, forcing me to go back to earlier versions or paint over screen captures. If I bother to take a screen capture, I post it here. I will also put updates to said artworks here.
Quick sketch, for practice. Threw some colour on it hoping to actually make something out of it, but then GIMP crashed, so all I have is this PrntScrn capture..
[edit]
.. redrew the same character from scratch in Photoshop, hoping Adobe won't crash on me. :v

As an aspiring concept artist with a little experience with the process from indie game development, I like to do orthogonal projections of characters. They represent a character from various angles and are mainly used to give the modellers something to work from.
Had to put together a quick orthographic of a character I'm working on, and have been working on for a while, called Hammath. It's the redesign of an earlier character I started working on last year. Anyway, I needed it for a Flash exercise and I'm working on making a vector out of this at the moment.
Note: Planned to post this in my old concept dump thread, but it's closed and I figured I might as well keep everything in one thread.
Here's the interesting category. Works in progress, experiments, various concept work and everything related to my personal characters go here. Beware of large images and, more importantly, many images in one hidden tag. They are sorted by character, and within each tab the first image is the oldest.








Collection of artworks made for icons.




Feedback, criticism.. comments.. all appreciated a lot!
Last edited by a moderator: