Gods and Empires
Build, Expand, Conquer, Dominate
LINK FOR MAP DEVELOPMENT THREAD - CLICK THIS!>
http://www.hiveworkshop.com/forums/map-development-202/gods-empires-city-building-rts-141858/
MAP TYPE

:RTS-melee/City building
FEATURES
A. DYNAMIC WEATHER AND DISASTER SYSTEM
-Weather and disasters affects units and structures throughout the map adding additional depth to strategy and overall gameplay.
Weather types:Rainy, Snowy, Windy.
Disasters:Earthquake,Tsunami, Volcanic Eruption, Lightning Storm, Blizzard/Avalanche, Drought, Plague, Fire, Typhoon, Tornado, Meteor Strike.
B. MAP REGIONS
-At the beginning of the game it is your choice where on the map you would establish your empire. Different lands gives different kinds of benefits(resources, natural defence against disasters, unique flora and faunas, unique neutral buildings that can be acquired etc.). The map is divided into certain regions much like the way Earth is divided(polar, equatorial etc..).Each region yields different patterns of weather and disasters.
C. LIVING/BREATHING CITIES
-Watch as your city grow. Citizens roam and everything you build affects how they act and how your city will turn out to be.
D. CITIZENS ARE YOUR MOST PRECIOUS RESOURCES.
-In Gods and Empires, Citizens play a vital role in the success or failure of your expanding city. Military units are not directly trained from your Military buildings. Instead, it is the Citizens who are trained to be conscripted to your chosen military unit types which is researched on your Military buildings.
-Citizens also provide gold which is periodically given depending on the numder of houses you have. Citizens are categorized into 3 types: male, female and child. Male citizens can be conscripted to military units, repair structures and can attack, female citizens on the other hand can learn the ability heal but cannot attack. The Children cannot attack but overtime changes to a male villager.
-Whenever a house is built, random number of citizens(of different types) are created, after which a child will be created every x seconds. Units does not cost food(except unique units), buildings do.
-Although bigger population means bigger income, having too much proves to be costly because of maintenance costs. Every x seconds, you pay an amount equal to the total number of units you have on the map(structures and units). To solve this you can at any time turn on/off Population control button at your Capital(Town Hall) to manage your Population growth.
E. MULTI-CAMERA VIEW.
-View the game in different perspectives whenever you select a unit type.
a.Construction View(for Builder type units)-
high elevation camera that allows you to easily plan the layout of your city.
b.Structure View
-
locks your view to the structure you selected. Close up view.
c.3rd Person View(for Hero/ king)-
gives you close up view of your city on a 3rd person perspective, the camera follows you wherever you go.
d.Tactical view-
extreme zoom out view, allows you to see the map from a top down view letting players have a tactical view of the battlefield.
* Pressing the Esc key resets your view to default camera view.
F. GODS.
Choose a God for your city and take control of the fate of your people.
-At the start of the game you will be given options to choose which God you want your empire to be governed with. Your choice of deity will determine the alignment, research tree, unique units and God Powers you'll have.
G. GOD POWERS
-Different Gods posess different God Powers, ranging from spells that affects the income of your buildings to spells that does damage to an area or even stop time and spells that changes the terrain or weather on a certain region. Using God Powers requires a certain amount of FAITH POINTS, which is generated either by assigning citizens to pray or by offering them at altars or by completing certain Quests.
H. GAME MODES.
a.DOMINATE-
Destoy all your enemies, the last player standing wins.
b.KILL THE TITANS-
The first player to kill 1 out of the 6 Titans located at different locations across the map wins.
c.PROTECT THE KING-
Each player is given a king, when your king dies you lose the game.
d.WONDER OF THE WORLD-
The first player to build a Wonder wins.
AS OF THIS TIME I'M STARTING TO MAKE THE TERRAIN AND SOME OF THE TRIGGERS FOR THE FEATURES
.
I NEED THE FOLLOWING PEOPLE TO HELP ME FOR THIS PROJECT: CODER, MODELLER, SPELL MAKER
..
FEEL FREE TO CONTACT ME IF YOUR INTERESTED.
SUGGESTIONS AND CONSTRUCTIVE CRITICISMS ARE MOST WELCOME..
UPDATES:
The Gods
NEROM
Nerom is the revered king of the Gods of the
Realm of Niv
(tentative). He is strong and powerful,but also at times prideful and stubborn. He possess the
creator stone
, the most valuable relic of the deities. With it he is capable of creating almost anything his mind is able of conceiving out of nothing. He is scheming, secretive and also has a tendency of being discontented. He always want change in everything around him. Often he would start creating something but would soon grew weary of it and change his mind then begin doing something else. Out of all that he created, the Humans was his most favorite. They took his attention and with them he has something to play with. He can at will dictate their fortunes. With them he was able to impose his Godliness. The fate of the Humans greatly depends on the whims of the deities themselves.
Nerom is infamous for his legendary lust for Human women. Throughout the country side, demigod offsprings often shows up-fruits of his numerous trysts. A child showing unusual or supernatural abilities is often associated with Nerom and is referrred to as "Kings's bastard".
Nerom is often depicted together with his winged white steed,
Gylomesh
. Gylomesh can take the shape of a living flame and can travel across the land faster than a thought and whose wings could rain down rays of blinding white light that would burn anything it will come into contact with instantaneously.
Nerom's symbols are white flame and the creator stone, signifying his burning desire to create and his discontentment.
VESTRA
Vestra is Nerom's wife and queen. She rules over domestic blessings, marriage, childbirth, jealousy and nature. She is a caring and protective Goddess and unlike his husband she tends to be sympatethic to the Humans and would often come to their aid. On rare occasions however she shows up her wrath. Nerom's straying inevitably incurs her fury causing untold natural disasters of epic proportions(scary eh?lol). According to legends, she once razed a whole city to the ground out of jealousy. The doomed city is believed to be where one of Nerom's human mistresses lived.
Throughout the realm of Niv, shrines and temples in honor of her can be found and often believers would come to these places asking for protection and blessing.
Vestra is always accompanied by a golden feathered bird,
Oros.
It is said that at night time Oros turns into a star, gazing upon the lands watching over Vestra's minions and keeping an eye for Nerom. Vestra's symbol is a tree with a golden bird on one of it's branches.
AIDOUS
Aidous is the younger brother of Nerom. He is wise and resourceful but is not as powerful as him. He can't create out of nothing but what makes him special is his Godly power to invent and discover things. Aidous is a thinking deity and has the innate ability to innovate and bring about new creations out of the most common or extraordinary things. He presides over Science and Technology. Inventors, scientists and engineers revere him as their patron God. Ever so often, Aidous in his human form would come down from
Elohia(tentative name of the City of the Gods)
to mingle with his followers, teaching and sharing with them his new discoveries.(Eureka!hehe). Aidous symbol are a scroll and a gear.
PYRAMUS
Pyramus is the twin brother of Nerom. He is considered to be as powerful as his brother but his domain is not in creating things but in destroying them. He is ill-tempered and his tanrums would often result into massive earthquakes and volcanic eruptions. He is also the God of War. War yields chaos and with it comes destruction.
Pyramus invented metallurgy and gave it to his minions. With it, humans learnt how to make weapons and armors, the essentials for War. He and Nerom have a long time dispute and often times this feud is settled through war. What Nerom created, Pyramus is bound to destroy. The Etrean War, which has been waged for more than a century is essentially an act of retaliation by Pyramus against Nerom for throwing him out of the Council of the Gods mainly because of his uncontrollable temper.
Pyramus is often depicted as a sullen and battle scarred creature wielding 2 giant swords engulfed in burning red flame. He is hot-blooded and has a tendency to get out of control. When in this state of rage however, Pyramus is at his most powerful form, destroying anything and everything in his path.
Pyramus' symbols are a volcano and 2 swords engulfed in red flame crossing each other.
OTHER GODS>Zharagum, Phraetor, Aelpho, Khendar, Eirod, Tyrr, Eltris, Althaion, Nephtom, Xaeros, Ahram, Llymnos, Nheva.(details of which will be revealed as soon as I finalized their background stories)
Terrain at about 45%
-added some doodads and refined some areas.
map layout>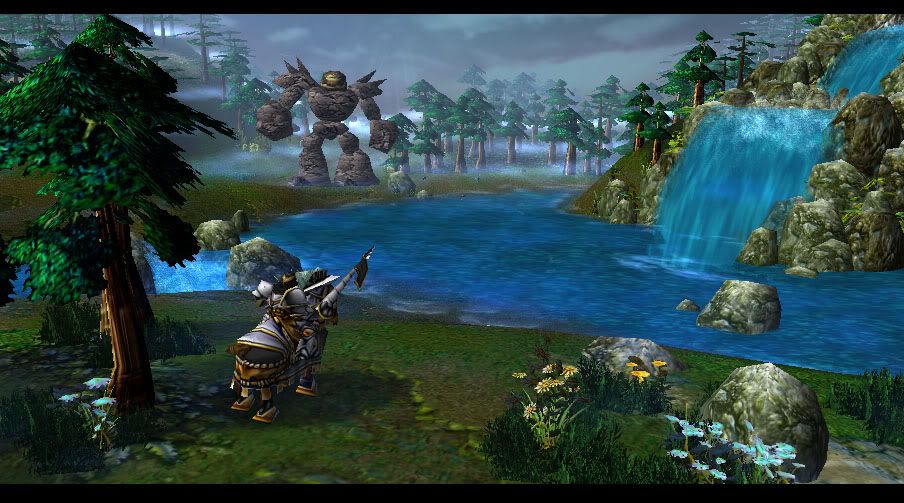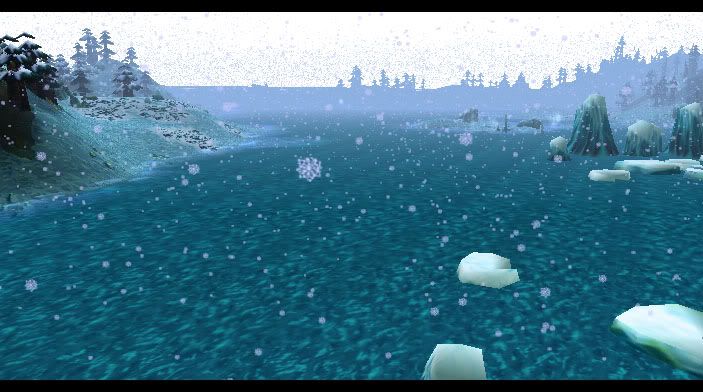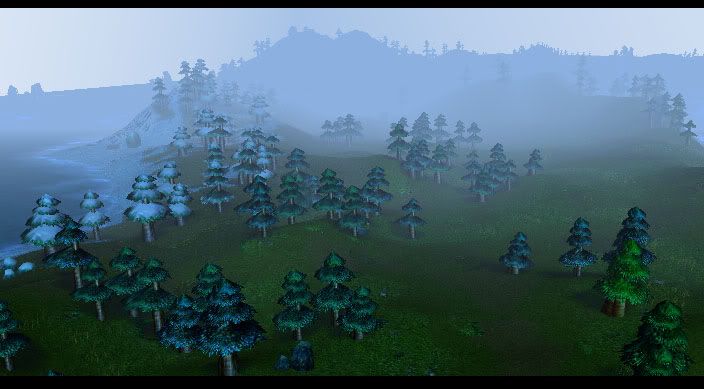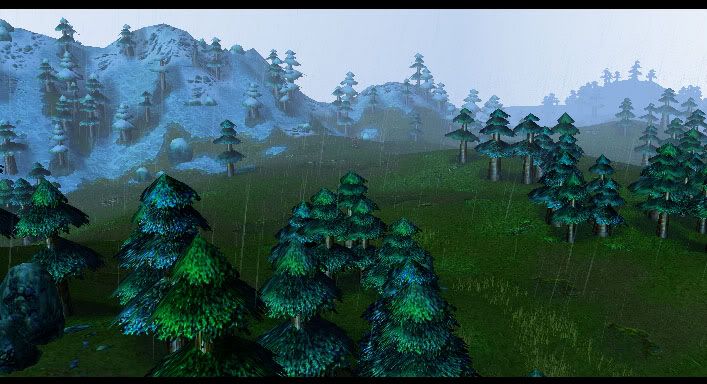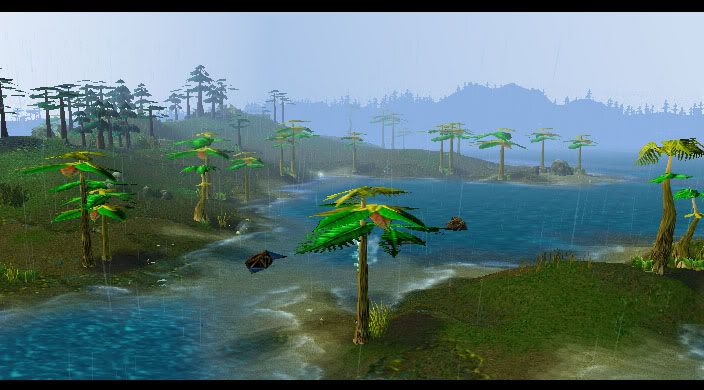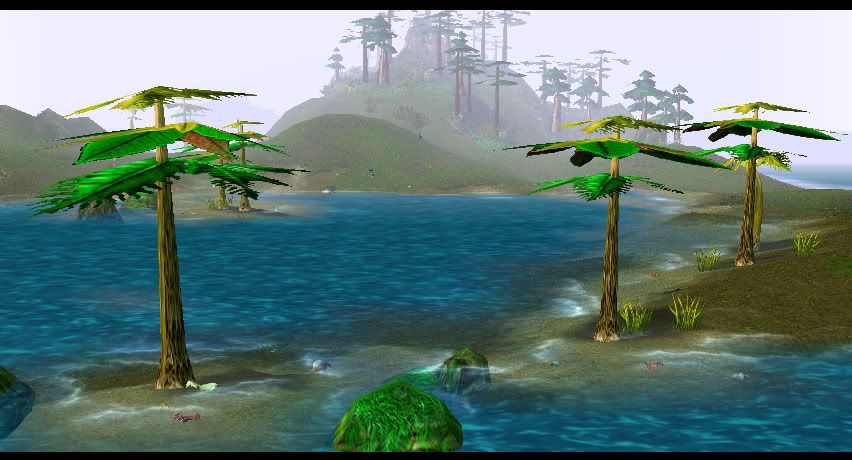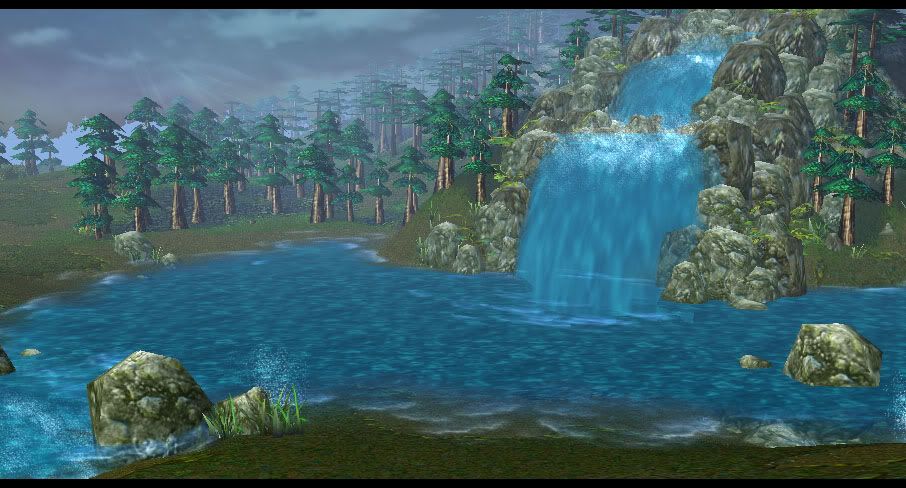 OLD Terrain-5%
Last edited: