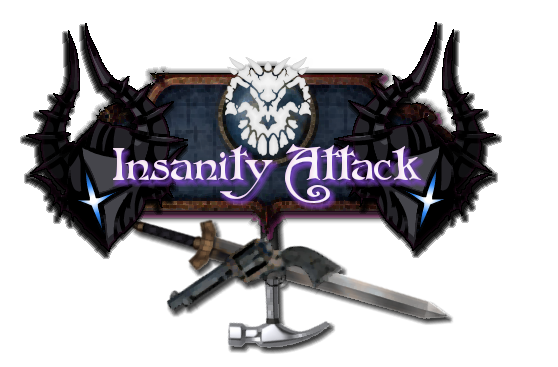 by
blancfaye7
You find yourselves, the Normalizens, in the middle of nowhere.
An apocalypse broke out for reasons unknown, rendering all people to become insane and cause trouble everywhere.
Cults have sprung, other species are evolving, the mighty have fallen...
These are now called the Insanes.
People who still have their sanity are officially called the Normalizens.

You, the Normalizens, must defend yourself from becoming one of the Insanes.
The Insanes will attack you anytime soon. Use your skills to build a base and train sane people to fend off the Insanes! Anything is possible!
You never know, you might kill the source of this apocalypse sometime soon...
[tr]

First off, the players can choose what mode they want to play in. There are 5 modes:
Tutorial, Easy, Normal, Hard, Insane.
The Insanes adjust for the Normalizens. Isn't that nice of them?
The tutorial mode however only gives the player basic knowledge of how the game can be played.

The Normalizens consist of Builders, Military, Resource Structures, Research Structures, Towers, Garrison Structures, Shops and Walls.
Builders are units that build structures vital for progression.
Military are units that are combat-able and experts on the battlefield.
Resource Structures are buildings that give Lumber and Gold resources which play an important role for spending in research, building structures and training units.
Research Structures are buildings whose purpose is to research upgrades. Upgrades include the improvement of each part of the Normalizens.
Towers are basically defensive structures to safeguard the base.
Garrison Structures are buildings that train Military units.
Shops are buildings that sells items for unit (Builder, Military and Tower) improvement.
Walls are structures that serve as a barrier, literally. They are mostly used to cover your camp from the Insanes.

Being a Normalizen, of course there is pride.
Whenever there comes rivalry or dispute between them, or when they feel like they want a contest, then there always is a PvP system.
Normalizens can declare war on each other, as well as redeclare alliance.

Being a Normalizen, there is also friendship.
Each Normalizen is a friend of the other. They can give resources to those who are in need. They can also give their own units under the command of another leader.

In the middle of chaos, the Insanes love to bring a trouble party with them just to make a Normalizen to be one with themselves. Random Events will definitely occur, and it must be expected by the Normalizens in order to survive their chaotic acts.

Even with that said, there is still one goal that the Normalizens have: To survive and defeat the Final Boss, whoever the boss is.
It is the end if All the Normalizens' Main Builders died, as it is their leader.
Also, the Final Boss seem to have an aura that makes any person insane... Whatever.
The Normalizens must survive no matter what!

To give a summary:
Normalizens can discuss which mode fits them.
Normalizens must get rid of Insane Fools out there who try to attack them.
Normalizens can declare war on one another.
Normalizens can reforge alliance.
Normalizens can give units to others, except to the Insane Folks.
Insane Fools are random because they want to be random, so Normalizens must expect for the worst.
Normalizens will win if the Insanes give up because they got bored of it or when the Final Boss is killed.
Normalizens will lose if their Main Builders die.
[tr]
When the map starts...
A sample camp that a player can make...
The Insanes have started invading.
The Insanes have successfully destroyed the player's camp.
When all of the players' Main Builders die...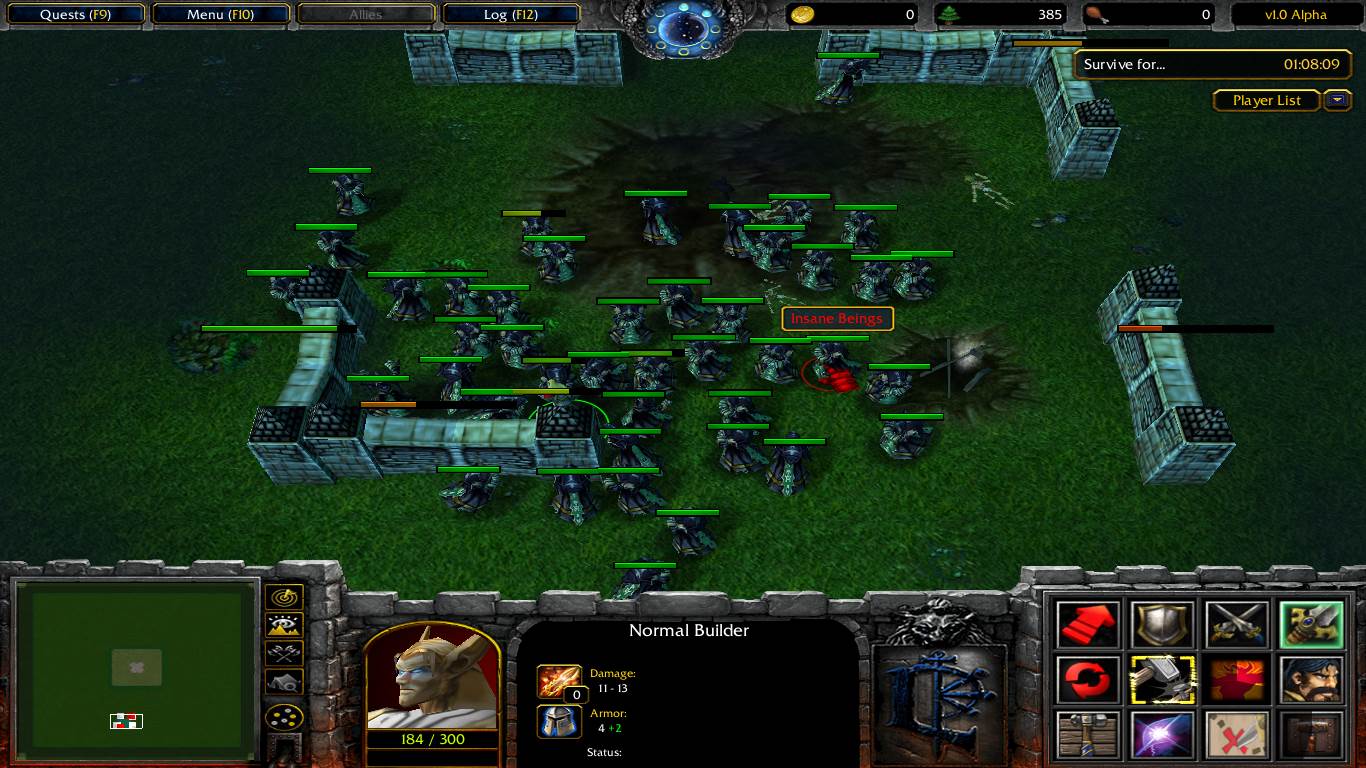 [tr]
• Different Difficulty Modes
• PvP System
• Unit Sharing System
• Camera Manipulation
• Random Events (More to come!)
[tr]

General
• Don't be insane.
• Be coopreative.
• Don't lose hope.
• Be respectful.
• Be a fun person.

Early Game
• Check for a good area. Trees play a vital role in the game. They blind you from vision, and that's not good especially for towers. Any unit whose vision is blurred cannot attack on that spot, even if enemies are in combat range of the unit. These trees also block your view, especially those large ones! In the PvP world, you can use these trees to your advantage .
• Start small, Think fast. Start your camp as a small and nice place to live. 3 by 3 Walls are enough to fill your camp with a Hall, 6 Lumber Mills and 2 Towers. This is a very good starting set up.
• Be efficient (Decision-making). Walls take too long to build. Well, then leave them unfinished! Place your unfinished Walls first then build them later. Your first priority is to get resources quick and fast, and have at least 1 offensive/defensive unit, in which it is just a Tower in early game. Power Build it if you must, since Pests are a problem.
• Be efficient (Base architecture). All structures you can build have the same size, except walls. You must place your buildings well to maximize the small space that you have, and to also have pathways for your builders to travel to easily. Just 1 space gap is fine; all units except the mechanical ones fit through that gap. In late game, there will come Insane Freaks that are ranged. You must place buildings that are least used near the walls so that you lose only a little speck of progression. Take note also of each unit's sight range. Offensive units won't be able to attack on blind spots. Some structures have good sight range on day or night.
• Do not rush. Though some things are good to be rushed, there are also some that aren't. This includes Upgrading fast to an Advanced Hall. There are times that Advanced Hall is needed fast, but not all the time. There are other factors, but you must discover them yourselves.
• Assign Control Groups. Throughout the game, Control Groups will be very much important. You'll need this and you know you'll need this and abuse it to the maximum extent.

Mid Game
• Get Assistants. These group of workers are a must to have! Assistant Builders are your heroes! They have inferior Fast Repairs and Power Builds, but that's something! Helpers can also help auto-repair the walls. Not only that, but only Helpers can build Tunnels, which makes travelling a lot easier especially if your camp is getting bigger.
• Expand when needed. You heard me: Only expand when it is needed! Expanding needlessly can lead to your deaths. Expansions are needed for extra space. There are two kinds of expansions: the 1st one and the 2nd one. Hey, don't complain! I don't know what to name them. Anyway, the 1st one is an expansion which is extending your base from a direction. For example, you could either build walls outside of your camp which is just connected from your camp. The 2nd one is an expansion that is building a completely new camp in some place. This one is better, but harder to manage. You need some kind of defense to even pull through building a new camp.
• Upgrade when there is a chance. Research those upgrades when you can! Researches take time to finish, and you wouldn't want the Insane Freaks to continuously get stronger without you getting stronger as well! Towers can get outdated, etc...

Late Game
• Produce an army. At this point, you should be mass producing units to kill the Final Boss, and to reduce stress from your camp/s. This can be done in mid-game. You need to reserve a space for these, since this can become cloggy.
• Research only what you have researched with a progress of 70% and up. Starting to research new upgrades can become futile. It can help, but it's better to focus what you have maximized by now.
• Get a Bank. Yep. With this, Lumber and Gold can all become as 1 type of currency. There is unity and serenity within the hearts of Wood and Money!
• Always check your camp and builders. With the Insane Fools getting more insane each second, you have to check your camp regularly. Anything bad can happen, you know!

This is addressed to all the Players in cooperation. Good Luck out there, Normalizens!
[tr]
World Editor by Blizzard is used for this project.

Insane BGM is made by beatdock.
Peaceful BGM is made by craigaustin.
Alarm sound effects are made by fongcheng4 and audiomicro.
(www.freesfx.co.uk)

Pickaxe sounds are made by Benboncan and an unknown artist.
(www.freesound.org and www.audioblocks.com)

Touhou Models came from THDotS.

Etrian Odyssey Models are made by harin.
(chaosrealm.info)

Dwarf Cavalry Model is made by Radagast.
Arthas Rider Model is made by Kuhneghetz.
Basic House Model is made by Ergius.
Beautiful Gate Model is made by s4nji.
Hero Glow is made by assassin_lord.
Better House and Generator Models are made by Kitabatake.
Gold Mine Model is made by Mike.
Nebula is made by WILL THE ALMIGHTY.
Destroy Button is made by CRAZYRUSSIAN.
Map Description Generator by Vengeancekael is used.
Game Logo is made by Ardenian.
Technical Support are given by Dat-C3, Shadow Flux, sentrywiz, Wietlol, BPower, edo494, WaterKnight, Death_Adder, spasorc, morgos14, MyTearsYourWeapon, IcemanBo, rulerofiron99 and andreasaspenberg.
Map is tested by Yugata, kino, Mech_Warrior with his friends, Orcnet with his friends, Mammamia and Shadow Flux.
(www.hiveworkshop.com)

Infection Attack by Asiliuxas map gave me inspiration!

Thanks to my friends, namely Oblige, Oracle, Cross, CipheR, Jevichrono, eggertime, PusheenTheCat, nutellaboy, doge, Cerbus, Jamaja, MikuMikuRin, RM, thereoninguy, Transcendence, illyas and hayahay for testing the map and giving suggestions. I needed the support you gave me!
[tr]
v0.1
- This is the first version.
- Expect this map to be buggy.
- First release: Alpha Version.

v0.5
- Second version of the map development.
- Fixed several leaks that causes lag.
- Removed Blancii C.I.W.U.N.
- Changed the central area of its terrain layout.
- Made the central area to be unbuildable.
- Fixed Tunnel Burrow.
- Reedited the buildings that the Technician can construct.
- The next version (v1.0) will have Enemy AI fixed.

v0.7
- Third version of the map development.
- Fixed more leaks.
- The next version (v1.0) will have Enemy AI fixed. Some updates were made.
- Rebalanced difficulty.
- Easy mode now available.
- Added regeneration rates of Advanced Wall and Gates.
- Decreased Imbued Wall regeneration.
- Increased Imbued Gate regeneration.

v0.8a (1st)
- Fourth alpha version of the map development.
- Fixed more leaks.
- The next version (v1.0) will have Enemy AI fixed.
- Opening and Closing Gates no longer makes a selection with other players.
- Fixed some bad unit references.
- Removed profanity on Easy Mode. All profanity will be eradicated soon.
- Hard mode is buggy due to Immolation skills of Flandre and Koishi. Thus it is disabled.
- Fixed wrong flags of the Spawn System.
- Updated Enemy Stats and Upgrades over time.

v0.8a (2nd)
- Fourth alpha version of the map development.
- Fixed more leaks.
- Fixed Gate Bug.
- Fixed some bad unit references.
- Removed some profanity. All profanity will be eradicated soon.
- Hard mode is buggy. Thus disabled.
- Fixed wrong flags of the Spawn System.
- Updated Unit Stats, Upgrades and Spawn Times.
- Upgrades for enemies are updated on Easy Mode for testing.
- Updated AI, but not completely perfect yet.
- Added a new track.
- Set a maximum cap for gold and lumber.
- Fixed upgrading system to actually upgrade affected units.
- Added Fast Repair for Assistants.

v0.8b
- Fourth beta version of the map development.
- Added Chen and her Champions as bosses.
- Extended Survive Time.
- Updates only available on Easy mode for testing.
- Disabled Normal Mode temporarily.
- Added Pests.
- Normalized game economy (Ongoing).
- Fixed Assitant Builder Upgrade bug.
- Major Update on Military Units.
- Added Vertical Gates.
- Changed Burrow Mechanics.
- Will implement Spacebar Points.

v1.0 (Alpha)
- Stable Version of the map (Alpha Testing).
- Added a Tutorial Mode.
- Unimplemented Spacebar Points.
- Soon to implement Normal and Hard Modes.
- Technician and Manager are downgraded upon the death of Imbued Town Hall.
- Fixed Mining Sound Set.
- Readjusted Enemy stats for a reasonable difficulty increase.
- Added a PvP system.
- Changed all Background Music.
- Added a Shop entity.
- Creator now officially named as blancfaye7!

v1.0 (Beta)
- Stable Version of the map (Beta Testing).
- Map now open to public for beta testing.
- Readjusted enemy health and variable upgrading.
- Readjusted Military and Tower variable upgrading.
- Fixed Unit Sharing to avoid giving units to enemy players.
- Updated Tutorial.

v1.1 (Beta)
- Stable Version of the map (2nd Beta Testing).
- Major Model Updates (Added Team Color and Unit Glows).
- Enemy A.I. updated.
- Increased Map Size.
- Added in-game Tips.
- Sight Range decreased for most units.

v1.2 (Beta)
- Quick Update of the Map (2nd Beta).
- Decreased Map Size and Playable Area Bounds.
- Fixed Sight Range absurdity.
- Updated Reveal Skill.
- Fixed careless AI bug.
- Added camera reset chat command.
- Added new structure: Scout Beacon.
- Replaced Battleship with Locomotive.
- Changed and added Camera Chat Commands.
- Single Player Modes now get more resources to at least survive.

v1.3
- First Official Release of the Map.
- Adjusted pitch of "-cam far".
- Fixed A.I. of Chen.
- Fixed the freeze bug of the Champions.
- Fixed Immolation of Koishi and Flandre.
- Decreased Dice Damage of Advanced Military Units.
- Increased Tower Damage.
- Updated Upgrade Tooltips to a more specific description.
- Increased Normal and Hard difficulty.
- Decreased 2nd-Tier Resource structures' costs.
- Fixed Sound Sets of Ranger and Marines.
- Quitters will not have some of their units to be removed and their resources are now divided among User Players.
- Fixed Player List Multiboard.

v2.0
- Second Official Release of the Map.
- Increased Pulverize chance of Bull that became intelligent.
- Decreased Advanced Hall and Imbued Town Hall's HP and armor.
- Decorated Terrain on the edges.
- Reduced Decay Time.
- Added 2 new Random Events; 2 Insane units added.
- Changed Healing Wave of Nurse to Slow.
- Changed name of Nurse to Witch; corresponding upgrades and tooltips also updated.
- Changed name of Priest to Cleric; corresponding upgrades and tooltips also updated.
- Fixed Hostile Sound Effect from looping.
- Fixed registration of units even when in PvP mode.

v2.1
- Third Official Release of the Map.
- Removed Tutorial as it is pointless.
- Added Spawn Limit.
- Updated the Blink Spell; 150 to 1000 range, 200 second cooldown, 5 second cast time.
- Will implement Sanity System if supported by many.

v2.2
- Fourth Official Release of the Map.
- Fixed Death of Main Builders condition for defeat.
- Removed Single Player Limiter.
- Will implement Sanity System if supported by many.
- Changed Destroy button.
- Fixed Quitter's unit removal.
- Fixed Multiboard disappearance bug.

v2.3
- Fifth Official Release of the Map.
- Nothing major changed.
- Updated Tooltips with information of Tech Upgrades.
- Refactored some Triggers.

v2.4
- Sixth Official Release of the Map.
- Removed Casting Time of Blink. Cooldown is now 220 seconds, and the minimum range is now at 250.
- Increased resource production of Advanced Lumber Mill, Gold Mine, Excavation Site and Underground Green House.
- Decreased building time of some buildings, from small scale change to large scale change.
- Increased repair rate of all buildings with variations, from small scale to large scale change.
- Added a Very Easy Mode.
- Refactored some triggers again.

v3.0
- Seventh Official Release of the Map.
- v3.x series will be the final versions.
- Fixed Hard Mode Enemy Scaling over time System.
- Increased immolation interval of Koishi and Flandre to reduce lag, but the rate of damage per second reimains unchanged.
- Units cannot no longer transport to another unfinished burrow.
- Increased Final Boss's Tentacle Spawn cooldown.
- Worker movement speed on Final Stage (until boss is defeated) will now retain the decrease effect even when downgraded or upgraded.
- Melee Military Units' acquisition range slightly increased.
- Marines are nerfed in terms of damage, attack rate, HP and food cost.
- Added tooltips on Blueprints for Mechanical-only items to work correctly.
- Decreased Military Expedite's upgrade to 15% Attack Rate.
- Changed Military Expedite's Movement Speed Increase to 15.
- Fixed Quest Logs for long texts being unreadable.

v3.0a
- Seventh Official Release of the Map. This is a quick update.
- v3.x series will be the final versions.
- Reverted Shop Client Acquisition range to default (350).
- Fixed Final Rush completion bug that makes it repeat.
- Added a Damage System to Emergency C4 for PvP purposes.
- Increased Chen and her Champions' HP and regeneration.
- Decreased production time for Life Orb.
- Decreased item cost of Critical Necklace to 350.
- Decreased Golden Bracelet Damage Output to 10.
- Slightly decreased production time for Golden Bracelet.
- Changed Hall upgrade sequence requirements from Gate to Walls.
- Reduced Battle Golem's Taunt to 45 seconds.

v3.1
- Eighth Official Release of the Map.
- v3.x series will be the final versions.
- Reworked on Chen and her Champions.
- Chen has less Evasion now.
- Chii and Faye both have less base HP now.
- Decreased damage output of Chii and Faye.
- Reworked on Chen's attack speed so that it is dependent on Chii's buff.
- Increased Crazed Pickpocket's HP.
- Decreased upgrade time of all Mines and Mills.
Needed Resources / Problems
[tr]

- [

SOLVED

] Game Logo (Click)
- [

SOLVED

] Inventory (Hero) (Click)
- [

CANCELLED

] Shop System (Click)
- [

SOLVED

] Team Color Models (Click)
- [

SOLVED

] Computer AI (Click)
- [

SOLVED

] Order Checking (Click)
- [

SOLVED

] Movement Speed Bug (Click)
[tr]

The map is ready for Testing! Get the map now which is attached to this post. Alternatively, you can get the map here in this section.

Latest Map: Insanity Attack v3.1
Map Section: Insanity Attack

Old Versions:
[All versions with versions below v3.0 are removed.]
Insanity Attack v3.0
Insanity Attack v3.0a

Old Post:
I am developing a survival map where the player has to build a camp while insane beings attack them.

Victory: To survive and defeat the Final Boss.
Defeat: When the all Main Builders (The starting unit) of all players die, or when the timer runs out and the Final Boss still exists on the field.

The map was made out of past time and curiosity over the Warcraft World Editor.

Here is the map's introduction, but I am afraid not too many people will like it. The map is near to completion. About 98%.

I just need to add a Normal Mode and Hard Mode for it to be complete.
The current modes available only are: Tutorial and Easy mode just for testing anyway and balancing.

So... I have announced the map now, but I have exactly no idea what to do next. It is my first time to be able to even complete something and post about it... Any tips? I am having doubts whether or not I should post the map even.
Last edited: