I had trouble accessing the site recently and decided to check the registry of blocked websites. And it was there, with no explanation though, only a link to the law for censorship where it lists all the bad stuff under 15.1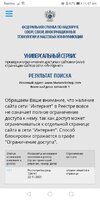 On the screenshot - the result of looking up Hive in the registry. Says it's blocked since November 22.
So, Hive blocked in Russia. Thoughts?
Edit: it's unblocked now, updated the OP for clarity.
Last edited: