Hi need help on this.
I only have the version of 1.31.1.12164 (won't upgrade it back to reforged)
it said on the
Damage Engine
description that it can open for ver. 1.31 as long as I copy&paste the posted jass.. but how can I copy&paste the code if I cannot open the damage engine map on worldeditor?.
it keep saying level info data missing or invalid when I tried opening it on worldeditor.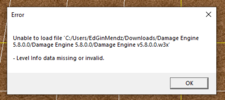 Did I miss something?. I'm not familiar with the whole jass or trigger...