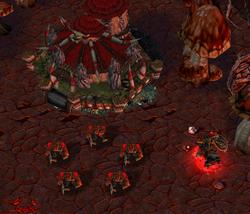 This is a simple single player map experience where you start with a hero, Gor'thok, who goes on an adventure to collect all 6 Fat Lewts! There are no triggers yet because I was using this map as a sample test case for the Warsmash Mod Engine, which does not support triggers yet. However, you...
www.hiveworkshop.com
Here is the download for the Fel Orc Adventure map that I posted videos of myself playing on this engine a few times. I just played the map and was able to collect all 6 Fat Lewt items in about 30 minutes in my adventure. I launched the game by using this binary build, as well as the command line command:
Code:
.\Warsmash.exe -loadfile Maps\UndergroundFelOrcAdventure.w3x
In order for this to work, I created a custom folder inside the Warsmash folder called Maps, so this was basically at the location:
Code:
<War3Install>\Warsmash\Maps\
Here is a video of today's adventure in Warsmash:
I had to work really hard because there is currently no way to heal or revive my heroes, but I wanted Gor'thok to survive until the end, so I exploited kiting mechanics that do not work the same yet as in the base Warcraft III game, because the Warsmash kiting is simpler and creeps who attack one of my units will keep trying to attack that unit forever, so I was able to use this to keep Gor'thok alive all the way until the end to make sure that I had all the Fat Lewts collected at one time.