Hi, though many of you don't know it, ive recently undertaken a small project to make a map about the Russian invasion of Chechnya, (first war, post soviet union collapse).
The map is taking its first feeble steps, beta testing will begin soon, after the chechnyan rebels/military is finalized.
Pics can be found attached, i appologise for the watermark, try to ignore it.
some of these pictures are old and need updating.
The crashed plane there is from a map, since no author has yet claimed it as his work, it goes anonymous, however i belive it (or at least its texture) has been made by illidan(X)evil, as have the "hind" attack helicopters in picture 5, credit will be given to him for both of those models untill someone comes in and claims them (with proof). If Illidan sees this and wants these models out, so be it.
Let me say this here and now: the map was made out of the want for epic battles in a city with russians, i am in no way attemting to make a political statement, i do not mean to offend any chechnyans or russians.
Also: the skins i use are (hopefully) place-holders. The buildings seen are from a War of the Worlds project which can be seen here :
http://www.wc3campaigns.net/showthread.php?t=84366&highlight=war+of+the+worlds
They were made by Gruftbestie.
The vehicles and cars were made by Kofi_banan.
Note: the map is still in a WIP status, it is not a campaing and as skillfull users will see, is indeed another LOAP map.
But still, LOAP has become more of a template map for much greater things, i intend to fix jobs, prevent unbalance as much as possible (after the beta versions) between the major sides.
The terrain is nearing a final state of completion, while i like to hear comments please send them VIA PM so this thread is not cluttered
There, now none of that map BS will happen, we can get on to the request
Probably something hard to make but to hell with it, i need a russian soldier: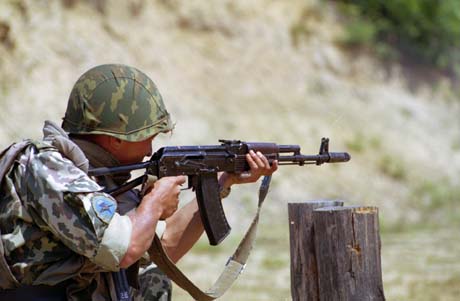 VIDEOS Of russian soldiers in action:
http://www.youtube.com/watch?v=CHqIeDnmp_0&mode=related&search=
http://www.youtube.com/watch?v=RAuM3RSv-6g&mode=related&search=
http://www.youtube.com/watch?v=8lCII7MxFbI&mode=related&search=
http://www.youtube.com/watch?v=8Gjo5dvZQgc&mode=related&search=
http://www.youtube.com/watch?v=hIjV4VS5ZNw&mode=related&search=
(I appologize for the music, hell its the best i could find, better ones may be added)
Details: i want him weaponless, with animations that simulate him firing a machine gun rifle or assault rifle
The fuzzy hat some of them wear as well as the toque is not needed but can be added if one wanted to. (id perfer to have him with a helmet)
the animations can be simple, stand walk attack death dissipate, that sort of thing, no special duck or any animations like that, keep it simple.
note: im currently using a combination of US infantry and weaponless models for my soviets, even one single model Russian infantry model would be awesome.
Final note: i doubt the mods will let me submit my map here, since its a loap and after reading the rules ill need to ask every single original creator of loap and the creator of the specific loap map for permission, thats not going to happen. While I and StankyNuggy's are friends, he has not explicitly given me permission to do this. Quote: (stankynuggys) "Hey unit i like your maps" Me: "so you dont mind me editing loap maps ?" Him: "Just give credit".
While that makes me feel better about what i do it doesnt help with the rules or the mods, and i have no proof beyond memmory, plus i could have just lied there.
when its done ill post a link to epicwar with the map.
Thanks for the time, please help me make these !
Update: pictures of the map added. Yess my terraining skill fails. more info for them can be found above.
Last edited: