Hey guys I just today ran into some random problem. While I was trying to get a MS3D to import and work properly in WC3 which didn't work I got into an issue. No custom models work that normally should now.
I checked the file itself and it's been transformed from a plain looking document type file to this.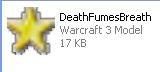 I am confused at this point so I opened it up.
This is how it looks in the properties. I tried changing the open with but it had no effect plus the icon was the same.
Can anyone tell me how to fix this so I can continue my maps?
Thanks in advance.
Also in advance I will post it in another forum just in case to see if I'll get a faster reply but please don't take offensively