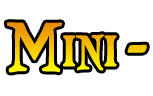 Arcade
Contestants are challenged to make a arcade map.
Recreating a classic Nintendo game, or making a new one.



No submission may violate any of the site rules.
If a submission does not follow the map submission rules the creator will be disqualified.
All submissions must follow the current theme. If any model does not fit, a moderator will tell you as soon as possible as to avoid confusion.
Your submission must be posted before the deadline. The post containing your final submission must also contain the following:

Several screenshots of terrain and gameplay.
The file in the appropriate format.

You must show at least one unfinished preview of your submission, before the deadline, as proof that it's yours.
Your submission may not be started/made before the official launch of the contest.
Judges may not participate.
Your final submission must be bug free.
Teamwork is not allowed.

Finding testers and voice actors to help you with your submission is not considered teamwork.

Imports may be used in the map, however they must all be credited.
All multiplayer maps must be under 8mb, so they are playable on Battle.Net.

First Place: 45 reputation points and your entry on the award icon

Second Place: 30 reputation points and an award icon


Third Place: 15 reputation points and an award icon

No judges confirmed

Checking Field
Explanation
Points

Originality:

Map must be original, a simple copy of another map might get less points for the gameplay and originality, but if the terrain and everything are fine, then you would still have some points. We want to see unique things and cool ideas.

You can score up to 15 points here.
Map Presentation/Design:
Author name, map name, category, type, description, links ingame on loading screen, messages ingame are very important.
How good the map preview or the loading screen image are, check tooltips, quest menu, icons all around (hero/unit stats, interface, tooltips etc).
Same colored icons and spell effects as well as models (like green for poison hero) are better than random ones.
Passive icons on active ones or vice versa are bad.
Check UI and game constants as well.
You can score up to 10 points here.
Triggers/Efficiency/Performance:
Bugs, errors and performance issues will reduce your score. (Everything created with triggers is usually the case) However if there are just small bugs/errors, then you probably won't get a lower score.
Memory leaks are the main problem, systems and spells should be more or less lag-free/errorless.
Even protected maps can show how good the user's triggering skills are, for example check if there are any performance issues when units are spawned.
You can score up to 10 points here.
Gameplay:
The gameplay is the main aspect of the map. Game modes, game difficulties, special events, systems(not how well they are made, but if they make the map more fun) etc.
Everything else that is left unchecked can go here. Please check how balanced the gameplay is, check how long the game lasts, if the map can be finished without any major problems.
You can score up to 30 points here.
70 % of the winner shall be determined by the contest's appointed judge(s).
30 % of the winner shall be determined by the results of a public poll.

The contest shall begin on monday, the
[Insert]
and conclude on
[Insert]