Hey everyone, as the title suggests, I am having some (for me at least), very weird desyncs when a unit is attacking. This means, they play the attack animation, you see the projectile and even before it hits, it desyncs. More infos on that 2 paragraphs below this.
I don't know how important it is to mention this but I started working on this map last November/December (2019). This means that I have been using the (new ? version of the) WC:R editor. I did not create it in the old or any special version of the world editor. Additionally I am using Vexorians Wc3mapoptimizer.
For like 30 versions ~ there were no problems at all. The game was working perfectly, everything went smoothly, no issues anywhere.
Then I continued to add content to my map and well. Suddenly 'older' units started to cause these problems. I've got 3 where the game suddenly throws everyone to the "game end" screen. Does that count as a desync? It just auto-defeats everyone. --The Map is a Tower Defense (
[Tower Defense] - Warhammer Medieval TD
) This desyncs only appear when one of these units attack and they only appear once you play with at least 3 people. It ONLY works, when everyone restarts the game. ~> I already thought about that the map optimizer would widgetize but many versions worked just perfectly.
To start off I'd like to focus on the simplest tower. He's called Handgunner. There is not a single trigger bound onto that unit and the unit has no abilities. I've also removed an important model, have recreated him and double checked all his values. It is a ranged unit and fires the normal "rifleman" attack animation and well. As mentioned above: The unit sees an enemy closing in and starts to attack. The projectile flys and just before it touches the enemy (most of the time its like 50-100 range away) the game freezes for 2-3 seconds and everyone gets booted to the scoreboard. Very very rarely you can see "player desynced" in the chatline, before you reach the scoreboard.
This unit is nothing more than a simple upgrade.
Here I am at a loss. I don't know what to change anymore and am thinking, that this is just blizzards fault at some point, because as I said.. I recreated the units and checked everything on them but welp. I am not sure with which information I shall provide you, but since it is just a total normal "tower"-based unit, I'll just drop the data from the object editor.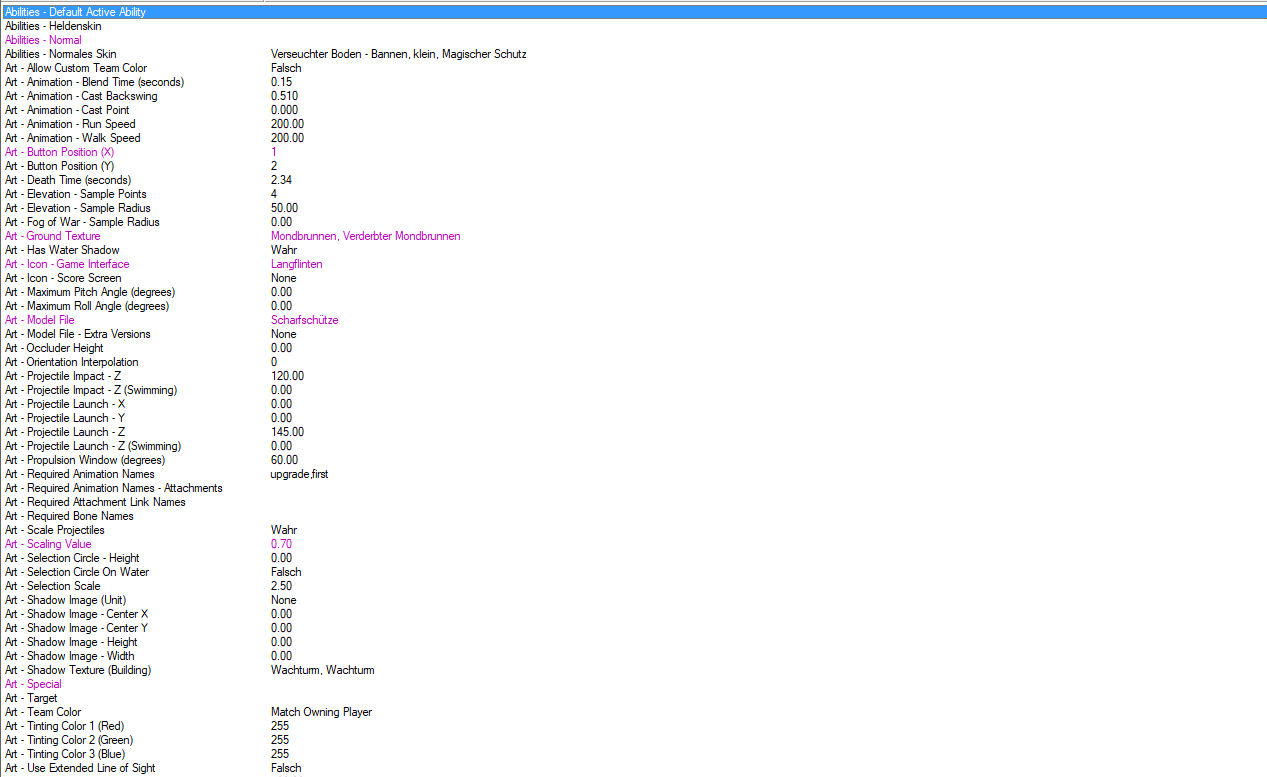 --
--
--
Last edited: