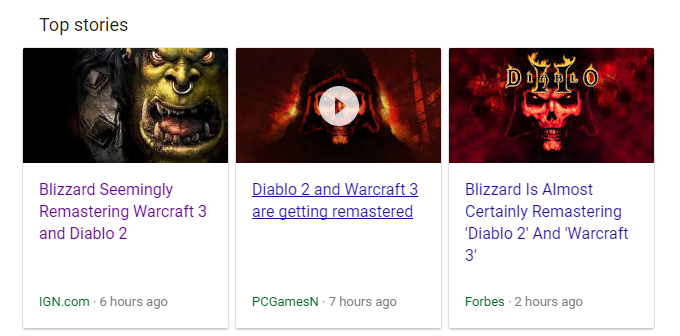 19 June 2017

So if you went out on social media today or browsed some gaming & journalism sites, you may have noticed that a plethora of news sites published news about WC3

remastered today

. There's been a lot of commotion about it, and people want to know what's going on and if things were confirmed. Even IGN and Forbes wrote about it. So that's really awesome that these sites are paying attention to Warcraft 3 for the first time in forever.

However, note that the information provided on these sites is outdated. The source they use are Blizzard's classic game

job listing descriptions

, which some have been up since early 2016, or even late 2015. Perhaps whoever wrote an article about this first out of these sites found those job descriptions for the first time, and passed it off as new news. Or, this could be intentional and information might have been passed by an external source. Whatever it is, know that this isn't new information.

Back2Warcraft tweeted to quite a few of these news outlets, telling them that they're using old sources. They also linked these sites linked Hive's

The Future of Warcraft

article. So thank you guys over at B2W! In other words, some representatives from news sites could be looking at Hive now, just like Blizzard has already been.

If you're looking for the most recent news on Warcraft 3 remastered, we have it in our

State of the Union (Warcraft III)

article, which was posted a month ago. It could be passed on as rumors, but there's solid evidence and hints that Warcraft 3 remastered will come in the future.

UPDATE: The original source seems to come from BlizzPlanet
They actually did a good job in updating all of their information keeping it up to date.

UPDATE 2: Thank you PCGamesN for sharing a bunch of Hive Workshop threads on their article here!
----
In addition to this, Blizzard recently released a sneak peak regarding
Battle.net channels and the custom game list
for Starcraft Remastered. Hopefully we can see this in Warcraft 3, as it makes communication, hosting, and finding custom games much easier.
Last edited: