Templassassin proudly presents :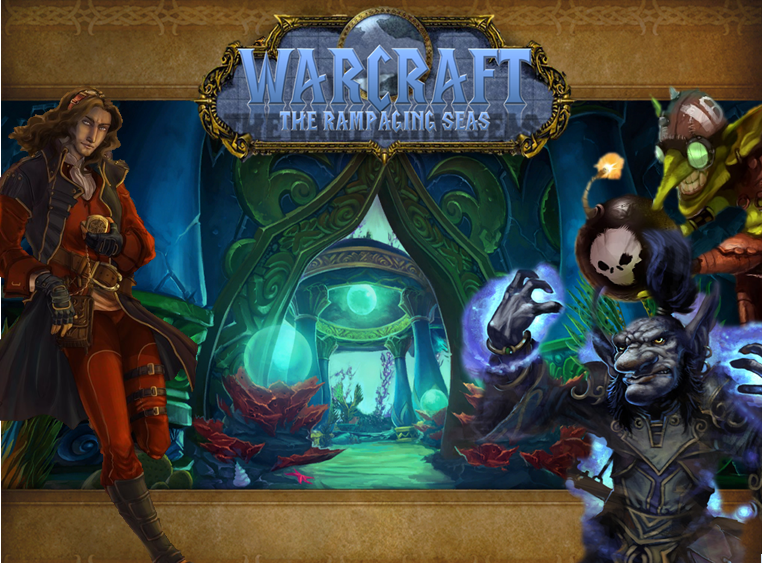 "Honor of The Sail"
Story of the Bloodsail Pirates :
During the events leading up to and following the Third War, several criminal organizations appeared around Azeroth. The neutral evil Bloodsail Buccaneers appear to be one of these organizations, originating from Bloodsail Hold on Plunder Isle, which is where their ruler, Duke Falrevere, holds court. They now plot to plunder and cripple the Steamwheedle Cartel-controlled port city of Booty Bay, currently under the protection of the Blackwater Raiders. It is likely the Bloodsail Buccaneers have come to take advantage of the city's current loss of its fleet off the coast of the Arathi Highlands, in which two of its ships were destroyed and the remaining ship forced to find shelter in a cove where its crew currently fights to survive skirmishes against the Daggerspine naga.
Six or seven years ago, a man named Falrevere had a grand estate on Kul Tiras. He was one of Admiral Daelin Proudmoore's greatest rivals on the island, and he boasted a dozen merchant ships and twice as many warships. Falrevere enjoyed sailing and was good at it; he often joined his men on the seas, patrolling for pirates and following his goods down the coast, breathing the sea air and seeing interesting sights. Falrevere wasn't particularly friendly or likeable, but he kept his people fed and safe, and so they liked him.
Characters :
1. Duke Falrevere
Duke Falrevere is ruler of the Bloodsail Buccaneers. He holds court in Bloodsail Hold on Plunder Isle.
Despite his threats, he is protective of the Bloodsail Buccaneers and each of its members, and only rarely does he execute pirates under his command — though he has no problems with individual captains engaging in such brutal justice. Falrevere spends almost all his time aboard the Devil Shark, hunting Blackwater Raiders, and stops off in Bloodsail Hold only occasionally. He is distant, with few friends.
2. Navigator Tummonden Gerald
Once a famous voyager of Lordaeron, then Scourge rip his family and using his power by turning him into a monstrous undead.
After 5 years serving the Scourge, he encounter some priests of the Argent Dawn and a strong holy light bless him. His undead form will be endless, but his heart is no more cruel. Then, he was captured by the Kul'tiras explorers at Fenris Isle. Tortured, suffering, losing hope. That's what he feel that time. After that, he's isolated in a small island. And founded by Falrevere 3 years later. His job besides Navigating is leading the Bloodsail Hold sentry forces.
3. Honor Head Chef Murinee
She is one of the most loyal person to Falrevere. Her cooking skill is beyond everyone's mind and she's assigned by Falvere to be the Head Chef of Honor. She cooks mysteries. Poisons, sickness, pleasure, drunken, enjoyment, everything she can cook. She have an endless conflict with the Murlocs of Stranglethorn. She once stole the "mystic" powder of those Murlocs to brew a special coffee. Until now, she's hunted by the Murlocs and she's also hunt those Murlocs. A fact, she never cook in Bloodsail Hold.
Progress :
COMING SOON
Techtree :
- Pirates Cove, Loot Hall, Loot Haven (main hall, trains Craftsman)
- Tavern (basic war units, trains Buccaneer, Sharpshooter, and Juggernaut)
- Lost Temples (caster units, trains Hydromancer and Medic)
- Plunder Gunnery (siege units, trains Hull Cannon and Hand Cannoneer)
- Mercenaries Retreat (advanced units, trains Trapper and Rogue)
- Plunder Harbor (ships, trains Galleon, Cruise, and Main Battleship)
- Altar of Oceans (heroes, resurrecting Falrevere the Renegade Admiral, Tummonden the Navigator, and Murinee the Head Chef)
- Plunder Spire (ulti units, trains Elite Corsair)
- Sunken Ship (ability from a ship to suicide in shallow water and create a floating shipwreck. basic scout tower)
- Haunted Ship (upgraded Sunken Ship that will shoot howling missiles to enemies)
- Reef Grove (upgraded Sunken Ship that will shoot water bolts to enemies)
Next Projects :
-
"The Avarice of The Company"
- Venture Co. Campaign
-
"Rise of The Booty Bay"
- Blackwater Campaign
-
"The Tale of Theramore"
- Theramore Campaign
(dunno if i'll make this)
Last edited: