Heaven's Justice v1.2.1 GUI
Tags:
Filesize:

53.9 KB
Rating:

(4 votes)
Downloads:

1687
Uploaded:

Jul 17, 2016
Updated:

Feb 27, 2020
Resources:

1
Author(s):
State:

Pending
This bundle is marked as pending. It has not been reviewed by a staff member yet.
DESCRIPTION: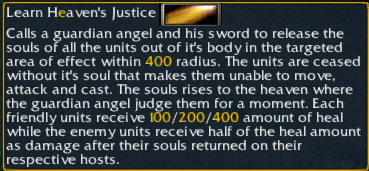 Each friendly and enemy souls are leaving their hosts.




Souls are returning to their hosts or body after the heaven judges them.



After returning to their individual hosts, if they are friendly souls then the host receives heal, if they are enemy souls then the host receives half of the amount of heal as damage.


CHANGELOGS:

v1.0 - Released
v1.1 - Updated, based on KILLCIDE review.
v1.2.0 - Major Update (As of 2020)
^ For quality, compatibility and improvements.
v1.2.1 - Quick Update

| | |
| --- | --- |
| CREDITS: | Bribe ( Unit Indexer ) |
Heavens Justice Configuration

Events

Map initialization

Conditions

Actions

-------- ---------------------------------------------------------------------------------------------------------------------------------------- --------

-------- SPELL CONFIGURATION FIELD --------

-------- ---------------------------------------------------------------------------------------------------------------------------------------- --------

-------- OBJECT EDITOR ( F6 ) --------

-------- The spell or ability used in the triggers. ( Strictly Import the Heaven's Justice Ability ) --------

Set HJ_Ability = Heaven's Justice

-------- --------

-------- The pause ability ( based on channel ) used in the triggers. --------

Set HJ_PauseAbility = Heaven's Justice Pause

-------- ^ Configure HJ_Pause boolean expression below ( SPELL DATA SECTION ). IF: True = Import the Heaven's Justice Pause Ability ( Maker ), False = Delete this ( HJ_PauseAbility ) and don't import the Pause Ability. --------

-------- --------

-------- The dummy unit used in the triggers. ( Strictly Import the Heaven's Justice Dummy Unit ) --------

Set HJ_DummyType = Heaven's Justice Dummy

-------- ^ Tip: You can also select one of the dummies already existed or created in your map. ( Make sure dummy.mdx is the model used in that dummy unit and the unit's data value must be similar to it. ) --------

-------- ^ This tip is useful for sharing dummy type units. ( Saves you 1 Unit Type in your object editor ) ( As long as they have similar object data values. ) --------

-------- ^ The shadow image of the dummy unit is enabled ( flyer ), you can disable it by setting it to 'none' in Object Editor ( F6 ). --------

-------- ---------------------------------------------------------------------------------------------------------------------------------------- --------

-------- * DATA ARRAY VALUES: [ 1 ] = Level 1, [ 2 ] = Level 2, [ 3 ] = Level 3 ..., You can increase the array value if you want to add the levels of the ability in an integer consecutive order. --------

-------- ---------------------------------------------------------------------------------------------------------------------------------------- --------

-------- SPELL DATA --------

-------- ---------------------------------------------------------------------------------------------------------------------------------------- --------

-------- The maximum level of the ability or the number of levels in Heaven's Justice Ability. --------

Set HJ_AbilityMaxLevel = 3

-------- ^ Modify at your own risk: Must be equal to the amount of levels in Heaven's Justice Ability in OBJECT EDITOR ( F6 ). Wrong value causes error. --------

-------- --------

-------- The area of effect of the spell. ( Must be equal to Area of Effect values in the Heaven's Justice ability data. ) --------

Set HJ_Radius[1] = 400.00

Set HJ_Radius[2] = 400.00

Set HJ_Radius[3] = 400.00

-------- --------

-------- A primary effect occurs in the area of effect ( radius ) in circular formation. --------

Set HJ_Effect[1] = Abilities\Spells\Human\HolyBolt\HolyBoltSpecialArt.mdl

-------- A secondary effect occurs in the area of effect ( radius ) in circular formation. --------

Set HJ_Effect[0] = Abilities\Spells\Undead\DeathCoil\DeathCoilSpecialArt.mdl

-------- If you don't want secondary effects just make the value the same as above. --------

Set HJ_SpawnEffectAttach = origin

-------- The pitch value of the radius effects, ranges from 0 - 180. --------

Set HJ_Pitch = 180

-------- --------

-------- The number of total effects ( Effect[ 1 ] and [ 0 ] ) created in the area of effect ( radius ). --------

Set HJ_RadiusEffectCount[1] = 20

Set HJ_RadiusEffectCount[2] = 20

Set HJ_RadiusEffectCount[3] = 20

-------- --------

-------- TARGETS FILTRATION - you can filter your wanted targets here. --------

Set HJ_FilterFlying = True

Set HJ_FilterGround = True

Set HJ_FilterStructure = False

Set HJ_FilterMechanical = False

Set HJ_FilterMagicImmune = True

-------- --------

-------- Want the body unable to move or follow an order when the soul leaves it? --------

-------- Boolean Expression: True = Yes, False = No --------

Set HJ_Pause[1] = True

Set HJ_Pause[2] = False

Set HJ_Pause[3] = True

-------- --------

-------- Want the sleeping units to be affected by the pause? --------

-------- Boolean Expression: True = Yes, False = No --------

Set HJ_Wake = True

-------- --------

-------- The base order ID of the pause ability. ( Must be equal to Heaven's Justice Pause Ability base order ID value. ) --------

Set HJ_PauseOrder = defend

-------- ^ I'd use defend order as it is rarely used in immediate order. --------

-------- --------

-------- An effect occurs in the attachment when the units are in pause state. --------

-------- Pause Friendly Units: --------

Set HJ_Effect[2] = Abilities\Spells\Items\AIta\CrystalBallCaster.mdl

Set HJ_PauseFriendlyEffectAttach = overhead

-------- Pause Enemy Units: --------

Set HJ_Effect[3] = Abilities\Spells\Undead\Possession\PossessionTarget.mdl

Set HJ_PauseEnemyEffectAttach = overhead

-------- --------

-------- The duration when the heaven judges the soul. --------

Set HJ_JudgeDuration[1] = 0.75

Set HJ_JudgeDuration[2] = 1.50

Set HJ_JudgeDuration[3] = 1.25

-------- --------

-------- The attack and damage type of spell. ( Spell Damage ) --------

Set HJ_AttackType = Spells

Set HJ_DamageType = Normal

-------- --------

-------- The interval of the periodic solved by ( second / frames per second ). * Recommended Value: ( 1 / 30 ) for great spell performance. --------

Set HJ_PeriodicInterval = (1.00 / 60.00)

-------- ^ ( 1 / 60 ) value is optional for the smooth motions but it is your choice in performance. --------

-------- ^Modify at your own risk: Lowering this modified value can cause serious lags because of the possibility of filtering large amount of units in periodic. --------

-------- ---------------------------------------------------------------------------------------------------------------------------------------- --------

-------- SOULS DATA --------

-------- ---------------------------------------------------------------------------------------------------------------------------------------- --------

-------- Friendly units' soul art model and it's attachment point. --------

Set HJ_Effect[4] = Abilities\Weapons\FaerieDragonMissile\FaerieDragonMissile.mdl

Set HJ_SoulFriendlyModelAttach = origin

Set HJ_SoulFriendlyExitAttach = head

-------- Enemy units' soul art model and it's attachment point. --------

Set HJ_Effect[5] = Abilities\Weapons\AvengerMissile\AvengerMissile.mdl

Set HJ_SoulEnemyModelAttach = origin

Set HJ_SoulEnemyExitAttach = head

-------- --------

-------- The size of the soul. --------

Set HJ_SoulSize[1] = 0.80

Set HJ_SoulSize[2] = 0.80

Set HJ_SoulSize[3] = 0.80

-------- --------

-------- The initial height of the soul when leaves the body. --------

Set HJ_SoulInitialHeight[1] = 40.00

Set HJ_SoulInitialHeight[2] = 40.00

Set HJ_SoulInitialHeight[3] = 40.00

-------- --------

-------- The maximum height of the soul to reach the heaven. Must be greater than game camera distance field target to be realistic. --------

Set HJ_SoulMaxHeight[1] = 1500.00

Set HJ_SoulMaxHeight[2] = 1500.00

Set HJ_SoulMaxHeight[3] = 1500.00

-------- --------

-------- The levitate speed of the soul to reach the heaven. It is based on a time value. ( Seconds ) --------

Set HJ_SoulLevitateTime[1] = 0.75

Set HJ_SoulLevitateTime[2] = 2.30

Set HJ_SoulLevitateTime[3] = 4.60

-------- --------

-------- Allow the soul to travel in different direction while levitating? --------

-------- Boolean Expression: True = Yes, False = No --------

Set HJ_SoulLevitateTravel[1] = True

Set HJ_SoulLevitateTravel[2] = False

Set HJ_SoulLevitateTravel[3] = True

-------- --------

-------- An effect occurs when the soul is now in motion state. --------

-------- Friendly Soul: --------

Set HJ_Effect[6] = Abilities\Weapons\FaerieDragonMissile\FaerieDragonMissile.mdl

-------- Enemy Soul: --------

Set HJ_Effect[7] = Abilities\Weapons\AvengerMissile\AvengerMissile.mdl

-------- The probability of a soul motion looping effect to occur. Consider this value as a percentage ( 0%,100% ) --------

Set HJ_SoulMotionEffectChance = 0

-------- ^ If you want to disable the motion effect, set the chance value to 0. --------

-------- ^ Modify at your own risk; The large maximum value is 100 do not EXCEED or it will cause problems. Recommended Value: the modified value ( 15 ). --------

-------- --------

-------- The heal value to the friendly units when the soul already returned to their own host/body. --------

Set HJ_SoulHeal[1] = 100.00

Set HJ_SoulHeal[2] = 200.00

Set HJ_SoulHeal[3] = 400.00

-------- --------

-------- An effect occurs to the friendly units when the soul is returning to the host/body. --------

Set HJ_Effect[8] = Abilities\Spells\Human\HolyBolt\HolyBoltSpecialArt.mdl

Set HJ_SoulReturnHealAttach = origin

-------- --------

-------- The damage value to the enemy units when the soul already returned to their own host/body. --------

Set HJ_SoulDamage[1] = 50.00

Set HJ_SoulDamage[2] = 100.00

Set HJ_SoulDamage[3] = 200.00

-------- --------

-------- An effect occurs to the enemy units when the soul is returning to the host/body. --------

Set HJ_Effect[9] = Abilities\Spells\Undead\DeathCoil\DeathCoilSpecialArt.mdl

Set HJ_SoulReturnDamageAttach = origin

-------- ---------------------------------------------------------------------------------------------------------------------------------------- --------

-------- An effect occurs to the caster when the ability is casted. --------

Set HJ_Effect[10] = Abilities\Spells\Human\Resurrect\ResurrectCaster.mdl

Set HJ_CasterEffectAttach = origin

-------- ---------------------------------------------------------------------------------------------------------------------------------------- --------

-------- CODE DATA --------

-------- ( BE CAREFUL TOUCHING THE LINES BELOW IF YOU HAVE NO EXPERIENCE IN CODING DILEMMA ) --------

-------- ---------------------------------------------------------------------------------------------------------------------------------------- --------

-------- PRELOAD OBJECTS --------

-------- Abilities And Units: --------

Custom script: set udg_HJ_Unit = CreateUnit( Player( 15 ), udg_HJ_DummyType, 0, 0, 0 )

Custom script: call UnitAddAbility( udg_HJ_Unit, udg_HJ_Ability )

Custom script: call UnitAddAbility( udg_HJ_Unit, udg_HJ_PauseAbility )

Custom script: call RemoveUnit( udg_HJ_Unit )

-------- Effects: --------

Set HJ_CustomInteger = 0

For each (Integer HJ_CustomInteger) from 0 to 10, do (Actions)

Loop - Actions

Custom script: call Preload( udg_HJ_Effect[ udg_HJ_CustomInteger ] )

-------- ---------------------------------------------------------------------------------------------------------------------------------------- --------

-------- DON'T TOUCH THESE. ( If this line malfunctions you can touch it to correct the needed parameters or values. ) --------

-------- ---------------------------------------------------------------------------------------------------------------------------------------- --------

Custom script: call TriggerRegisterTimerEventPeriodic( gg_trg_Heavens_Justice_Periodic , udg_HJ_PeriodicInterval )

For each (Integer HJ_CustomInteger) from 1 to 3, do (Actions)

Loop - Actions

If (All Conditions are True) then do (Then Actions) else do (Else Actions)

If - Conditions

HJ_SoulLevitateTravel[HJ_CustomInteger] Equal to True

Then - Actions

If (All Conditions are True) then do (Then Actions) else do (Else Actions)

If - Conditions

HJ_FilterFlying Equal to True

Then - Actions

Set HJ_CollisionRange = 25.00

Else - Actions

Set HJ_CollisionRange = 10.00

Else - Actions

Set HJ_CollisionRange = 50.00

If (All Conditions are True) then do (Then Actions) else do (Else Actions)

If - Conditions

HJ_SoulMotionEffectChance Equal to 0

Then - Actions

Set HJ_SoulMotionEffectChance = -1

Else - Actions

-------- Initialize Calculations --------

For each (Integer HJ_CustomInteger) from 1 to HJ_AbilityMaxLevel, do (Actions)

Loop - Actions

Set HJ_CustomReal[HJ_CustomInteger] = (360.00 / (Real(HJ_RadiusEffectCount[HJ_CustomInteger])))

Set HJ_CustomRealMin[HJ_CustomInteger] = (HJ_Radius[HJ_CustomInteger] / 1.50)

Set HJ_CustomRealMax[HJ_CustomInteger] = (HJ_Radius[HJ_CustomInteger] x 2.50)

Set HJ_PropWindow[0] = 0.00

-------- ---------------------------------------------------------------------------------------------------------------------------------------- --------

-------- END OF SPELL CONFIGURATION FIELD --------

-------- ---------------------------------------------------------------------------------------------------------------------------------------- --------

Heavens Justice Execution

Events

Unit - A unit Starts the effect of an ability

Conditions

(Ability being cast) Equal to HJ_Ability

Actions

-------- ---------------------------------------------------------------------------------------------------------------------------------------- --------

-------- declaration of locals --------

Custom script: local real X = GetSpellTargetX( )

Custom script: local real Y = GetSpellTargetY( )

Custom script: local real spawnX

Custom script: local real spawnY

Custom script: local real pickedX

Custom script: local real pickedY

Custom script: local real soulX

Custom script: local real soulY

Custom script: local real destinationX

Custom script: local real destinationY

Custom script: local integer i = 0

-------- --------

-------- [ 0 ] = temporary array value before index declares. --------

Set HJ_Caster[0] = (Triggering unit)

Set HJ_Level[0] = (Level of HJ_Ability for HJ_Caster[0])

-------- --------

Custom script: call DestroyEffect( AddSpecialEffectTarget( udg_HJ_Effect[ 10 ], udg_HJ_Caster[ 0 ], udg_HJ_CasterEffectAttach ) )

-------- --------

-------- Radius Creation --------

-------- --------

For each (Integer HJ_CustomInteger) from 1 to HJ_RadiusEffectCount[HJ_Level[0]], do (Actions)

Loop - Actions

-------- --------

Set HJ_RadiusEffectAngle = (HJ_RadiusEffectAngle + HJ_CustomReal[HJ_Level[0]])

Custom script: set spawnX= X + udg_HJ_Radius[ udg_HJ_Level[ 0 ] ] * Cos( udg_HJ_RadiusEffectAngle * bj_DEGTORAD )

Custom script: set spawnY= Y + udg_HJ_Radius[ udg_HJ_Level[ 0 ] ] * Sin ( udg_HJ_RadiusEffectAngle * bj_DEGTORAD )

Custom script: set udg_HJ_Unit = CreateUnit( GetTriggerPlayer( ), udg_HJ_DummyType, spawnX, spawnY, Atan2( Y - spawnY , X - spawnX ) * bj_RADTODEG )

Custom script: call SetUnitAnimationByIndex( udg_HJ_Unit, udg_HJ_Pitch )

Custom script: if i == 0 then

Custom script: set i = i + 1

Custom script: call DestroyEffect( AddSpecialEffectTarget( udg_HJ_Effect[ 1 ], udg_HJ_Unit, udg_HJ_SpawnEffectAttach ) )

Custom script: elseif i == 1 then

Custom script: call DestroyEffect( AddSpecialEffectTarget( udg_HJ_Effect[ 0 ], udg_HJ_Unit, udg_HJ_SpawnEffectAttach ) )

Custom script: set i = 0

Custom script: endif

-------- --------

Unit - Kill HJ_Unit

-------- --------

-------- Souls Creation --------

-------- --------

Custom script: call GroupEnumUnitsInRange( bj_lastCreatedGroup, X , Y , udg_HJ_Radius[ udg_HJ_Level[ 0 ] ], null )

Custom script: loop

Custom script: set udg_HJ_PickedUnit = FirstOfGroup( bj_lastCreatedGroup )

Custom script: exitwhen udg_HJ_PickedUnit == null

If (All Conditions are True) then do (Then Actions) else do (Else Actions)

If - Conditions

(Owner of HJ_PickedUnit) Not equal to Neutral Passive

(HJ_PickedUnit is dead) Equal to False

Or - Any (Conditions) are true

Conditions

(HJ_PickedUnit is A flying unit) Equal to False

HJ_FilterFlying Equal to True

Or - Any (Conditions) are true

Conditions

(HJ_PickedUnit is A ground unit) Equal to False

HJ_FilterGround Equal to True

Or - Any (Conditions) are true

Conditions

(HJ_PickedUnit is A structure) Equal to False

HJ_FilterStructure Equal to True

Or - Any (Conditions) are true

Conditions

(HJ_PickedUnit is Mechanical) Equal to False

HJ_FilterMechanical Equal to True

Or - Any (Conditions) are true

Conditions

(HJ_PickedUnit is Magic Immune) Equal to False

HJ_FilterMagicImmune Equal to True

HJ_PickedUnit Not equal to HJ_Caster[0]

(HJ_PickedUnit is in HJ_Group) Equal to False

Then - Actions

-------- --------

Custom script: set udg_HJ_ID = GetUnitUserData( udg_HJ_PickedUnit )

-------- --------

Set HJ_Caster[HJ_ID] = HJ_Caster[0]

Set HJ_CasterPlayer[HJ_ID] = (Owner of HJ_Caster[HJ_ID])

Set HJ_Level[HJ_ID] = HJ_Level[0]

Set HJ_JudgeDurationCounter[HJ_ID] = 0.00

-------- --------

Custom script: set pickedX = GetWidgetX( udg_HJ_PickedUnit )

Custom script: set pickedY = GetWidgetY( udg_HJ_PickedUnit )

Custom script: set spawnX = Atan2( pickedY-Y , pickedX-X ) * bj_RADTODEG

-------- --------

If (All Conditions are True) then do (Then Actions) else do (Else Actions)

If - Conditions

(HJ_PickedUnit belongs to an enemy of HJ_CasterPlayer[HJ_ID]) Equal to False

Then - Actions

-------- --------

-------- Friendly Souls --------

-------- --------

Custom script: call DestroyEffect( AddSpecialEffectTarget( udg_HJ_Effect[ 4 ], udg_HJ_PickedUnit, udg_HJ_SoulFriendlyExitAttach ) )

Custom script: set udg_HJ_FriendlySoulUnit[ udg_HJ_ID ] = CreateUnit( udg_HJ_CasterPlayer[ udg_HJ_ID ], udg_HJ_DummyType, pickedX, pickedY, spawnX )

Custom script: set udg_HJ_FriendlySoulModelHandler[ udg_HJ_ID ] = AddSpecialEffectTarget( udg_HJ_Effect[ 4 ], udg_HJ_FriendlySoulUnit[ udg_HJ_ID ], udg_HJ_SoulFriendlyModelAttach )

Custom script: call SetUnitScale( udg_HJ_FriendlySoulUnit[ udg_HJ_ID ], udg_HJ_SoulSize[ udg_HJ_Level[ 0 ] ], 0, 0 )

-------- --------

If (All Conditions are True) then do (Then Actions) else do (Else Actions)

If - Conditions

(HJ_PickedUnit is A flying unit) Equal to True

Then - Actions

Set HJ_ReturnHeightCalculation[HJ_ID] = (HJ_SoulMaxHeight[HJ_Level[0]] + (HJ_SoulInitialHeight[HJ_Level[0]] + (Current flying height of HJ_PickedUnit)))

Custom script: call SetUnitFlyHeight( udg_HJ_FriendlySoulUnit[ udg_HJ_ID ], GetUnitFlyHeight( udg_HJ_PickedUnit ) + udg_HJ_SoulInitialHeight[ udg_HJ_Level[ 0 ] ], 0 )

Else - Actions

Set HJ_ReturnHeightCalculation[HJ_ID] = HJ_SoulMaxHeight[HJ_Level[0]]

Custom script: call SetUnitFlyHeight( udg_HJ_FriendlySoulUnit[ udg_HJ_ID ], udg_HJ_SoulInitialHeight[ udg_HJ_Level[ 0 ] ], 0 )

-------- --------

Custom script: set soulX = GetUnitX( udg_HJ_FriendlySoulUnit[ udg_HJ_ID ] )

Custom script: set soulY = GetUnitY( udg_HJ_FriendlySoulUnit[ udg_HJ_ID ] )

-------- --------

Else - Actions

-------- --------

-------- Enemy Souls --------

-------- --------

Custom script: call DestroyEffect( AddSpecialEffectTarget( udg_HJ_Effect[ 5 ], udg_HJ_PickedUnit, udg_HJ_SoulEnemyExitAttach ) )

Custom script: set udg_HJ_EnemySoulUnit[ udg_HJ_ID ] = CreateUnit( udg_HJ_CasterPlayer[ udg_HJ_ID ], udg_HJ_DummyType, pickedX, pickedY, spawnX )

Custom script: set udg_HJ_EnemySoulModelHandler[ udg_HJ_ID ] = AddSpecialEffectTarget( udg_HJ_Effect[ 5 ], udg_HJ_EnemySoulUnit[ udg_HJ_ID ], udg_HJ_SoulEnemyModelAttach )

Custom script: call SetUnitScale( udg_HJ_EnemySoulUnit[ udg_HJ_ID ], udg_HJ_SoulSize[ udg_HJ_Level[ 0 ] ], 0, 0 )

-------- --------

If (All Conditions are True) then do (Then Actions) else do (Else Actions)

If - Conditions

(HJ_PickedUnit is A flying unit) Equal to True

Then - Actions

Set HJ_ReturnHeightCalculation[HJ_ID] = (HJ_SoulMaxHeight[HJ_Level[0]] + (HJ_SoulInitialHeight[HJ_Level[0]] + (Current flying height of HJ_PickedUnit)))

Custom script: call SetUnitFlyHeight( udg_HJ_EnemySoulUnit[ udg_HJ_ID ], GetUnitFlyHeight( udg_HJ_PickedUnit ) + udg_HJ_SoulInitialHeight[ udg_HJ_Level[ 0 ] ], 0 )

Else - Actions

Set HJ_ReturnHeightCalculation[HJ_ID] = HJ_SoulMaxHeight[HJ_Level[0]]

Custom script: call SetUnitFlyHeight( udg_HJ_EnemySoulUnit[ udg_HJ_ID ], udg_HJ_SoulInitialHeight[ udg_HJ_Level[ 0 ] ], 0 )

-------- --------

Custom script: set soulX = GetUnitX( udg_HJ_EnemySoulUnit[ udg_HJ_ID ] )

Custom script: set soulY = GetUnitY( udg_HJ_EnemySoulUnit[ udg_HJ_ID ] )

-------- --------

-------- --------

Set HJ_LevitateSpeedCalculation[HJ_ID] = (HJ_ReturnHeightCalculation[HJ_ID] / (HJ_SoulLevitateTime[HJ_Level[0]] / HJ_PeriodicInterval))

Set HJ_LevitateReal[HJ_ID] = HJ_LevitateSpeedCalculation[HJ_ID]

-------- --------

-------- Travel Boolean --------

If (All Conditions are True) then do (Then Actions) else do (Else Actions)

If - Conditions

HJ_SoulLevitateTravel[HJ_Level[0]] Equal to True

Then - Actions

Set HJ_SoulLevitateTravelAngle[HJ_ID] = (Random angle)

Custom script: set destinationX = soulX + GetRandomReal( udg_HJ_CustomRealMin[ udg_HJ_Level[ 0 ] ], udg_HJ_CustomRealMax[ udg_HJ_Level[ 0 ] ] ) * Cos( udg_HJ_SoulLevitateTravelAngle[ udg_HJ_ID ] )

Custom script: set destinationY = soulY + GetRandomReal( udg_HJ_CustomRealMin[ udg_HJ_Level[ 0 ] ], udg_HJ_CustomRealMax[ udg_HJ_Level[ 0 ] ] ) * Sin( udg_HJ_SoulLevitateTravelAngle[ udg_HJ_ID ] )

Custom script: set udg_HJ_SoulDistance[ udg_HJ_ID ] = SquareRoot( ( soulX - destinationX ) * ( soulX - destinationX ) + ( soulY - destinationY ) * ( soulY - destinationY ) )

Set HJ_TravelSpeedCalculation[HJ_ID] = (HJ_SoulDistance[HJ_ID] / (HJ_SoulLevitateTime[HJ_Level[0]] / HJ_PeriodicInterval))

Set HJ_SoulDistanceCounter[HJ_ID] = 0.00

Else - Actions

-------- --------

-------- Pause Boolean --------

If (All Conditions are True) then do (Then Actions) else do (Else Actions)

If - Conditions

HJ_Pause[HJ_Level[0]] Equal to True

Then - Actions

-------- --------

If (All Conditions are True) then do (Then Actions) else do (Else Actions)

If - Conditions

(HJ_PickedUnit is Sleeping) Equal to True

HJ_Wake Equal to True

Then - Actions

Unit - Wake up HJ_PickedUnit

Else - Actions

-------- --------

Custom script: call SetUnitTurnSpeed( udg_HJ_PickedUnit, 0 )

Custom script: set udg_HJ_PropWindow[ udg_HJ_ID ] = GetUnitPropWindow( udg_HJ_PickedUnit )

Custom script: call SetUnitPropWindow( udg_HJ_PickedUnit, 0 )

Custom script: if UnitAddAbility( udg_HJ_PickedUnit, udg_HJ_PauseAbility ) and IssueImmediateOrder( udg_HJ_PickedUnit, udg_HJ_PauseOrder ) then

Custom script: endif

-------- --------

If (All Conditions are True) then do (Then Actions) else do (Else Actions)

If - Conditions

(HJ_PickedUnit belongs to an enemy of HJ_CasterPlayer[HJ_ID]) Equal to True

Then - Actions

Custom script: set udg_HJ_PauseEnemyEffectHandler[ udg_HJ_ID ] = AddSpecialEffectTarget( udg_HJ_Effect[ 3 ], udg_HJ_PickedUnit, udg_HJ_PauseEnemyEffectAttach )

Else - Actions

Custom script: set udg_HJ_PauseFriendlyEffectHandler[ udg_HJ_ID ]=AddSpecialEffectTarget( udg_HJ_Effect[ 2 ], udg_HJ_PickedUnit, udg_HJ_PauseFriendlyEffectAttach )

-------- --------

If (All Conditions are True) then do (Then Actions) else do (Else Actions)

If - Conditions

(HJ_PickedUnit is Polymorphed) Equal to True

Then - Actions

Set HJ_UnderPolymorphed[HJ_ID] = True

Else - Actions

-------- --------

Else - Actions

-------- --------

Set HJ_Counter = (HJ_Counter + 1)

Unit Group - Add HJ_PickedUnit to HJ_Group

-------- --------

Else - Actions

Custom script: call GroupRemoveUnit( bj_lastCreatedGroup, udg_HJ_PickedUnit )

Custom script: endloop

-------- --------

If (All Conditions are True) then do (Then Actions) else do (Else Actions)

If - Conditions

HJ_Counter Greater than 0

Then - Actions

Custom script: call EnableTrigger( gg_trg_Heavens_Justice_Periodic )

Else - Actions

-------- ---------------------------------------------------------------------------------------------------------------------------------------- --------

Heavens Justice Periodic

Events

Conditions

Actions

-------- ---------------------------------------------------------------------------------------------------------------------------------------------------------------- --------

Unit Group - Pick every unit in HJ_Group and do (Actions)

Loop - Actions

-------- ---------------------------------------------------------------------------------------------------------------------------------------- --------

-------- declaration of locals --------

Custom script: local real hostX

Custom script: local real hostY

Custom script: local real soulX

Custom script: local real soulY

Custom script: local real returnAngle

Custom script: local real travelMotionX

Custom script: local real travelMotionY

Custom script: local real returnMotionX

Custom script: local real returnMotionY

-------- --------

Set HJ_Unit = (Picked unit)

Custom script: set udg_HJ_ID = GetUnitUserData( udg_HJ_Unit )

-------- --------

If (All Conditions are True) then do (Then Actions) else do (Else Actions)

If - Conditions

(HJ_Unit is dead) Equal to True

Then - Actions

-------- ---------------------------------------------------------------------------------------------------------------------------------------- --------

If (All Conditions are True) then do (Then Actions) else do (Else Actions)

If - Conditions

(HJ_Unit belongs to an enemy of HJ_CasterPlayer[HJ_ID]) Equal to True

Then - Actions

-------- --------

Special Effect - Destroy HJ_EnemySoulModelHandler[HJ_ID]

Unit - Kill HJ_EnemySoulUnit[HJ_ID]

-------- --------

If (All Conditions are True) then do (Then Actions) else do (Else Actions)

If - Conditions

HJ_Pause[HJ_Level[HJ_ID]] Equal to True

Then - Actions

Special Effect - Destroy HJ_PauseEnemyEffectHandler[HJ_ID]

Unit - Remove HJ_PauseAbility from HJ_Unit

Custom script: call SetUnitTurnSpeed( udg_HJ_Unit, GetUnitDefaultTurnSpeed( udg_HJ_Unit ) )

Custom script: call SetUnitPropWindow( udg_HJ_Unit, udg_HJ_PropWindow[ udg_HJ_ID ] * bj_RADTODEG )

Else - Actions

-------- --------

Else - Actions

-------- --------

Special Effect - Destroy HJ_FriendlySoulModelHandler[HJ_ID]

Unit - Kill HJ_FriendlySoulUnit[HJ_ID]

-------- --------

If (All Conditions are True) then do (Then Actions) else do (Else Actions)

If - Conditions

HJ_Pause[HJ_Level[HJ_ID]] Equal to True

Then - Actions

Special Effect - Destroy HJ_PauseFriendlyEffectHandler[HJ_ID]

Unit - Remove HJ_PauseAbility from HJ_Unit

Custom script: call SetUnitTurnSpeed( udg_HJ_Unit, GetUnitDefaultTurnSpeed( udg_HJ_Unit ) )

Custom script: call SetUnitPropWindow( udg_HJ_Unit, udg_HJ_PropWindow[ udg_HJ_ID ] * bj_RADTODEG )

Else - Actions

-------- --------

-------- --------

Set HJ_Counter = (HJ_Counter - 1)

Unit Group - Remove HJ_Unit from HJ_Group

-------- --------

If (All Conditions are True) then do (Then Actions) else do (Else Actions)

If - Conditions

HJ_Counter Equal to 0

Then - Actions

Custom script: call DisableTrigger( GetTriggeringTrigger( ) )

Else - Actions

-------- ---------------------------------------------------------------------------------------------------------------------------------------- --------

Else - Actions

-------- --------

-------- Update Pause Status --------

-------- --------

If (All Conditions are True) then do (Then Actions) else do (Else Actions)

If - Conditions

HJ_Pause[HJ_Level[HJ_ID]] Equal to True

Then - Actions

-------- --------

If (All Conditions are True) then do (Then Actions) else do (Else Actions)

If - Conditions

(HJ_Unit is Polymorphed) Equal to True

HJ_UnderPolymorphed[HJ_ID] Equal to False

Then - Actions

-------- --------

If (All Conditions are True) then do (Then Actions) else do (Else Actions)

If - Conditions

(HJ_Unit belongs to an enemy of HJ_CasterPlayer[HJ_ID]) Equal to True

Then - Actions

Special Effect - Destroy HJ_PauseEnemyEffectHandler[HJ_ID]

Custom script: set udg_HJ_PauseEnemyEffectHandler[ udg_HJ_ID ] = AddSpecialEffectTarget( udg_HJ_Effect[ 3 ], udg_HJ_Unit, udg_HJ_PauseEnemyEffectAttach )

Else - Actions

Special Effect - Destroy HJ_PauseFriendlyEffectHandler[HJ_ID]

Custom script: set udg_HJ_PauseFriendlyEffectHandler[ udg_HJ_ID ] = AddSpecialEffectTarget( udg_HJ_Effect[ 2 ], udg_HJ_Unit, udg_HJ_PauseFriendlyEffectAttach )

-------- --------

Custom script: call SetUnitTurnSpeed( udg_HJ_Unit, 0 )

Custom script: call SetUnitPropWindow( udg_HJ_Unit, 0 )

Set HJ_UnderPolymorphed[HJ_ID] = True

-------- --------

Else - Actions

-------- --------

If (All Conditions are True) then do (Then Actions) else do (Else Actions)

If - Conditions

(Current order of HJ_Unit) Not equal to (Order(HJ_PauseOrder))

Then - Actions

Unit - Add HJ_PauseAbility to HJ_Unit

Custom script: call IssueImmediateOrder( udg_HJ_Unit, udg_HJ_PauseOrder )

Else - Actions

-------- --------

If (All Conditions are True) then do (Then Actions) else do (Else Actions)

If - Conditions

HJ_UnderPolymorphed[HJ_ID] Equal to True

(HJ_Unit is Polymorphed) Equal to False

Then - Actions

-------- --------

If (All Conditions are True) then do (Then Actions) else do (Else Actions)

If - Conditions

(HJ_Unit belongs to an enemy of HJ_CasterPlayer[HJ_ID]) Equal to True

Then - Actions

Special Effect - Destroy HJ_PauseEnemyEffectHandler[HJ_ID]

Custom script: set udg_HJ_PauseEnemyEffectHandler[ udg_HJ_ID ] = AddSpecialEffectTarget( udg_HJ_Effect[ 3 ], udg_HJ_Unit, udg_HJ_PauseEnemyEffectAttach )

Else - Actions

Special Effect - Destroy HJ_PauseFriendlyEffectHandler[HJ_ID]

Custom script: set udg_HJ_PauseFriendlyEffectHandler[ udg_HJ_ID ] = AddSpecialEffectTarget( udg_HJ_Effect[ 2 ], udg_HJ_Unit, udg_HJ_PauseFriendlyEffectAttach )

-------- --------

Custom script: call SetUnitTurnSpeed( udg_HJ_Unit, 0 )

Custom script: call SetUnitPropWindow( udg_HJ_Unit, 0 )

Set HJ_UnderPolymorphed[HJ_ID] = False

-------- --------

Else - Actions

-------- --------

Else - Actions

-------- --------

-------- Soul Motions Phase --------

-------- --------

If (All Conditions are True) then do (Then Actions) else do (Else Actions)

If - Conditions

(HJ_Unit belongs to an enemy of HJ_CasterPlayer[HJ_ID]) Equal to False

Then - Actions

Set HJ_SoulUnit[HJ_ID] = HJ_FriendlySoulUnit[HJ_ID]

Set HJ_SoulMotionEffect[HJ_ID] = HJ_Effect[6]

Set HJ_ModelHandler[HJ_ID] = HJ_FriendlySoulModelHandler[HJ_ID]

Set HJ_SoulMotionEffectAttach[HJ_ID] = HJ_SoulFriendlyModelAttach

Else - Actions

Set HJ_SoulUnit[HJ_ID] = HJ_EnemySoulUnit[HJ_ID]

Set HJ_SoulMotionEffect[HJ_ID] = HJ_Effect[7]

Set HJ_ModelHandler[HJ_ID] = HJ_EnemySoulModelHandler[HJ_ID]

Set HJ_SoulMotionEffectAttach[HJ_ID] = HJ_SoulEnemyModelAttach

-------- --------

Custom script: set hostX = GetWidgetX( udg_HJ_Unit )

Custom script: set hostY = GetWidgetY( udg_HJ_Unit )

Custom script: set soulX = GetWidgetX( udg_HJ_SoulUnit[ udg_HJ_ID ] )

Custom script: set soulY = GetWidgetY( udg_HJ_SoulUnit[ udg_HJ_ID ] )

-------- --------

If (All Conditions are True) then do (Then Actions) else do (Else Actions)

If - Conditions

HJ_SoulDistanceCounter[HJ_ID] Less than or equal to HJ_SoulDistance[HJ_ID]

HJ_LevitateSpeedCalculation[HJ_ID] Less than or equal to HJ_ReturnHeightCalculation[HJ_ID]

Then - Actions

-------- --------

-------- Loads, Updates, Saves: LevitateSpeedCalculation --------

Set HJ_LevitateSpeedCalculation[HJ_ID] = (HJ_LevitateSpeedCalculation[HJ_ID] + HJ_LevitateReal[HJ_ID])

Custom script: call SetUnitFlyHeight( udg_HJ_SoulUnit[ udg_HJ_ID ], GetUnitFlyHeight( udg_HJ_Unit ) + udg_HJ_LevitateSpeedCalculation[ udg_HJ_ID ], 0 )

-------- --------

If (All Conditions are True) then do (Then Actions) else do (Else Actions)

If - Conditions

HJ_SoulLevitateTravel[HJ_Level[HJ_ID]] Equal to True

Then - Actions

-------- --------

-------- Travel Motion --------

-------- --------

Custom script: set travelMotionX = soulX + udg_HJ_TravelSpeedCalculation[ udg_HJ_ID ] * Cos( udg_HJ_SoulLevitateTravelAngle[ udg_HJ_ID ] )

Custom script: set travelMotionY = soulY + udg_HJ_TravelSpeedCalculation[ udg_HJ_ID ] * Sin( udg_HJ_SoulLevitateTravelAngle[ udg_HJ_ID ] )

Custom script: call SetUnitX( udg_HJ_SoulUnit[ udg_HJ_ID ], travelMotionX )

Custom script: call SetUnitY( udg_HJ_SoulUnit[ udg_HJ_ID ], travelMotionY )

-------- --------

-------- Loads, Updates, Saves: SoulDistanceCounter --------

Set HJ_SoulDistanceCounter[HJ_ID] = (HJ_SoulDistanceCounter[HJ_ID] + HJ_TravelSpeedCalculation[HJ_ID])

-------- --------

Else - Actions

Custom script: call SetUnitX( udg_HJ_SoulUnit[ udg_HJ_ID ], soulX )

Custom script: call SetUnitY( udg_HJ_SoulUnit[ udg_HJ_ID ], soulY )

-------- --------

Else - Actions

-------- --------

If (All Conditions are True) then do (Then Actions) else do (Else Actions)

If - Conditions

HJ_JudgeDurationCounter[HJ_ID] Greater than or equal to HJ_JudgeDuration[HJ_Level[HJ_ID]]

Then - Actions

-------- --------

-------- Return Motion --------

-------- --------

If (All Conditions are True) then do (Then Actions) else do (Else Actions)

If - Conditions

HJ_SoulLevitateTravel[HJ_Level[HJ_ID]] Equal to False

Then - Actions

Custom script: call SetUnitX( udg_HJ_SoulUnit[ udg_HJ_ID ], hostX )

Custom script: call SetUnitY( udg_HJ_SoulUnit[ udg_HJ_ID ], hostY )

Else - Actions

-------- --------

-------- Loads, Updates, Saves: ReturnHeightCalculation --------

Set HJ_ReturnHeightCalculation[HJ_ID] = (HJ_ReturnHeightCalculation[HJ_ID] - HJ_LevitateReal[HJ_ID])

If (All Conditions are True) then do (Then Actions) else do (Else Actions)

If - Conditions

(Current flying height of HJ_SoulUnit[HJ_ID]) Greater than or equal to ((Current flying height of HJ_Unit) + HJ_SoulInitialHeight[HJ_Level[HJ_ID]])

Then - Actions

Custom script: call SetUnitFlyHeight( udg_HJ_SoulUnit[ udg_HJ_ID ], GetUnitFlyHeight( udg_HJ_Unit ) + udg_HJ_ReturnHeightCalculation[ udg_HJ_ID ], 0 )

Else - Actions

-------- --------

Custom script: if IsUnitInRangeXY( udg_HJ_SoulUnit[ udg_HJ_ID ], hostX, hostY, udg_HJ_CollisionRange ) then

If (All Conditions are True) then do (Then Actions) else do (Else Actions)

If - Conditions

(Current flying height of HJ_SoulUnit[HJ_ID]) Less than or equal to ((Current flying height of HJ_Unit) + HJ_SoulInitialHeight[HJ_Level[HJ_ID]])

Then - Actions

-------- --------

If (All Conditions are True) then do (Then Actions) else do (Else Actions)

If - Conditions

(HJ_Unit belongs to an enemy of HJ_CasterPlayer[HJ_ID]) Equal to True

Then - Actions

-------- --------

Custom script: call DestroyEffect( AddSpecialEffectTarget( udg_HJ_Effect[ 9 ], udg_HJ_Unit, udg_HJ_SoulReturnDamageAttach ) )

Unit - Cause HJ_Caster[HJ_ID] to damage HJ_Unit, dealing HJ_SoulDamage[HJ_Level[HJ_ID]] damage of attack type HJ_AttackType and damage type HJ_DamageType

-------- --------

If (All Conditions are True) then do (Then Actions) else do (Else Actions)

If - Conditions

HJ_Pause[HJ_Level[HJ_ID]] Equal to True

Then - Actions

Special Effect - Destroy HJ_PauseEnemyEffectHandler[HJ_ID]

Unit - Remove HJ_PauseAbility from HJ_Unit

Custom script: call SetUnitTurnSpeed( udg_HJ_Unit, GetUnitDefaultTurnSpeed( udg_HJ_Unit ) )

Custom script: call SetUnitPropWindow( udg_HJ_Unit, udg_HJ_PropWindow[ udg_HJ_ID ] * bj_RADTODEG )

Else - Actions

Else - Actions

-------- --------

Custom script: call DestroyEffect( AddSpecialEffectTarget( udg_HJ_Effect[ 8 ], udg_HJ_Unit, udg_HJ_SoulReturnHealAttach ) )

Unit - Set life of HJ_Unit to ((Life of HJ_Unit) + HJ_SoulHeal[HJ_Level[HJ_ID]])

-------- --------

If (All Conditions are True) then do (Then Actions) else do (Else Actions)

If - Conditions

HJ_Pause[HJ_Level[HJ_ID]] Equal to True

Then - Actions

Special Effect - Destroy HJ_PauseFriendlyEffectHandler[HJ_ID]

Unit - Remove HJ_PauseAbility from HJ_Unit

Custom script: call SetUnitTurnSpeed( udg_HJ_Unit, GetUnitDefaultTurnSpeed( udg_HJ_Unit ) )

Custom script: call SetUnitPropWindow( udg_HJ_Unit, udg_HJ_PropWindow[ udg_HJ_ID ] * bj_RADTODEG )

Else - Actions

-------- --------

Special Effect - Destroy HJ_ModelHandler[HJ_ID]

Unit - Kill HJ_SoulUnit[HJ_ID]

-------- --------

Set HJ_Counter = (HJ_Counter - 1)

Unit Group - Remove HJ_Unit from HJ_Group

-------- --------

If (All Conditions are True) then do (Then Actions) else do (Else Actions)

If - Conditions

HJ_Counter Equal to 0

Then - Actions

Custom script: call DisableTrigger( GetTriggeringTrigger( ) )

Else - Actions

-------- ---------------------------------------------------------------------------------------------------------------------------------------- --------

Else - Actions

-------- --------

Custom script: elseif ( udg_HJ_SoulLevitateTravel[udg_HJ_Level[udg_HJ_ID]] == true ) then

-------- --------

-------- the values are strictly constant --------

Custom script: set returnAngle = Atan2 ( hostY - soulY , hostX - soulX )

-------- --------

If (All Conditions are True) then do (Then Actions) else do (Else Actions)

If - Conditions

HJ_Pause[HJ_Level[HJ_ID]] Equal to False

(Current flying height of HJ_SoulUnit[HJ_ID]) Less than or equal to (HJ_SoulInitialHeight[HJ_Level[HJ_ID]] + (2.00 x (Current flying height of HJ_Unit)))

HJ_ReturnHeightCalculation[HJ_ID] Less than or equal to (Current flying height of HJ_SoulUnit[HJ_ID])

Then - Actions

-------- --------

Custom script: if not IsUnitInRangeXY( udg_HJ_SoulUnit[ udg_HJ_ID ], hostX, hostY, udg_HJ_CollisionRange ) then

Custom script: set returnMotionX = soulX + (udg_HJ_TravelSpeedCalculation[ udg_HJ_ID ]+(udg_HJ_CollisionRange/2.5)) * Cos( returnAngle )

Custom script: set returnMotionY = soulY + (udg_HJ_TravelSpeedCalculation[ udg_HJ_ID ]+(udg_HJ_CollisionRange/2.5)) * Sin ( returnAngle )

Custom script: else

Custom script: set returnMotionX = soulX + (udg_HJ_TravelSpeedCalculation[ udg_HJ_ID ]/0.25) * Cos( returnAngle )

Custom script: set returnMotionY = soulY + (udg_HJ_TravelSpeedCalculation[ udg_HJ_ID ]/0.25) * Sin ( returnAngle )

Custom script: endif

-------- --------

Else - Actions

Custom script: set returnMotionX = soulX + (udg_HJ_TravelSpeedCalculation[ udg_HJ_ID ]) * Cos( returnAngle )

Custom script: set returnMotionY = soulY + (udg_HJ_TravelSpeedCalculation[ udg_HJ_ID ]) * Sin ( returnAngle )

-------- --------

Custom script: call SetUnitX( udg_HJ_SoulUnit[ udg_HJ_ID ], returnMotionX )

Custom script: call SetUnitY( udg_HJ_SoulUnit[ udg_HJ_ID ], returnMotionY )

Custom script: endif

-------- ---------------------------------------------------------------------------------------------------------------------------------------- --------

Else - Actions

-------- --------

-------- Loads, Updates, Saves: JudgeDurationCounter --------

Set HJ_JudgeDurationCounter[HJ_ID] = (HJ_JudgeDurationCounter[HJ_ID] + HJ_PeriodicInterval)

If (All Conditions are True) then do (Then Actions) else do (Else Actions)

If - Conditions

HJ_SoulLevitateTravel[HJ_Level[HJ_ID]] Equal to False

Then - Actions

Custom script: call SetUnitX( udg_HJ_SoulUnit[ udg_HJ_ID ], hostX )

Custom script: call SetUnitY( udg_HJ_SoulUnit[ udg_HJ_ID ], hostY )

Else - Actions

-------- --------

-------- --------

Custom script: if udg_HJ_SoulMotionEffectChance >= GetRandomReal( 0 , 100 ) then

Custom script: call DestroyEffect( AddSpecialEffectTarget( udg_HJ_SoulMotionEffect[ udg_HJ_ID ], udg_HJ_SoulUnit[ udg_HJ_ID ], udg_HJ_SoulMotionEffectAttach[ udg_HJ_ID ] ) )

Custom script: endif

-------- ---------------------------------------------------------------------------------------------------------------------------------------------------------------- --------
Reviews