Eternal Fire: Wars of Theosa 1.15.4
Filesize:

6 MB
Rating:

(1 vote)
Downloads:

776
Uploaded:

Aug 12, 2018
Updated:

Nov 20, 2018
Resources:

1
Author(s):
State:

Approved
This bundle is marked as approved. It works and satisfies the submission rules.

Welcome to this world beyond Warcraft. Here you can play with your friends some battles taking place on a continent in the world of Theosa – a world in this Multiverse - that tries to recover from recent events but faces nothing but war.
Lore
The idea
The Idea behind the map is that you can Play a game like WoW in Position of a Person like Varian or other faction leaders.
There are 12 different races in 4 factions with own Units, Upgrades and skills.
As a future update i plan to create heroes to every faction and to upgrade the existing dungeons with Special loot. (For now you will only find Gold and Control Points inside These dungeons)
The plot of the story
Once the world of Theosa was a quite peaceful one with only small border conflicts and some uprising cultures but then there were sudden Events: The sea rises, earthquakes appeared and dark cults recruiting civilians.
This is the Age of destruction. Over a time of 10 years many cities were destroyed, People died and nearly all continents were changed. It finished the imperial age of the orcish high cultures who gained power over most races in this world and kept them at bay with treaties.
The Problems became after this time less and less frequent and finally they disappeared. Nobody seemed to know the reason but it became time to build new civilizations.
You Play on one continent where this map takes place on. In the northern parts an Alliance called "Blulales" was formed. It´s Opponent formed in the southern parts: "The Stranded Alliance" which was called like that because most of its´ members had to flee from the sea. The eastern parts once were populated by great and proud cultures that lost nearly everything forcing them to steal from other nations and to form "The Eastern Crime Cartel".
But there also formed another Nation in the westerns parts. First it was small and it formed after the others. It was a dark civilization who attracted People from the other factions and united them under the banner of the black Hand. This is the "Cult of the Black Hand" with the objective to summon the Doombringer Legion upon this world. The cult is the eternal servant of the darkness. These "Demon Invaders" - how they are called - summoned the Age of Destruction to weaken and to break the cultures of Theosa. Now they come back to enslave them and to kill those who oppose them. Their main objective is to destroy the order of universes created by gods and Titans seeming to be good ones but the origin of the demons is that they lost all trust to them - "Now we are the gods!"
The races
Blulales
Carras and Stelethyds
Carras are known as men of the north praying to the fallen ancestors. Furthermore Carras construct large buildings showing their skills and are known as the leading race of the Blulales.
Stelethyds are proud spiderlike warriors and live in the dark deeps of the earth. They are led by women - where the strongest achieve the rank of a Stretchsilver Maid - and men are usually active as spellcaster who are known for their abilities in working with crystals.
Trolls
Trolls are people of a fierce nature and with excellent combat skills. Their people have simple needs and they don´t build big cities but since the age of destruction destroyed their old homeland they suffered a lot.
Although the Trolls had many problems - these warriors are willed to defend the new Homeland.
Shellers
As a fishlike race the Shellers had quite small losses through the age of destruction and the huge waves affected you less than the others.
Your people live with the elements but they are not able to use all of them. Your spellcasters use Water to heal your units and wind to damage enemies.
The Stranded Alliance
Humans and Zegols
Humans are a race with great losses through the age of destruction. Nevertheless this has strengthened their religion of the eternal light giving them hope to a better future. Furthermore noble Knights and Paladins are a sign of your peoples hope.
Zegols are strong humanoids looking like dragons and although they´ve got wings they are not able to fly. They are well skilled fighters and able to use windmagic.
Dwarves
The Dwarves of the Stranded Alliance helped the others to survive after the Age of Destruction.
These people spend much time under earth giving them a special relationship to earth and darkness. Dark magic is used in both possibilities: support and attack.
Furthermore the dwarvish culture appreciates good festivals and beer and hitting an anvil while forging a weapon seems to be quite relaxing.
Elves
The Elves are a race who lost many forests during the last years shattering it´s hope. In order to clean this, your people started to cultivate this countries´ forests.
These people live together with the nature making them able to call the nature´s spirits to help. The elvish armies are also supported by well skilled rangers and soldiers.
Demon Invaders
Cult of the Black Hand
The "Cult of the Black Hand" - the eternal cult of demons. They follow the demonic aim to destroy the whole order of the beginning and they do not fear the death which is just a door to another live making the souls of these warriors to demons in the void.
After you have caused all the cataclysm of Theosa you are to finish what you have begun.
Doombringer Legion
The "Doombringer Legion" is one of countless other demonic hordes. They follow the demonic aim to destroy the whole order of the beginning.
The Cult of the Black Hand has brought this Legion to this world to cause Doom.
The Eastern Crime Cartell
Troglospyl City
The City of Troglospyl is the leading force in the Eastern Crime Cartel and maybe the city with the greatest loses of culture.
Before this time they were a superior city in these parts of Theosa with a realm that survived for about 700 years and dominated this for 600 years with power, trade and treaties until this Imperial Age ended with the age of destruction. Now they seek one more time the power and created the Eastern Crime Cartell to do what they are no longer capable to do alone: exploit all others.
Troglospyl once was known to have well skilled Samurais, Ringers, Mages and Artisans but today those well skilled people are corrupted and complemented by hated rogues (The others hate the rogues).
The Pigclans
The Pigclans didn´t easily through the age of destruction. The pigmen don´t have much culture but they appreciate good and much food making this to their main objective through the raids they are forced to.
Nevertheless religion is not unknown to your people and once your people praised Kasaa - the god of the Kasaa beasts which got this name from their god. Kasaa is apart from this point deified as god of treasure hunters.
Kasaa was less and less present so your people became interested in dark magic.
Ete'Thero Trolls
The Ete'terro Trolls are named after their former leader Bakalla Ete'terro. They live in a region called "Dead man´s descent" which is called like that as a consequence of the Trolls´ fierceness.
Once the descent was a jungle filled with live but earthquakes and fanatic cultists who deifeid the forces of destruction destroyed it and only this barren was left.
Nearly nothing lefted and so they were forced to join the Crime Cartel.
Goldseeker Legion
The Goldseeker Legion is the most greedy faction in Theosa. These people are led by Eugene called "The glorious one" who made it through the age of the destruction without wasting money.
The Legion had only few losses and built a city in the Brekana Deeps where they deity Mammon and plan new raids.
Furthermore the engineers of the legion are among the smartest engineers in Theosa making them capable to build fighting robots near the front.
Unitstats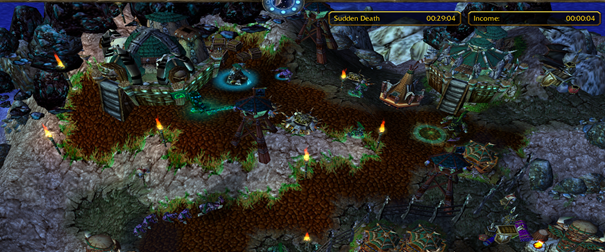 The Units
I tried to make a new System to make balancing easier.
Units can be classified as "Common", "Elite", "Boss" or "Building" and can have a Tier between 1 and 5 but there are also common Tier 0 Units like workers. They have the following Basic stats which can Change with Upgrades
Common:
Tier 0: 50 Hp, 2.5 dps, 1 Food, 1 Gold, Training Time 5
Tier 1: 100 Hp, 5 dps, 1 Food, 2 Gold , Training Time 10
Tier 2: 150 Hp, 7.5 dps, 1 Food, 3 Gold, Training Time 15
Tier 3: 200 Hp, 10 dps, 2 Food, 4 Gold, Training Time 20
Tier 4: 250 Hp, 12.5 dps, 2 Food, 6 Gold, Training Time 25
Tier 5: 300 Hp, 15 dps, 3 Food, 8 Gold, Training Time 30
Here are examples of each tier. Look at the number of stars behind the name. They show the Tier of the unit.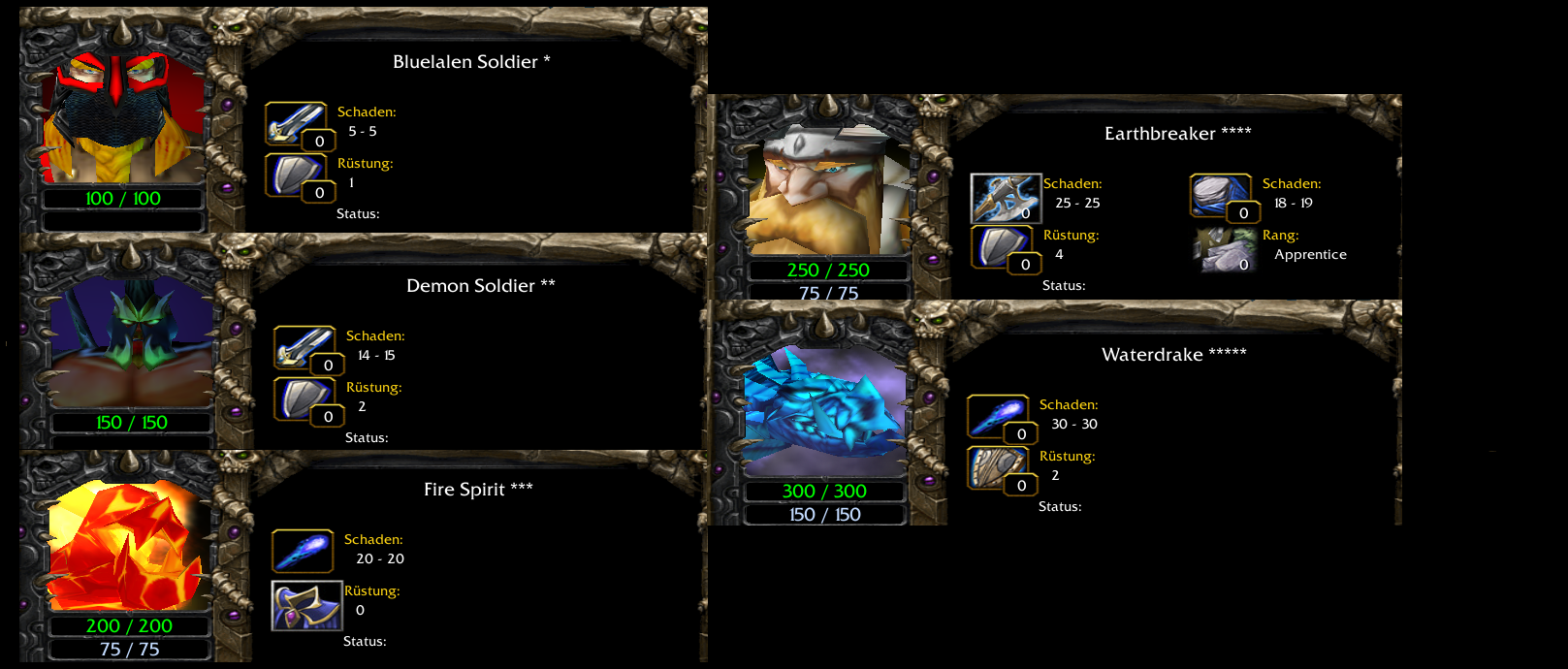 Elite:
Tier 1: 500 Hp, 25 dps, 6 Food, 11 Gold, Limit 4
Tier 2: 750 Hp, 25 dps, 9 Food, 18 Gold, Limit 4
Tier 3: 1000 Hp, 25 dps, 12 Food, 24 Gold, Limit 3
Tier 4: 1250 Hp, 25 dps, 15 Food, 30 Gold, Limit 2
Tier 5, 1500 Hp, 25 dps, 19 Food, 36 Gold, Limit 2
Generally Elite Units have a training time of 60 but Elite Tier 5 Units have a training time of 75.
Bosses:
There will be a few heroes who are classified as boss but most ot them are hostile ones with special loot.
All Bosses have a dps of 35.
Tier 1: 2500 Hp Tier 2: 3750 Hp, Tier 3: 5000 Hp,
Tier 4: 6250 Hp, Tier 5: 7500 Hp
Strong Units are in this game usually better than weak Units but to make the basic Units not useless in the late game it´s possible to Train them in Groups (like 2, 3 or 5). This is also cheaper and faster than Training These Units one by one and furthermore some of those Units have good supporting skills like Auras or Buffs.
Buildings:
Those are their Basic stats
Tier 1: 2500 Hp Tier 2: 3750 Hp, Tier 3: 5000 Hp,
Tier 4: 6250 Hp, Tier 5: 7500 Hp
Their costs can are not that standardized as other Units but there is still a Standard i don´t explain for now.
Gameplay

​
Hotkeys
Hotkeys are not the Tooltips of skills or Units (Honestly i was too lazy to write in every Tooltip and now it Needs some time until the Tooltips of Units are changed because there are really many of them) but it works like that:
Train Units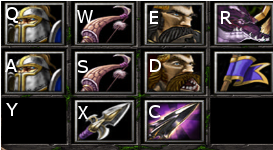 or build a building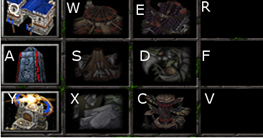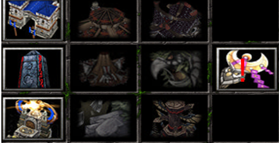 But pay attention when you have started the upgrade of the wrong barracks since this activates the Rallypoint function. Most races aren´t affected by that. The only exception is the Ete´terro Assembly Totem.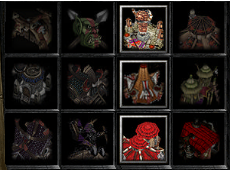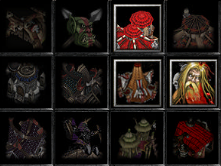 As you can see the Rallypoint makes the Assembly Totem unable to be build and changes some positions so that Hotkeys don´t work like before (well they still do work but it´s not the grid i´ve shown you.
If that happens you can destroy the building plot and capture it again.
To read more about buildings please go on reading.

​

​
Heroes and Skills

On this map hotkeys of skills depend on the skill´s position. The position can be changed by temporary skills used during buffs which doesn´t change the hotkey but apart from that the hotkeys of skills are as shown in the following picture:

In this picture you can see the Troll Hero Zeth´arul as an example. He has only these 4 skills in the third row but there are some units with skills in the second row you can use with D and F.
To Learn Skills you can use the following Hotkeys:

Most heroes have only 4 skills. The remaining skills to learn do work with D and F. Another thing I should mention at this point: You can see that the hero's stats have all a value of 1 and don´t increase with the hero's level. The reason is that I don´t want the heroes to become too strong like I feel about melee games (The heroes are quite strong and many units are just too weak to beat them).
An exception for now is the hero Borkaer of the Pigclans who can increase his stats with the skill "Truffle Strength".
The only remaining option is to gather equipment increasing the stats.

​

​
Buildings
Buildings are special on this map. They are not built in the common way but on building plots. To capture a building plot order a worker to do so.

The Peasants´ "W"-Skill capture´s a building plot. Then the peasant will work for a few seconds on the plot making it usable to you.





After the Building Plot is captured you have to upgrade it to the specific building plot of your faction (Blulales, Alliance, Demon Invaders, Crime Cartell) and then you can build your buildings: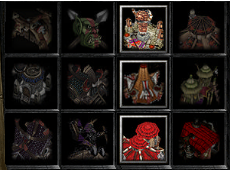 Depending on the Building Plot you can build different buildings:

Small Building Plots: Builds Farms, Guard Towers and Lumbermills
Medium Building Plots: All Types of Barracks
Large Building Plots: Fortresses (Trains workers and sometimes Units, is generally strong and later here you can revive fallen heroes)

​

​
​
As in melee games you need gold and lumber.
Wood can be chopped in the common way but it will last very Long to kill one tree (They have got 99999 hitpoints) so there is enough lumber.
Gold is generated every 60 seconds: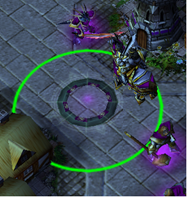 Number of your Control Points * 10 = The amount of gold you receive
Additionally you will receive 10 extra gold if your capital is still alive.

​

​
Sudden Death and Intro

At the beginning you can vote for sudden death if you wish to (1s, 30mins, 60mins, 90mins, 120mins or no Endless -> The average will be the time)
You can also vote if you want to see a small intro with some Information about your race or read it in the Information.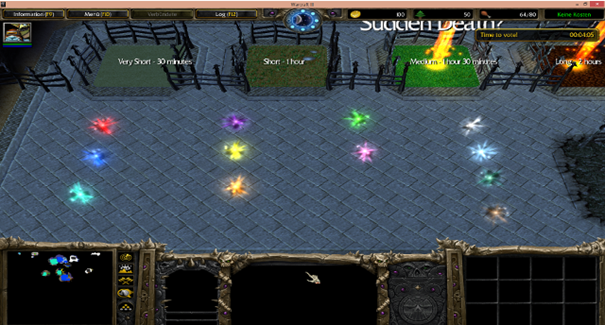 Before the fight starts you have to vote for your preferred time of Sudden Death: Move your voter (The Wisp) to the square you wish to)
If 6 people move their voter into the square "Endless" than there will be no Sudden Death.
In all other cases it´s the average of what has been voted. For example: 6 people want to play "Very Short" (30mins) and 6 people want to play "Medium" (1 hour and 30mins) then Sudden Death is after 1 hour.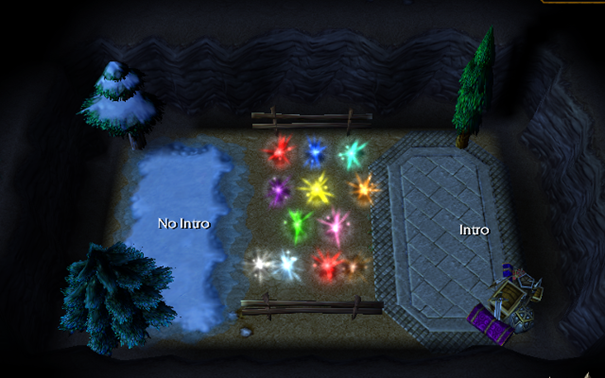 This is the second vote about the Intro (it´s below the previous area). Here you need 7 people to activate/ deactivate the Intro.
When the voting phase finishes the units of empty player slots will be killed which might produce some lag. However triggers have a maximum amount of orders they can execute so if there are too many empty slots then some units remain on the map (and they are immune to cheats). I recommend to fill empty slots with AIs.
​

​
Special function: Command Unit

This guy is an extra that might be quite usefull but what does it do? I'll explain you the skills:
- Q and A: These skills activate and deactivate that trained units (everything you train in your different barracks like Soldiers, Heroes, Archers etc.) move to the Rallypoint of the Command Unit
- W and S: These skills activate and deactivate that summoned units (Like Voodoospirits of the Ete´terro Voodoolord) walk to the rallypoint you set with the "W-Skill". (This skill is based on the Witch Doctor´s Stasis Trap Ability so just set the Rallypoint like this trap)
- E and D: These skills activate and deactivate that ALL new spawned units (Soldiers, Summoned Units) go to the Rallypoint of the Command Unit. This doesn´t include peasants
There is a little exception when two units merge to another one (e.g: The Officer of the Cult of the Black Hand mounts a Shadowfeather Drake): These units won´t go to the Rallypoint
- F: This is the Rallypoint of the Command Unit just set it like you know from the Warcraft III Tutorial but the Rallypoint won´t follow a unit. (If somebody has a solution please tell me)
- Y: Orders all units (except workers and buildings) to move to the targeted point of the skill without attacking enemies
- X: This skill however is an Attack-Point-Order which orders all units (except workers and buildings) to move to the targeted point and attack enemy units on the way
- C: This skills works like the 'X' Skill but for units
- V: This frog is only there to give the Command Unit a Rallypoint

​
Race specifics
As you have already seen there are 12 playable races. Each of them is a bit different to the others: They have other units, maybe they are trained differently or the techtree works a bit different but most aspects work like in common Warcraft 3 maps.

Carras and Stelethyds
Rank: Jarl

Difficulty: Normal

This race (these 2 races) does not have quite special properties. You can build many types of Elite units - so use them. You can also use several active skills which needs speed and is the difficulty of the race.


Trolls
Rank: Viking

Difficulty: Normal

Trolls are a quite passive race during combats supporting own units with auras and first aid kits to heal after these battles. Also use AoE-skills because several units have one. As a late upgrade you can also build longship docks providing you with additional income you can use for more units or to supply your allies.


Shellers
Rank: Self-made specialist

Difficulty: Hard

You will a have a quite hard beginning phase where you have to improve your army and to unlock better units. There are 3 Technologies you have to upgrade: Crafting, Spellpower and Unit Training. In order to improve them you have to build buildings, use skills and train units. (Seems quite easy but you need some luck)

In order to increase the Crafting Level you have to free the renegade bonecarver Scarbone who´s located north of your base.

Later you will focus strategical targets and use control and support abilities.


Humans and Zegols
Rank: Lieutenant

Difficulty: Normal

There´s not much to say but you should choose your final upgrade wisely. You can either choose to build more and stronger elite units which will make you concentrate on small groups or pick the sorcerer´s way which improves some of your spellcasters.


Dwarves
Rank: A stone in the beer

Difficulty: Normal - Hard

Your prime task through battles is to deal damage and to debuff enemy units. Many of your units also use single target abilities and other skills requiring you to mark the target which needs some micro management. Also you will have to make a choice about the final upgrade of your race where you can select one of three – each with advantages and some disadvantages for your army.


Elves
Rank: Archer with mana problems

Difficulty: Normal

Elves traditionally use bows they build without dealing to much damage to the nature. Your troops use bowmen in different ranks but all with a higher range than ranged fighters of other races. You use many auto-cast skills to enhance attacks and some supporting auras. Nevertheless upgrading your units requires some time because your classification unit requires slowly regeneration mana to start an upgrade which is not refunded if cancelled. This is the problem of tree fanatics who don´t want to hurt the nature.


Cult of the Black Hand
Rank: Versatile in the Underground

Difficulty: Normal

The Cult can use many different units making it a quite versatile race. Make sure to have some Necromancers because they can fast summon permanent minions from corpses costing no food. Furthermore use auras and cooperate with your ally because you are the smallest force.

Also you are able to summon a powerful hero for your ally which is quite important.


Doombringer Legion
Rank: Crafter

Difficulty: Hard

Demons are quite defensive units with higher defense and health regeneration values than other races. Battles will contain a medium amount of micro management (compared to other races) but you have to plan your army and which units you use because you have to literally build these units from smaller ones (e.g. you can fuse 2 Eskator Artillerists to one Eskator Mage). This doesn´t affect all units but the strongest units have to be fused like that. This saves some money because these units do not cost extra money and are only limited by the food you have meaning Balrogs aren´t limited by 2 for example.

Also one hint: Morbeen isn´t meant to stay in the late game but to cause some trouble at the enemy lines to destroy buildings and to die when you have built the Great Void Portal.


Troglospyl
Rank: Camper

Difficulty: Normal

Due to the eradication of Theosa during the age of destruction it is hard for you to hire new criminals, which increases the training time of your units by 20%. However your buildings need 25% less time being build and ALL buildings can attack enemy units.

Also the upgrades at your classification unit cost more than the ones of other races but you can focus earlier on your preferred paths.


The Pigclans
Rank: Show me the food

Difficulty: Hard

The Battlecook is your most important unit. Farms can give him Food (Mana) he can use to cook meals for your units. With those meals you unlock upgrades to your units.

Except of your simple units you have to pay more money to get stronger units. Also you can build only 5 workers but each one more unit of each Elite Type than other races.

Additionally upgraded units gain extra health with each upgrade granting you units with a very high health pool.


Ete´terro Trolls
Rank: Spam

Difficulty: Easy

The most important information about your race is spam, spam and one more time spam. You can train even faster weak units than other races (about -15% time on common units) but have also the option to train a couple of elite units which might be useful when attacking an enemy but don´t forget to produce more units.

Voodoo Lords are your primary spellcasters and important if you play the summoner path.

You have one ultimate upgrade whether you want to train weak units even faster or if you want better summoners.

Also your buildings have weaker armor than other races so play offensive - your units are cheap.


Goldseeker Legion
Rank: GreedIsGood

Difficulty: Normal

Your units can walk on water so surprise your enemies. Some units don´t need to be trained. They can be bought at Crab Barracks and the Temple of Money like common mercenaries (Pay attention: Your enemies can buy them as well). Finally your Engineers can build limitless armies of robots but only a limited number of them can be activated!

​
Credits
If there is one thing that is not different between this and other maps then the fact that it wouldn't have been possible without other people so i'd like to say thank you.
All used models are default models from blizzard or from members of hive as you can see in the following table:
Modell Creator
ArabianTowers Mike
AzureDragonCrystalLord General Frank
AzureDragonElementarist General Frank
BanditBerserker (Modell) Mr. Bob
BanditBerserker (Texture) Stanakin Skywalker
Barracks (Strongholdstyle) Mike
BloodElvenSwordmaster Elenai
BloodelfPikeman General Frank
ChaosRazormane Kuhneghetz
Cleric Mc
CrossbowFootman Wandering Soul
CryptFlyer AndrewOverload519
DemonTower HappyTauren
Demon_BulwarkBastionCitadel General Frank
Dire_Bandit / Dire_Footman Direfury
Draconian Guard Callahan
DwarfArchMage (e.G. Mudsorcerer) GreyArchon
DwarfArchmage (e.G. ShadowWeaver) GreyArchon
FortificationPalisade MassiveMaster
GiantMantis tee.dubs
GiantSandWorm Sephiroth_VII
GnollAltarofFangs Mephestrial
GnollBrawler Mephestrial
GnollMystweaver Mephestrial
GnollStalker Mephestrial
HeroChronomancer Deolrin
Ragnar Flamebeard Blizzard Entertainment, Sellenisko
Human Archer Happy Tauren
HumanChurch (WC2 Church) Ket
MaleElfRanger Mc
NagaSerpent Kehel
NerubianArcaneTower MatiS
Ocula -Grendel
OrcRogue Linaze
PumpkinPhantom Thrikodius
QuillboarBarracks Edge45
QuillboarChampion Deolrin
RazorManeHunter Wandering Soul
RazormaneWorker garfield
RedDragonFirePhalanx General Frank
RoyalDwarf Radagast
Dwarven Runecaster GreyArchon
DwarvenShieldBreaker Norinrad
SkeletonPirate126 WhiteDeath
Slavemaster -Grendel
SnowPine Gottfrei
Tree (e.G: Malaar Tree) Grey Knight
VrykulSpearCarrier Sellenisko
VrykulWarrior Sellenisko
VrykulWorker Sellenisko
Warcraft II Mage AndrewOverload519
WCII_GreatHall Red XIII
ClassicBat manasou
Uruk Hai Pikeman Fingolfin
Bloodelf Mage General Frank
Crystal_InfernalBirth Dark Hunter1357
Doomsayer Hawkwing
GeneralHeroGlow assassin_lord
Icon Creator
BerserkerMurloc Marcos DAB
Murloc Prince Yaser
Blade Prince Yaser
Frostwyrmwing The Panda
Murloc Hut Blizzard Entertainment, genin32
HeroRifleman TurieL
Ancient Sword LoDown
Steel Sword Blizzard Entertainment, genin32
Mastercraft Longsword Prince Yaser
Also i'd like to say thank you to everybody who worked on the NewGen WE, the ButtonManager or the Warcraft III Viewer and to the Hive Workshop and other platforms where i found solutions for my problems.
PS: if you like the logo visit
Logo Design and Name Generator

​

​
Changelog

In this changelog you can find all changes i made since i released the first version within the map development section here. (If changes are not in the lists then i simply forgot that i made them)
Changelog (v.1.14.0)
- New Presentation (I hope that this is better now)
- Trigger Improvement (more Jass, changed "BJs" with "naratives", local variables)
- Heroes are now available
- Hero-Skills are not fully implemented yet (Progress: about 50%); the heroes of the following races have got their skills: Trolls, Humans, Dwarves, Troglospyl, The Pigclans, Ete´terro Trolls
Changelog (v1.14.1)
- Added the skills of the following heroes: "Bladestorm" Thorano the Armmaster of the Cult of the Black Hand, Morbeen the Demonice Fiend and Harbinger of the Demonic Hordes and Highexecutioner Sharrazor
- Added Commands to vote singleplayer games
- Reduced number of units and foodcap to 85
Changelog (v1.14.2)
- Added the skills of the remaining heroes
- Replaced advanced Buildings with medium building plots
- Heroes who are meant to be non-revivable are now non-revivable
- Added a short hero description to the intro
- Bugfix: Shrine of the Seas could only be captured one time per game
- Bugfix: Bordin Mithrilplate´s Ability Mithril Armor reduced incoming damage by 100%
Changelog (v1.15.0)
- Smaller Terrain Changes
- Added Unit: Corporal to Humans and Zegols
- Added Upgrade Systems to: Shellers, Humans and Zegols, Troglospyl, Pigclans, Ete´terro, Goldseeker Legion
- Added Auto-Casting to more units
- Bugfix: Now you can train groups of Pigclan Archers and Ete´terro Axemasters without game- crash (sorry that i found this bug this late)
- Bugfix: Income Timer works properly now
- Bugfix: Removed Food Costs of the heroes where food cost haven´t been changed
- Tooltip-Fixes
- Values of some neutral hostiles have been increased
- Enhanced damage upgrades for Elites
- Event Added: The Pigclans can decide if they want to serve Kasaa once more (and gain his boon) or to open his tomb (which unleashes his fury)
- Event Added: Scarbones Hut (only interesting for Shellers but quite helpfull)
- More Trigger Enhancement: integrated boolean functions into the triggers
Changelog (v1.15.1)
- Added the name "Eternal Fire" to map (in case i´ll build more maps playing in this universe/multiverse)
- Added Upgrade Systems to: Carras and Stelethyds, Trolls, Dwarves, Elves, Cult, Doombringer
- Some terrain changes to make it look a bit better
- Removed unnecessary rocks (those which were used as path blockers)
- Upgraded some mobs (e.G.: Fakarus)
- Added a first version of a dungeon system: There are some bosses with a small event dropping some loot (there will be more items in a future update) à this is the last feature I planned so far
- Added boss: <<Firedream>> Varlassasz
- New Tomb of Kasaa à bigger
- Changed the demolition skill of Morbeen (additional attacks will now appear with general delay of 1 second)
Changelog (v1.15.2)
- Added skills to bosses: Kasaa, Sarifas, Pogger
- Added events:
o Death events for capitals
o General death event for heroes (buff or debuff for nearby allies)
o Some events for specific regions
- Added skills to the command unit: Move to Point, Attack Point, Attack Unit
Changelog (v1.15.3)
-Renamed some workers to make them more interesting
- Trigger Enhancement: Leak Reduction
- Reduced number of units on the map (some are created after initialization with a trigger)
- Bugfixes: Hotkeys, Missing Upgrades at Troglospyl Treater, Wrong number of food at Troglospyl Farm, Command-Unit Order-Skills, Disappearing Unit-Groups in Sudden Death Mode
- Capitals now increase the income like a Control Point
- Added events (mostly triggered by Deaths of Units)
- Weakened Erlking to make his event faster
- Added an additional late game hero to Doombringer Legion (Skrullos'therar the second leader of this Legion)
- Added many different Items to Common Units, Bosses and Vendors
Changelog (v1.15.4)
- Added Instant Sudden Death
Changelog (v1.15.5)
- New Buttons for units (See credits): Sheller Bonecarver, Farsasz Iceeye, Garith Thundersteel
- New Buttons for skills (See credits): Slash, Bonewing
- Changed Buttons to other default available Buttons: Sheller Fortress, Temple of Water, Troll Watchtower, Hall of Darkness, Deadly Attack, Fire Spirit, Detonate, Light's Protection (Effect), Windbolt
- Changed Button Borders (using Button Manager and Warcraft 3 Viewer): Wild Arrow, Dune Protection, Ball of the Night, Defending Wind, Hardened Magma (Buff), Longbow, Dragonskin, Enhanced Endurance, Heavy Strike, Night's Agony, Split, Burning Blade, Marksmanship, Jarl's Aura, Fortified Defense, Improved Range, Hunter's Aura, Saviour's Aura, Ranger's Aura, Bash of Rocks, Shieldbreaker, Skillshot, Crystal Protection, Mark, Protection of the Ancestors, Heart of the Forest, Unstoppable Greed, Titan's Punishment, Moving Flame
- Changed default Button and Borders: Burning Attacks
- Buttons for Unitgroups: those buttons now contain the number of units that are trained (e.g. The command button for 5 Alliance Soldiers now contains a "x5").
- Fixed Typos: Guardien à Guardian, Crystall Former à Crystal Former (includes skills and other appearances)
- Added the "Siege Precision"-Ability: The damage of many Siege units against buildings will be increased with each attack.
- Renamed Doombringer Peasant to Voidformer
- Skill: Cooldown of Titan's Punishment reduced to 3 seconds
- Skill: Throw a stone of the Pigclan Destroyer now stuns for 4 seconds
- Unit: Movementspeed of Ete'thero Assault Wagon increased to 240
- Added heroglowing to heroes using Non-Hero-Models (see
How to add Hero Glow without Modeling
)
- Player Colors are now fixed
- Bugfix: Despair caused by hero deaths no affects the owner of the hero and not it's killers
​
I hope you like the map. If you have feedback/ suggestions, found bugs or simply want to talk about the map, then feel free to write in this thread (or a private message).
Have a nice day everyone.
​
Reviews