By the way: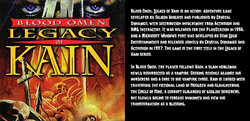 Disclaimer All sounds, concepts, models etc are belongs to original game owners. We use resources for our maps only from open sources. We do not create exact copy of the original game, just making fan vision of "how would game looks like on Warcraft 3 engine". We do not sell or doing any other...
www.hiveworkshop.com
Also filled in that survey. Gave them a bit of criticism though
Some of those questions were pretty much not LoK related. Why would they ask stuff around the game if they're supposed to make, remake or remaster a LoK game?