Hello Mr Ogre man, would you consider adding an Alleria version without the "unnecessary" animations (e.g. Cinematic ones) please?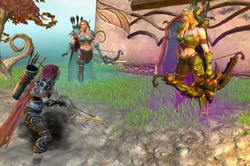 One of the three Windrunner sisters, Alleria fought in the Second War; and was considered lost, along with her spouse Turalyon, until found in the planet of Argus The model uses her ported weapon from wow, thought it is remastered to Reforged standards (with recalculated normals, ORM map and...
www.hiveworkshop.com
I read your comment
here
and hopefully removing them results in a smaller file size.