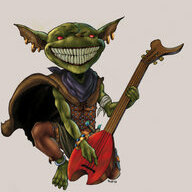 Last Activity:

Aug 27, 2018
Joined:

May 20, 2013
Messages:

159
Goblintrain
Well-Known Member
Goblintrain's messages Jul 1, 2018
Goblintrain was last seen:

Aug 27, 2018
Loading...

Loading...

About

WarCraft 3 Realm:

Northrend (Europe)

Favourite Race:

Arakkoa

Favorite Organization/Clan:

Warsong

I started playing Blizzard games back in WC2, which remains my favorite computer game of all time!

Warcraft 2 being converted into Warcraft 3 terms is something i would love to see, but have yet to see it really captured! Unfortunately, at my age now, there is no way i could play a game on WC2 terms -which by the way, was considerably gentler than the original Warcraft:Orcs & Humans! OMFW! THAT was a brutal game!

I was always "damn slow" at the RTS games. In the original Star Craft i earned the epithet "Goatblower" when a couple of enemies convinced my ally to destroy me first because they didn't want to lose to me, as i was busy "blowing goats" while my ally was out single handedly kicking ass! Actually, my version is that i was going for tech & i happened to have a ranked competition worthy ally -but as i said: i am ass slow at everything i do! That is why i can't hold a job. No one ever wants good work, they just want you to get faster at doing fast work. My ally agreed i was less than useless and did not let me share the victory. He said "they are right, you really were a terrible ally!". I never found out if that was just a ploy by the enemy to divide us & conquer. I was all teched up & just starting to produce units when my ally decided to destroy me too. That enemy referred to me as "Blowing Goats", and ever since then, i have used that in my name when i can. I do not blame my ally for being angry with me that game. But i do think he made a bad decision that game. No matter how pissed you are with your allies you never turn on them! NEVER!

Goatblower is still my name in League of Legends -which i very rarely play, because, as usual -i blow goats at it!!!

I suck at everything i do, including tinkering with the editor & triggering. The curse is true. I really do blow goats. MY NAME IS GOATBLOWER, because life initates the internet, and not the other way around. I am Goatbloer! I suck at everything!

Interact

Loading...