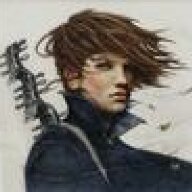 Last Activity:

May 26, 2018
Joined:

Feb 9, 2014
Messages:

0
Location:

Occupation:

School
FinalvsFire
New Member, from United States
FinalvsFire was last seen:

May 26, 2018
Loading...

Loading...

About

Location:

Occupation:

School

Current Project:

A lot of random crap that more than likely will not be posted on this site. Been focused more on reading lately. If you look at this, read the Kingkiller Chronicles. Best fantasy books out there. Makes LOTR look like crap. Then again, I don't think Lord of the Rings is as good as some people say. Recently made this account. Been roaming on this site long before this.

Here is a list of what I am working on:

"A Hero": a campaign that follows the Alliance war hero Lorela who eventually saves the world from certain destruction. It goes from her training under her Captain, Ellen Steelhead, all the way to hero of Azeroth.

"The Fae": A campaign in which is based off of the Kingkiller Chronicles, a fan-made story for it's Fae. The story follows the brother of Bast in the books, Anthrin, a mighty warrior-prince, who attempts to quell an uprising before they invade the "mortal world", intent on killing Kvothe.

"Tales of Hroen": ANOTHER campaign, following the mighty paladin Hroen as he leads a portion of the war against the Lich King, Arthas.

And 4 other maps that are simply for my sake of role-playing in my head. I make triggers and cut scenes for this crap, but most of it barely gets any work done. I don't spend much time working on these projects.

WarCraft 3 Account:

FinalvsFire

WarCraft 3 Realm:

Northrend (Europe)

Favourite Race:

High Elf

Favorite Organization/Clan:

Bronzebeard

I don't trust the internet enough to go sharing anything important. Obviously, I'm on this site- I enjoy role-playing and strategy. I'm a big fan of folk-rock music, etc. I don't plan on providing anything for this site, as I am OCD, and I have/will (probably) never finish anything. So, I will peck at your brains, hoping to harness whatever abilities you had, and increase it ten-fold for myself. Thank you all for your time, enjoy the rest of your life here on Discworld.

Writing music and playing guitar. I also like to consider myself well-versed in the English language

Interact

Loading...